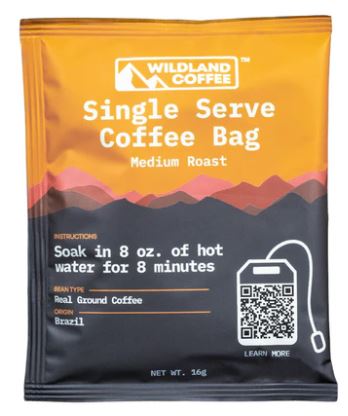 Wildland Coffee | MEDIUM ROAST
Really convenient and easy to make. Delicious. Perfect for any outdoor adventure

Instructions:

> Heat 8oz of water to an almost boil
> Steep the bag for 8 minutes (or to taste)
> Enjoy


Origin:

Our extra dark roast is sourced from Brazil.

Wrestle the Wild, Not Your Coffee
Wildland Coffee
Learn More about Wildland Coffee
I started Wildland because I believe in living a different kind of life. 
No 9-5 suburban life. No following the trends. No keeping up with Jones'. 
I want to live my life on my terms and I want to help my customers do the same. I‍'m executing on this mission and vision by creating an amazing coffee products that help you get out and enjoy the outdoors.