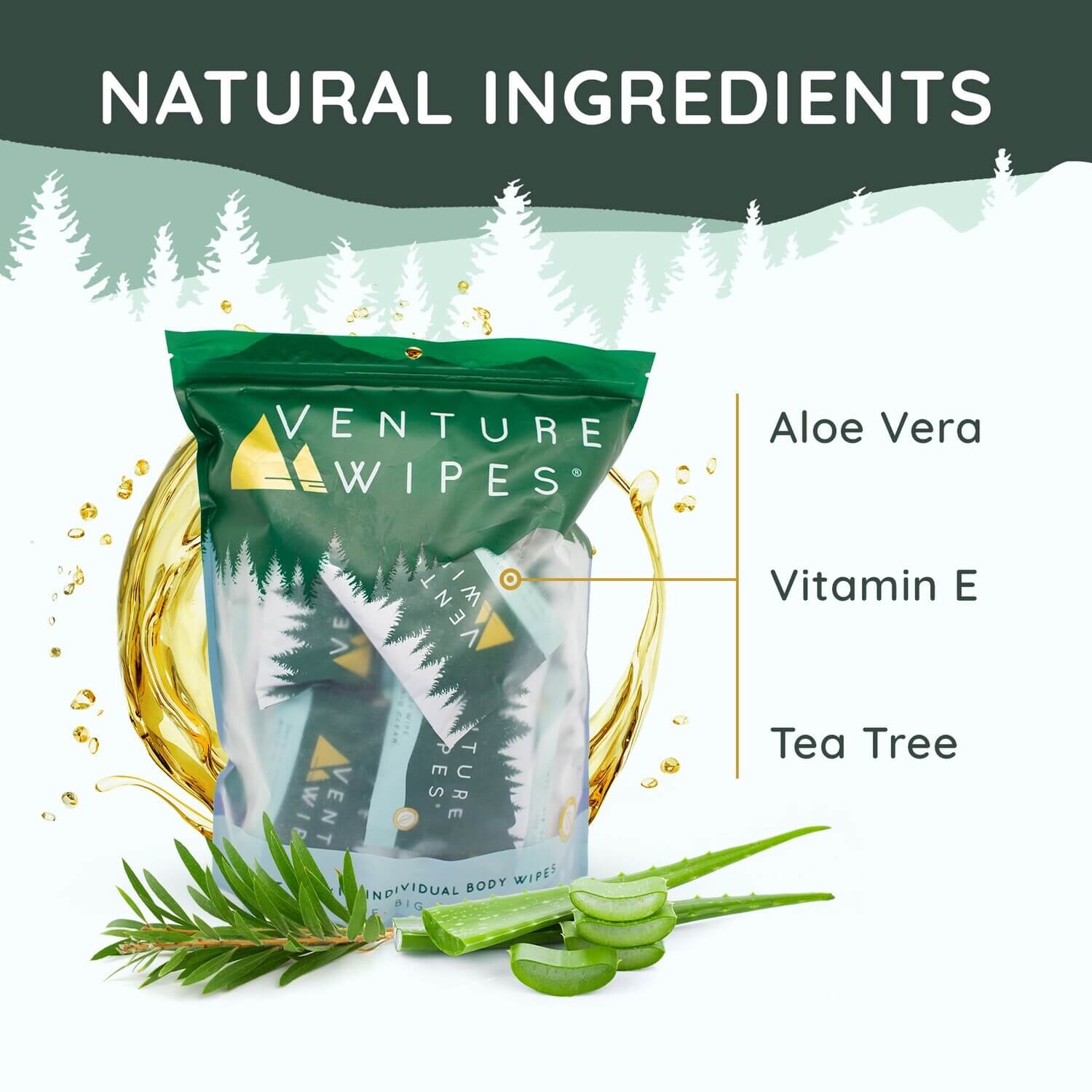 Venture Wipes | VENTURE WIPES 25-COUNT BAG
Features
Venture Wipes are full-body wipe that is large enough to clean your entire body. Made with a biodegradable fiber, these wipes are strong enough for any job, while still being soft to the touch. We've infused our body wipes with natural ingredients to help keep you fresh and clean for the rest of the day.

Ease of Use
Venture Wipes come in single-use pouches that are ideal for packing a portable shower into your backpack, gym bag, purse, or even pocket.
Strength & Durability
Our 12" x 12" shower wipes are large enough to clean your entire body . . . 350% larger than a baby wipe. The textured pattern doubles the effort of our active wipes, giving you a full-body clean. They are even strong enough to rinse and reuse on your gear.
Natural Ingredients
There really is no reason to settle for harsh chemicals to clean your body. That is exactly why we ensured that Venture Wipes are infused with natural ingredients like Aloe, Vitamin E, and Tree Oil.
Eco-Friendly
Venture Wipes' natural fiber blend gives you a soft, yet tough body wipe that is biodegradable. This material allowed us to check a very important box: minimizing the overall impact on the planet by using an easily grown material with environmentally friendly ingredients.
#DirtHappens

We all know that life can get dirty at times, but there's no reason to stay that way. Whether it is in your pocket, hiking pack kit, glove box, or purse . . . take Venture Wipes along on your journey.

Wiping Up Life's Adventures
Venture Wipes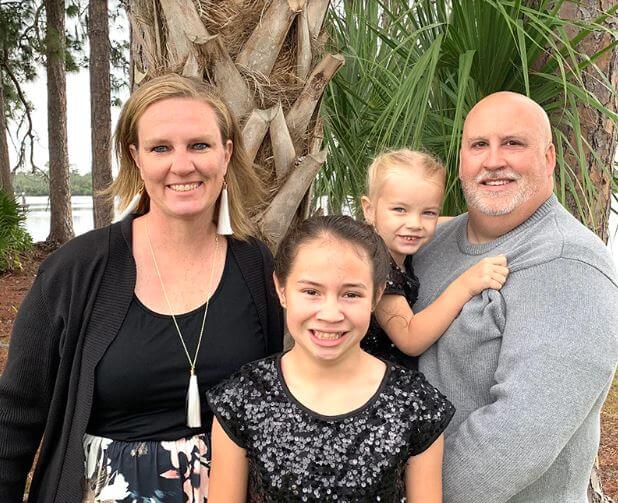 Naturally Formulated
They're all-natural bathing wipes. We infuse these travel wipes with natural ingredients like aloe, vitamin E, and tea tree oil. They easily wipe off dirt, giving you that oh-so-clean feeling!
Easy-to-Use 
Experience easy peasy cleaning with Venture Wipes. They're perfect for waterless wash during hiking and camping. They make ideal pet wipes and gym wipes, too.
Outdoor Essential
Soft yet tough body wipes, our trip wipes are specially designed so you stay clean even without washing with water. Made using natural fibers, they leave less impact to the environment.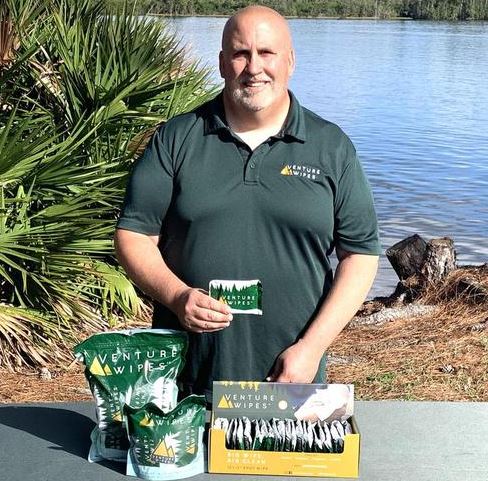 Because Dirt Happens!
The Story Behind Venture Wipes
As Venture Wipes founder Tom Fromm and his family enter their fourth year as full-time RVers, it's safe to say they know a thing or two about staying clean and smelling fresh while on the go.
As the story goes, Tom's wife Tammy shared her husband's love of travel, but wisely didn't want to live nomadically until their house sold. In an effort to escape the Pennsylvania chill that year, Tom convinced her to buy a used fifth wheel and "just winter in Florida."
As luck would have it, their bricks and sticks home sold by the end of winter, and in 2017 the Fromm's took their home on the road.