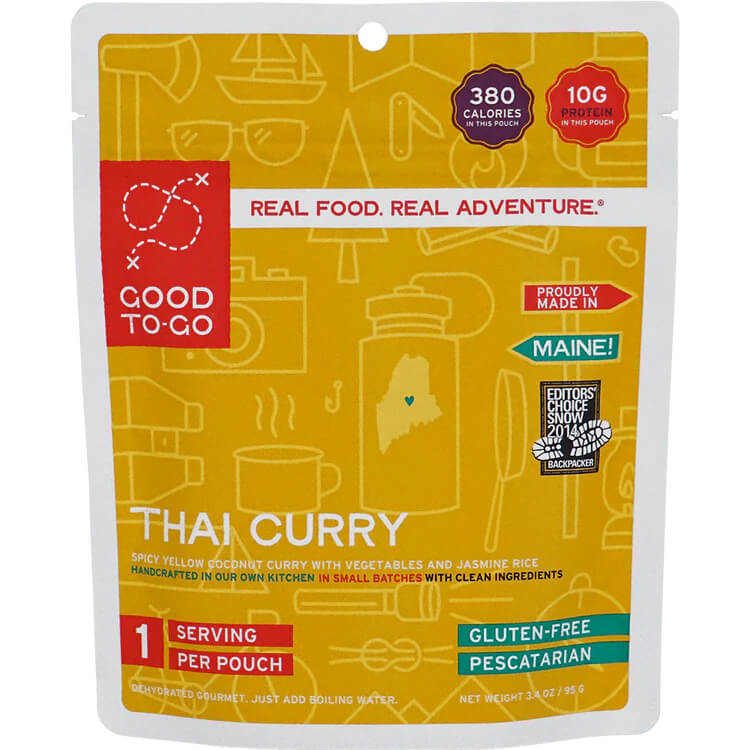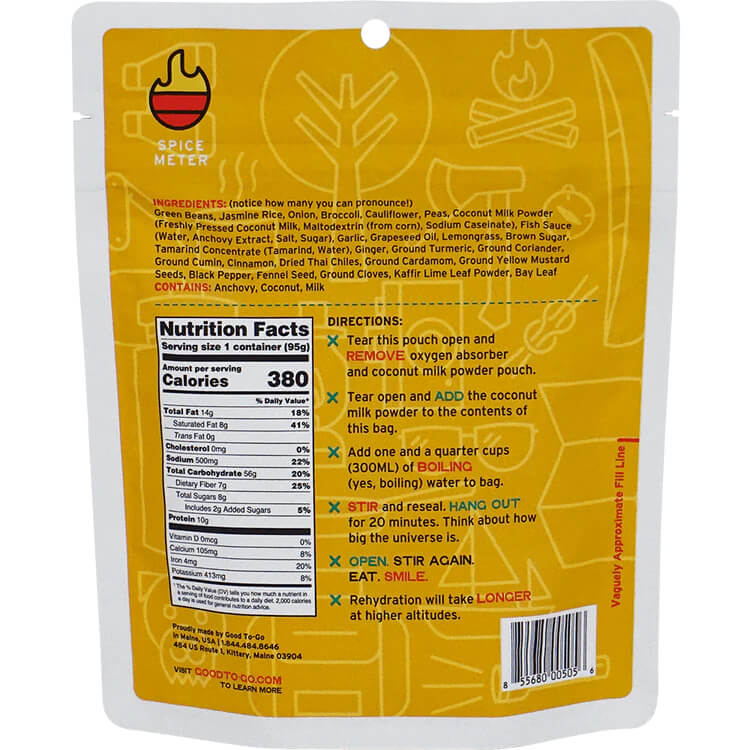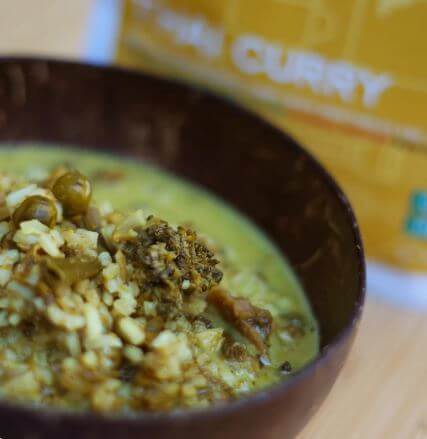 Features
Spicy Yellow Coconut Curry With Vegetables and Jasmine Rice
Loaded with broccoli, cauliflower, peas, and green beans
Thai chiles give this dish the right amount of heat and provide immunity benefits
Coconut milk, lemongrass, and tamarind contribute to the unique flavors
Fragrant jasmine rice completes the true Thai experience
Gluten-free
Pescatarian
NUTRITION FACTS
Serving Size: 1/2 container (95g). Servings Per Container: 2. Amount Per Serving: Calories: 380, Total Fat 14g (18% DV), Saturated Fat: 8g (40% DV), Trans Fat 0g, Cholesterol: 0mg (0% DV), Sodium: 500mg (22% DV), Total Carbohydrates: 56g (20% DV), Dietary Fiber: 7g (25% DV), Sugars: 8g, Incl. 2g Added Sugars (4% DV), Protein: 10g, Vit. D 0mcg (0% DV), Iron 4mg (20% DV), Calcium 105mg (8% DV), Potassium 413mg (8% DV).
Amount Per Container: Calories: 770, Total Fat 28g (36% DV), Saturated Fat: 16g (80% DV), Trans Fat 0g, Cholesterol: 0mg (0% DV), Sodium: 1010mg (44% DV), Total Carbohydrates: 112g (41% DV), Dietary Fiber: 14g (50% DV), Sugars: 16g, Incl. 5g Added Sugars (10% DV), Protein: 20g, Vit. D 0mcg (0% DV), Iron 8mg (45% DV), Calcium 210mg (15% DV), Potassium 825mg (20% DV).
*Percent Daily Values are based on a 2,000-calorie diet.
INGREDIENTS
Green Beans, Jasmine Rice, Onion, Broccoli, Cauliflower, Peas, Coconut Milk Powder (Freshly Pressed Coconut Milk, Maltodextrin (from corn), Sodium Caseinate), Fish Sauce (Water, Anchovy Extract, Salt, Sugar), Garlic, Grape Seed Oil, Lemongrass, Dark Brown Sugar, Tamarind Concentrate (Tamarind, Water), Ginger, Turmeric Powder, Coriander, Cumin, Cinnamon, Dried Thai Chilies, Cardamom, Yellow Mustard Seeds, Black Peppercorns, Fennel Seeds, Cloves, Kaffir Lime Leaf Powder, Bay Leaf
CONTAINS: Fish, Coconut, Milk
This product has a 5-year shelf life.
Real Food. Real Adventure.
GOOD TO GO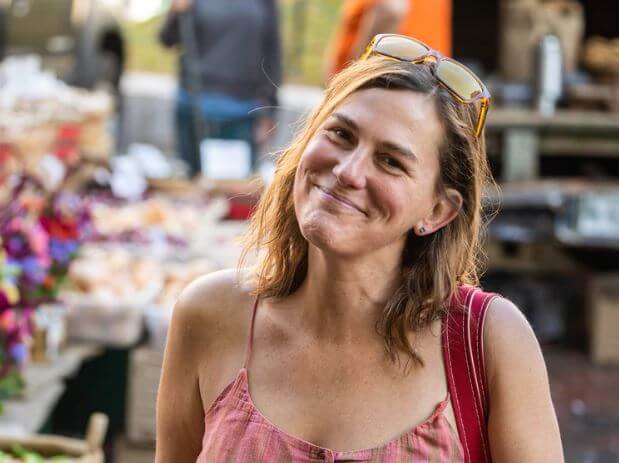 Gluten Free
Delicious healthy meal, 100% gluten free.
Just Add Boiling Water
Your favorite meals are incredibly easy to prepare. Just add boiling water directly to the pouch, stir, reseal, and minutes later you'll be enjoying a delicious meal.
Made In the USA
Our meals are cooked and packaged in our own USDA-approved facility in Kittery, Maine.
Delicious meals that you can enjoy wherever your adventures take you
Meet Good To Go
So, what makes Good To-Go different? It begins with our chef, Jennifer Scism. A graduate of The French Culinary Institute in Manhattan, Jen went on to own a Michelin-starred restaurant in NYC.
Maine has a long history of wilderness adventures and craftsmanship, especially when it comes to the outdoors. Good To-Go uses that inspiration to carry on the tradition of Maine craftsmanship focusing on quality and excellence. Every meal is handmade by cooks whose focus is creating the most delicious meals, to be enjoyed wherever your adventures take you.
Thai food on the trail
Want a gourmet meal on the trail. This fits the bill. While it doesn't match restaurant Thai food, it is really good for freeze dried. I would definitely take this again on a trip to give variety and have a special meal. Pay attention to the ingredients. My wife wouldn't eat this, because of the fish base. I like fish and really liked this.
I did find that you should probably not follow the "cooking" time instructions. Rather than letting it "cook" for 20 minutes 25-30 is a better time. The rice was still a bit crunchy at 20 minutes.
Thank you so much for the time and effort to send us this review with a 5-star rating, Jeff. It means the world to us. Thank you for supporting Sierra Madre! :)