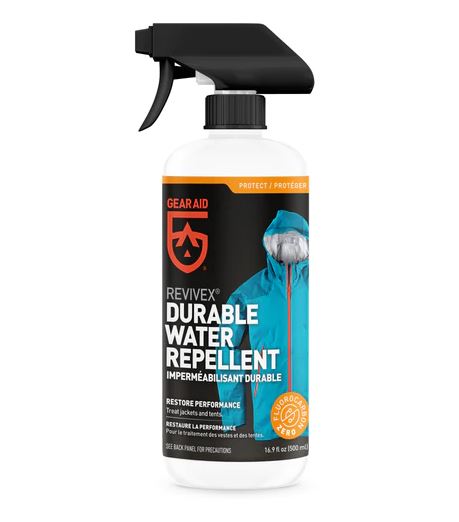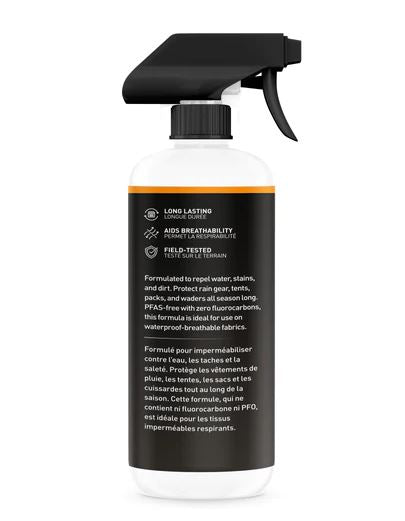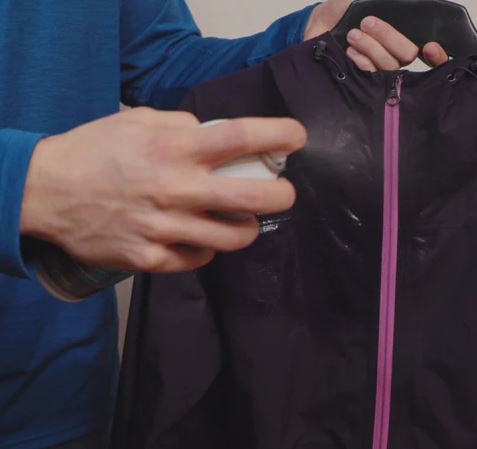 GEAR AID | REVIVEX DURABLE WATER REPELLENT 16.9 FL OZ
Features
Restore the DWR coating on GORE-TEX jackets and waterproof-breathable outerwear with Revivex Durable Water Repellent. Regular reproofing treatment of rainwear, soft shells, ski pants, and GORE-TEX jackets is highly recommended to repel water continuously. Whatever your adventure is, Revivex Durable Water Repellent provides the proper protection in the rain and snow.
Durable – Spray-on treatment restores DWR, resists abrasion, and repels water, oil, and stains
Maximizes Breathability – Creates water resistant layer and allows waterproof-breathable garments to perform at its best
Washable – Ideal for outerwear and ski gear, this DWR coating will remain after a wash and can be air dried or heat set
Compatible – Designed for use on technical fabrics including eVent, NeoShell, and GORE-TEX materials; the formula is PFAS-free with zero fluorocarbons.
Multipurpose – Restore water repellency to DWR-treated rainwear, jackets, ski pants, gloves, boots, waders, and nylon tent flies

Specifications

Size: 5fl oz, 10 fl oz, and 16.9 fl oz
The formula is PFAS-free with zero fluorocarbon
For Use On: nylon, eVent, NeoShell, and GORE-TEX fabrics
Application: Spray
Air Dry: Yes
Water Protection: Yes
Stain/Oil Protection: Yes
Made in the USA
Failure is where we show up
Gear Aid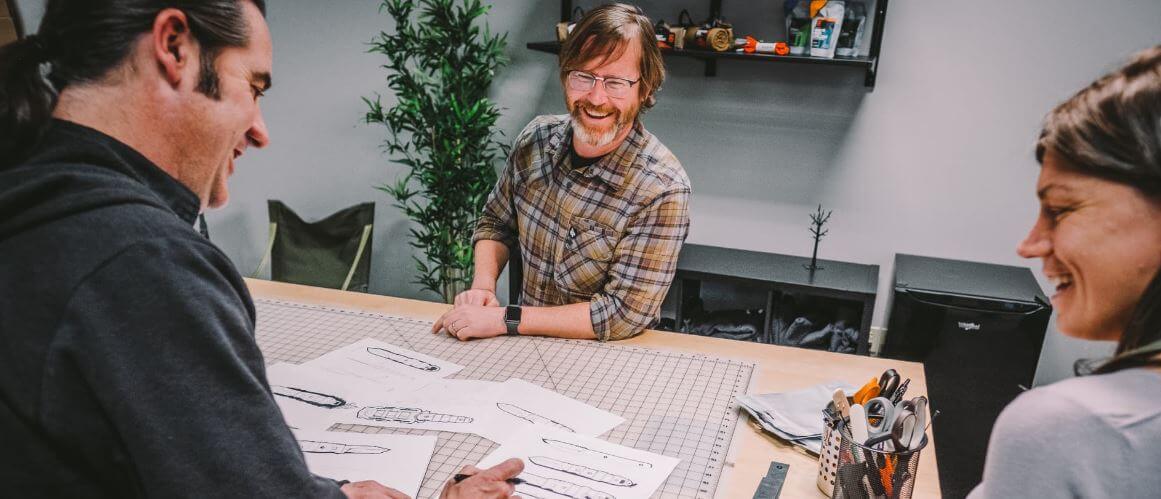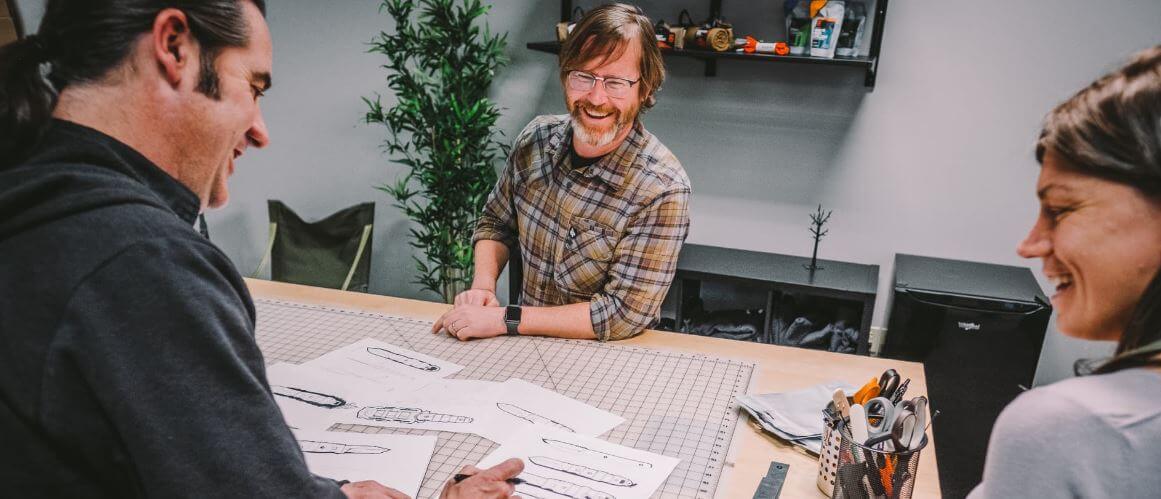 Learn More about Gear Aid
"Duane and Nancy McNett and the McNett team have built a great company over the past 35 years very much the same way as Coghlan's has done, one item at a time," said Rob Coghlan, president of Coghlan's Ltd. "We look forward to working with the McNett team on introducing new and expanded offerings to each market the company touches with its family of brands."
About McNett® Corporation
For over three decades McNett and its family of brands, Gear Aid®, Outgo®, M Essentials™, and McNett® Tactical, have provided quality, innovative products for the dive, outdoor, sporting goods, and military markets. With its unique blend of reliable outdoor gear and accessories, McNett provides the Essentials for Adventure
COGHLAN'S LTD. ACQUIRES MCNETT® CORPORATION. McNett Corporation becomes GEAR AID Inc.
After three decades as McNett Corporation, the gear care and repair company outdoor enthusiasts know and love, is now officially known as GEAR AID Inc. This legal name change comes at the heels of new ownership, a comprehensive rebrand, and a refreshed vision to expand into additional markets.     
Along with the legal name change, visitors to mcnett.com will be redirected to gearaid.com beginning January 1, 2017.