Let's Compare
We didn't invent camping, we just perfected it.
Pufflo
This is just the best camping accessory must have. I love my Pufflo for hammock camping so much I ordered an extra! The Pufflo is my comfort item I will never leave behind on camping/backpacking trips. Thank you Sierra Madre for creating this fabulous pillow that packs down and is so lightweight it can go anywhere.
So delighted to know that you love your Pufflo, Rhonda. It means a lot to us. Thank you for trusting the Sierra Madre gear! :)
Not your average camp pillow
If you're looking for an ultra-compact super lightweight backpacking pillow that may puncture if you look at it funny... look elsewhere. Because without the Pufflo+ liner, what you get is a lightweight, compact, comfortable and rugged pillow.
However, if you want to take that comfort to the ultimate level, make a little bit of extra room in your pack and bring the Pufflo+ liner with you. (Let's face it, you don't really need that 2nd spare set of clothes!) And as an extra bonus, the colors of the Pufflo+ liner match the puffle adventure quilt colors, because with this, you don't have to sacrifice functionality to look good on your camping and backpacking adventures.
Oh, and it is also quieter than my old camp pillow... My old one always made this crinkling sound whenever I shifted... the Pufflo+ doesn't. So yeah, not your average camp pillow... nothing else is even close to the quality and comfort.
Love your review, Ryan! It means the world to us. Thank you for supporting Sierra Madre! :)
My new everywhere pillow
I love this pillow!
Over the years, I've used several different inflatable backpacking pillows, and they've all left me wanting more.
I'm a side sleeper. Like most side sleepers, sleeping in camp is a little difficult, since most camping gear, like mummy bags, is made for back sleepers.
I've spent a few nights with this now and really like it. At full inflation, it is thick enough for me to sleep on my side. This is my new go-to pillow for camping in both tents and hammocks. It is a clear upgrade over my standard pillow on cots and my inflatable pillow on the ground. It is a few ounces heavier than my normal inflatable, and while I normally chase ounces, the weight is worth it for the comfort.
At home, I normally sleep with a body pillow between my knees to help my back and pelvis. A full body pillow is nearly impossible to use in a sleeping bag and difficult to travel with. I've tried inflatable body pillows and they're terrible. I have a second, bonus, use for my Puffalo now. I plan on taking my Puffalo whenever I travel as a perfect replacement for my body pillow.
I love that both the Puffalo and UL insert come with separate stuff sacks if you need them. I keep them together as a single unit and use just one stuff sack (less items for me to remember to pack).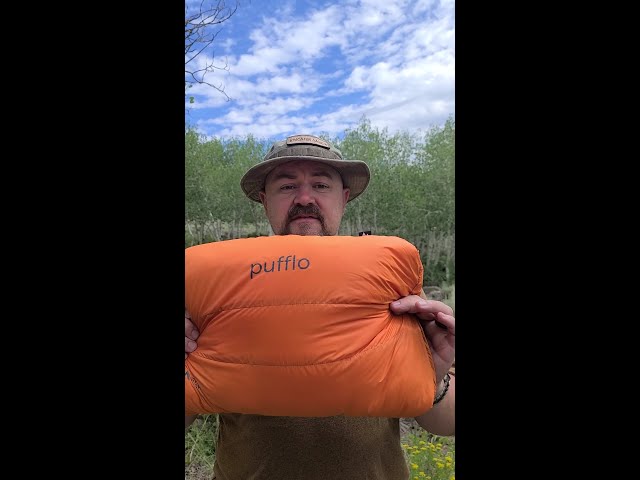 Thanks for taking the time and effort to write us a review, Jeff. Glad that you love it. We appreciate your support! :)
puffalo!
I was hoping to receive my new Puffalo before my final camping trip of the season. Sadly, it arrived while we were away. It looks and feels amazing, I think I'll set up my tent in the backyard just to try it out!
I bought your camp pillows this spring, so we've used them on three camping trips now. I'll never look back! I've been tripping for 20 years and thought of a pillow as an unnecessary luxury. I've had the best sleeping in a tent this summer! The rest of the family agrees. It also inflates and deflates in seconds and takes up almost no space! You've convinced me!
Thanks for the time and effort in sending us a review with a 5-star rating, Kendra! We appreciate it so much. Thank you for trusting Sierra Madre! :)
Your Special: Pufflo UL question, answered.