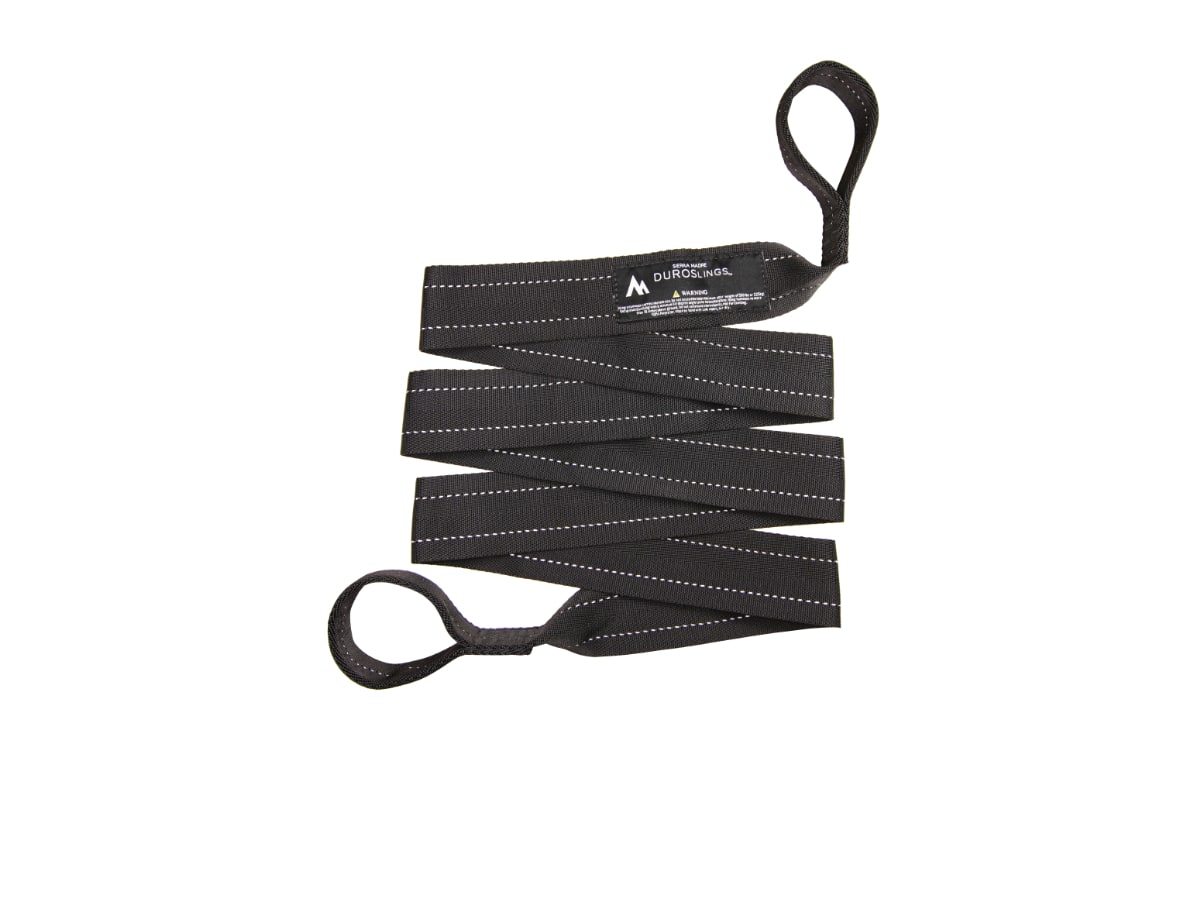 DuroSlings | 2in Wide Hammock Camping Extension Kit Holds 1,200lbs
for these incredibly strong and lightweight slings that fit soft and snug to large trees.
NO TREE TOO BIG OR TOO FAR
2in Wide Hammock Camping Extension Kit Holds 1,200lbs
The DuroSlings give your suspension extra length and extra tree protection! These DuroSlings are incredibly strong and lightweight and fit soft and snug to a large tree with their wide, 2-inch strap. You can link these to our EZSlings when your trees are extra spaced out or incredibly wide like a Sequoia!
Hang Anywhere
Some states have laws about using 2-inch straps on their trees. Thankfully, our 2-inch wide DuroSlings can be used by themselves, or as a safe extension to your favorite suspension. This gives you the freedom to hang just about anywhere!
Tried And True
Made of high-strength polyester, our DuroSlings have been tested to 1400lbs.
Reflective
We added reflective tracers into the webbing of the DuroSlings, so you can always find your way back home.
Tacked And Loaded
We reinforce our DuroSlings with 7 bartacks on each end, guaranteeing a safe hang every time!
Specifications
All of the nitty gritty details that went into creating the DuroSlings
What's Included
Details
Length: 6ft 10in x 2in (208cm x 5cm)
Just what I wanted
2 inch wide straps so I'm looking after the trees no matter where I'm hanging. Made well and easy to work with.
Glad you like it! It is easy to work with:)
Thank you for choosing Sierra Madre!
Sweet beautiful reviews. Happy adventuring!
Yes - they are specifically needed for some parks when hammocking. Enjoy the spring/summer hikes!
Great strap extenders
Needed strap extenders for some big trees in the pacific northwest, these worked like I needed them to. They fit a huge tree and I mean big tree and hooked right into my ez slings and still gave me that great angle for my hammock.