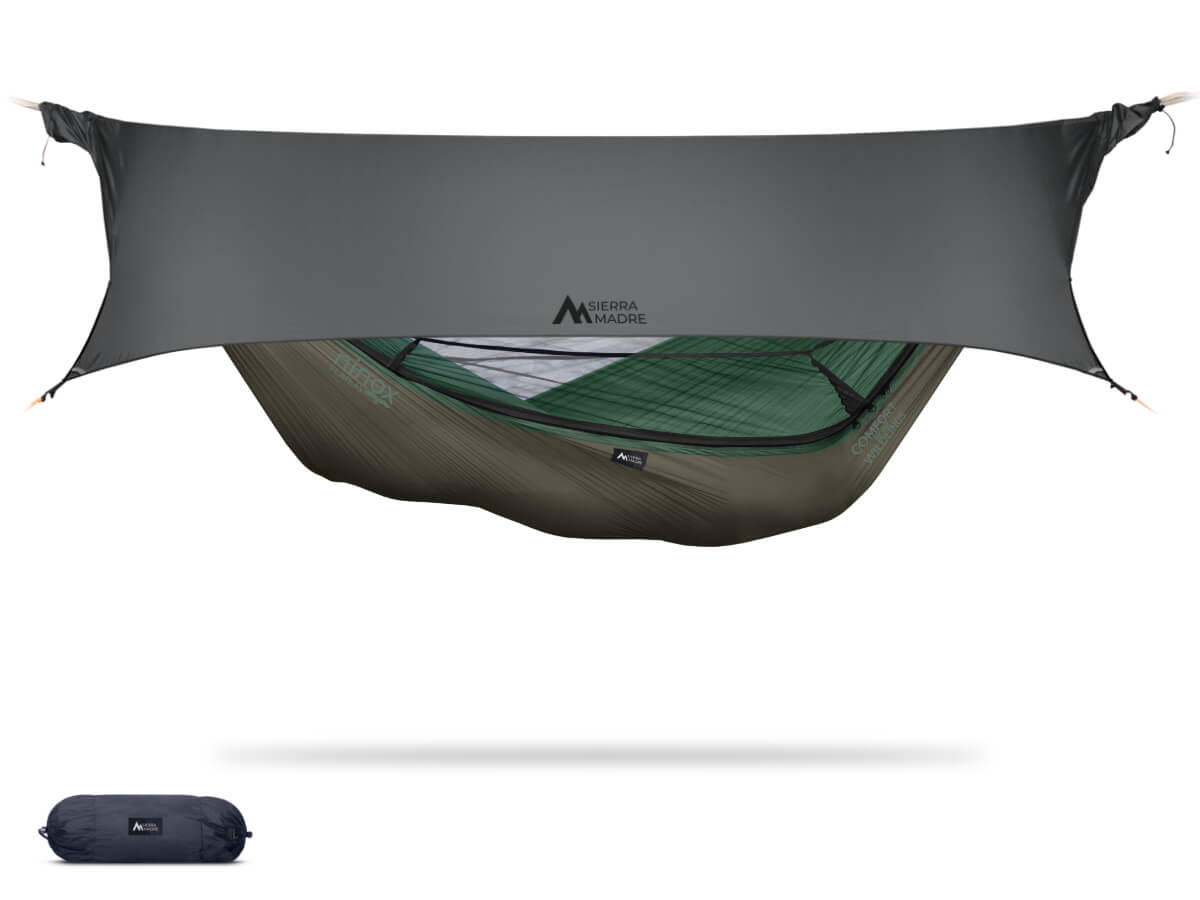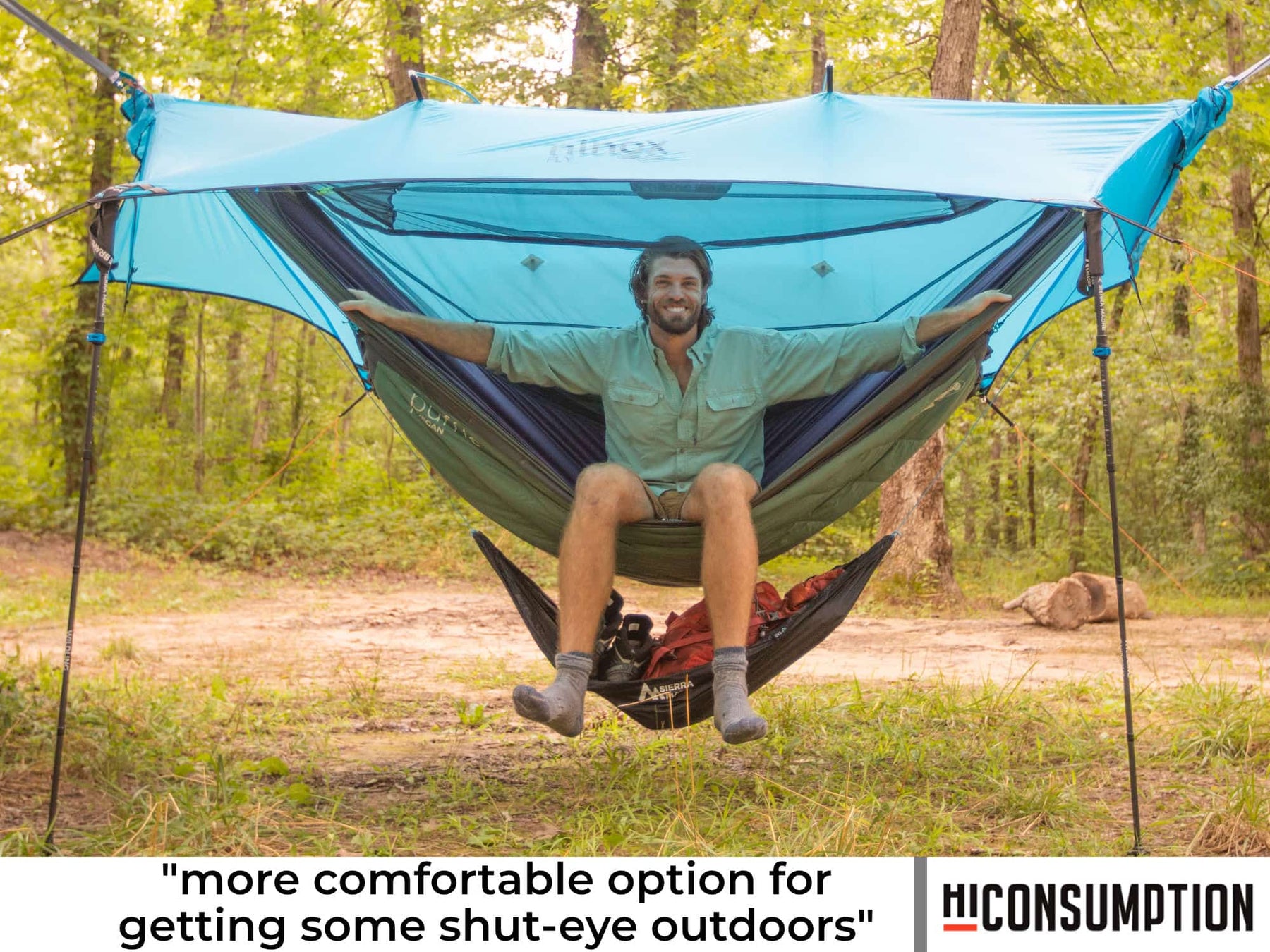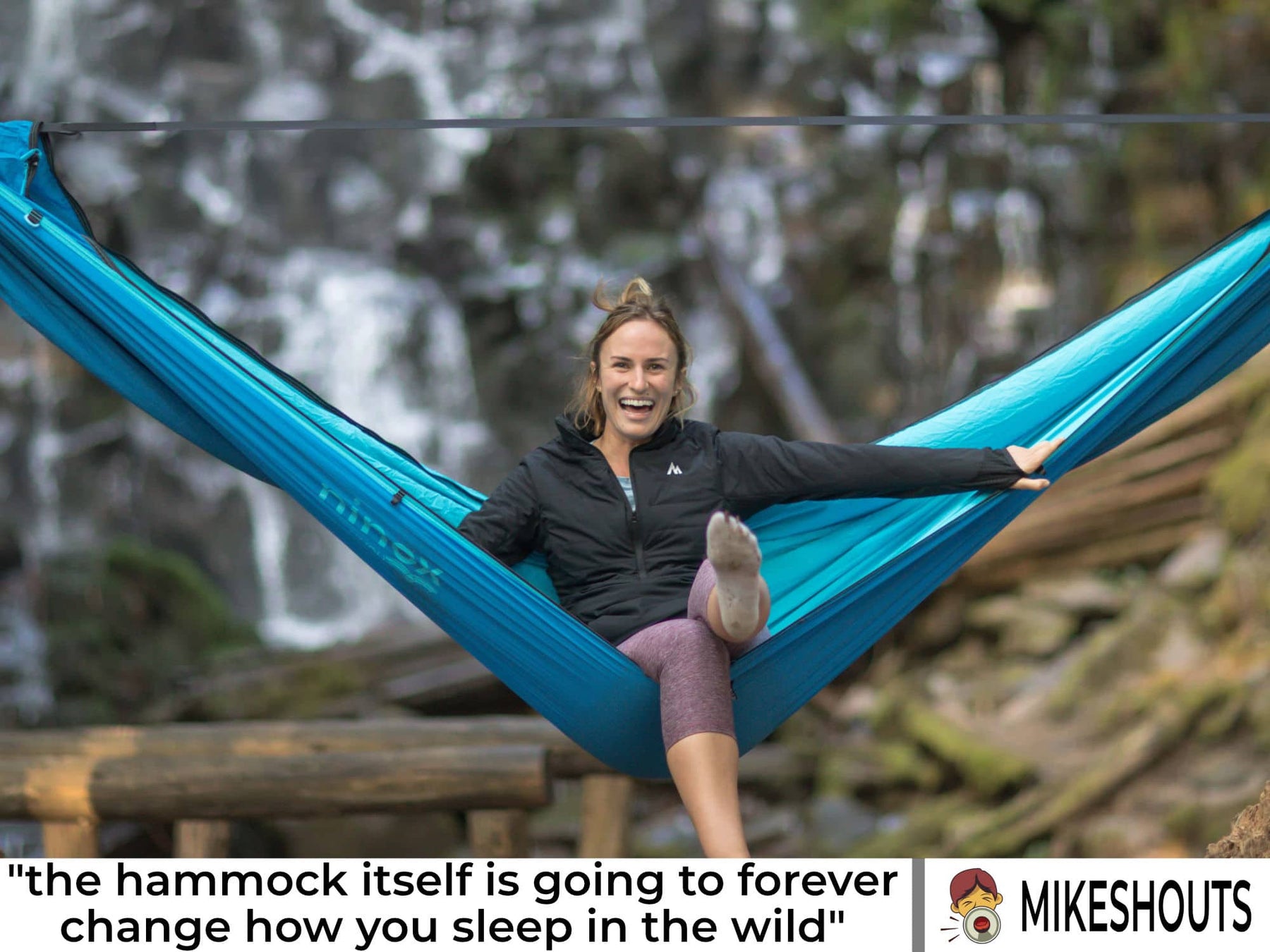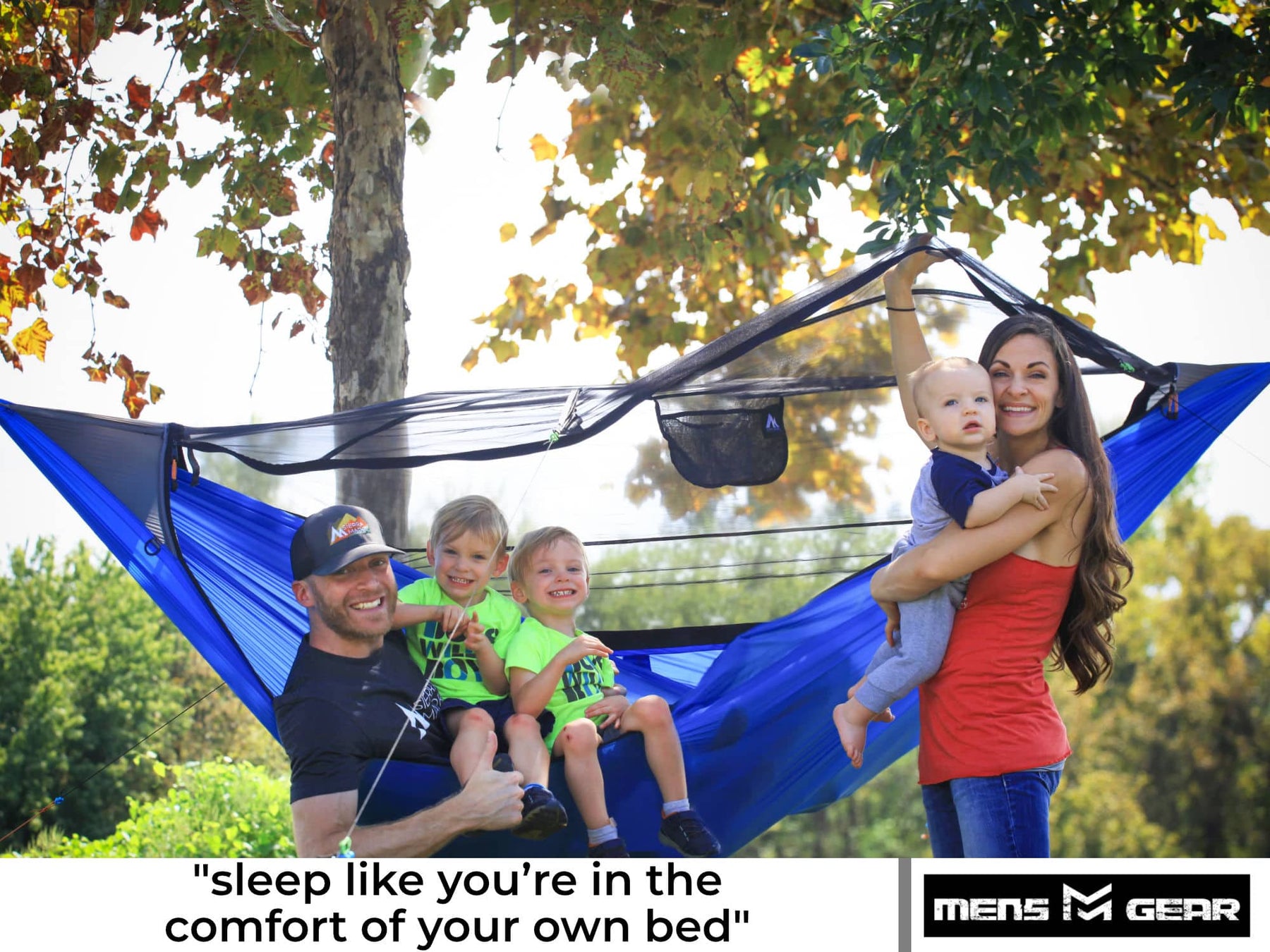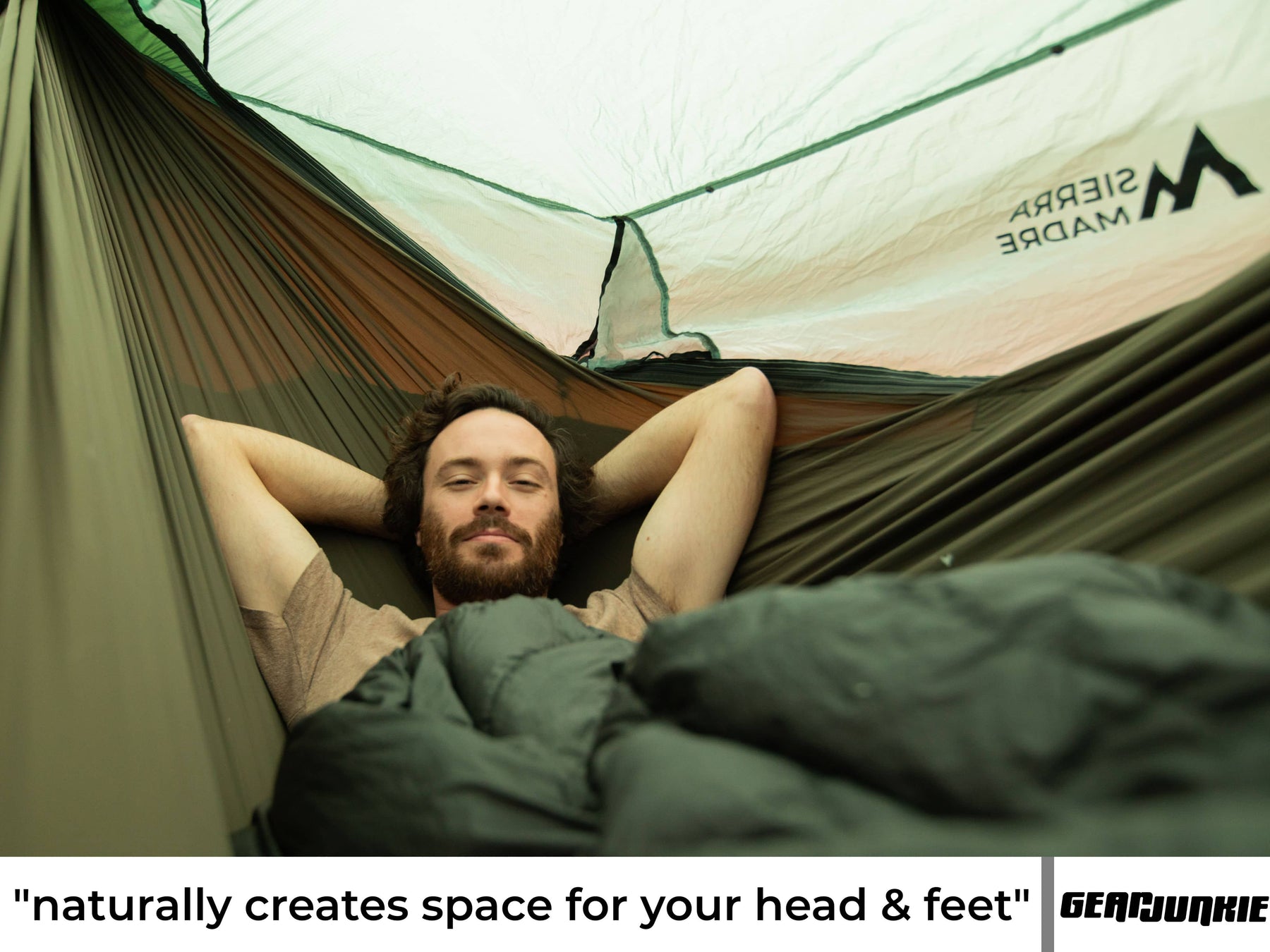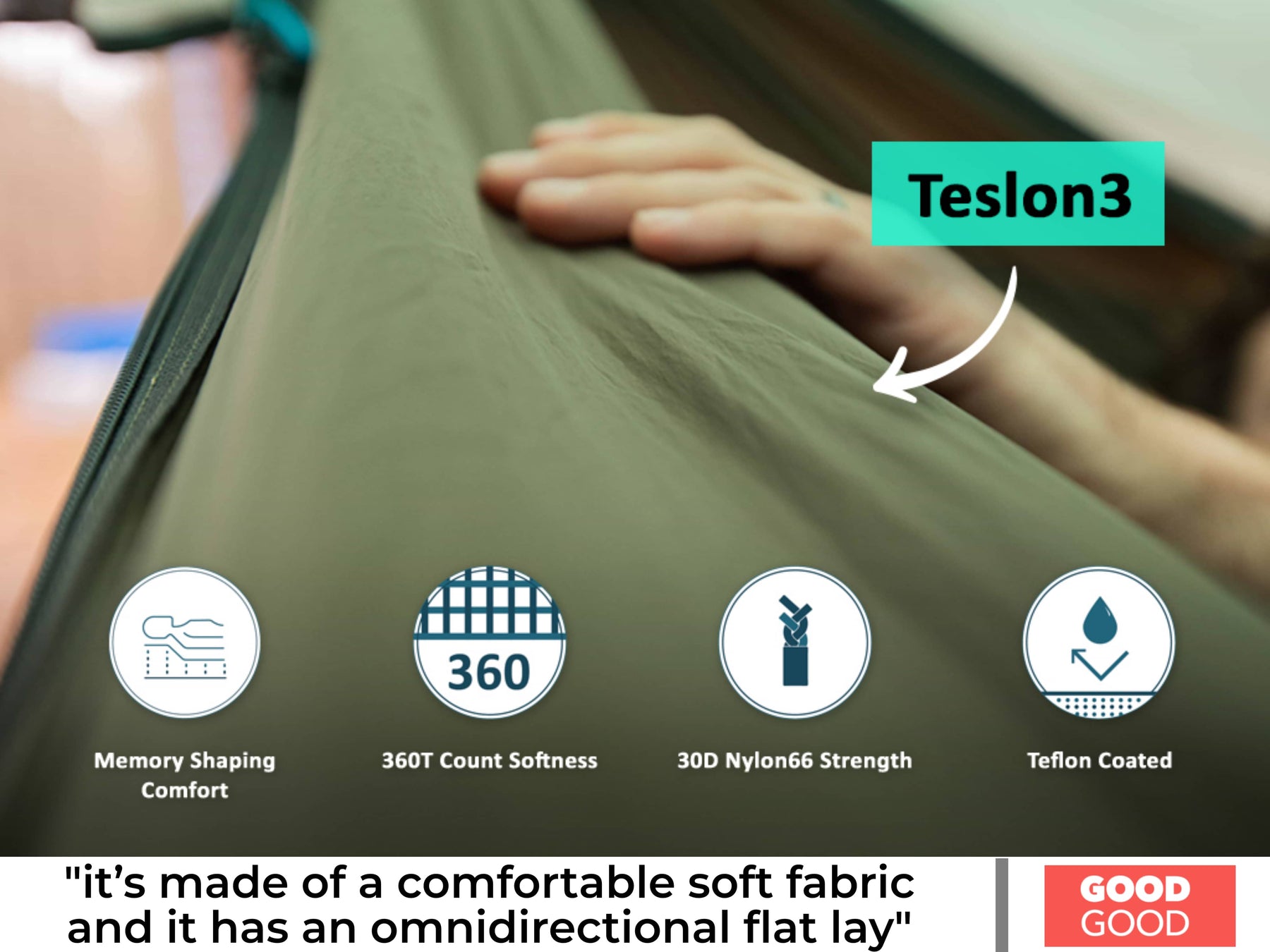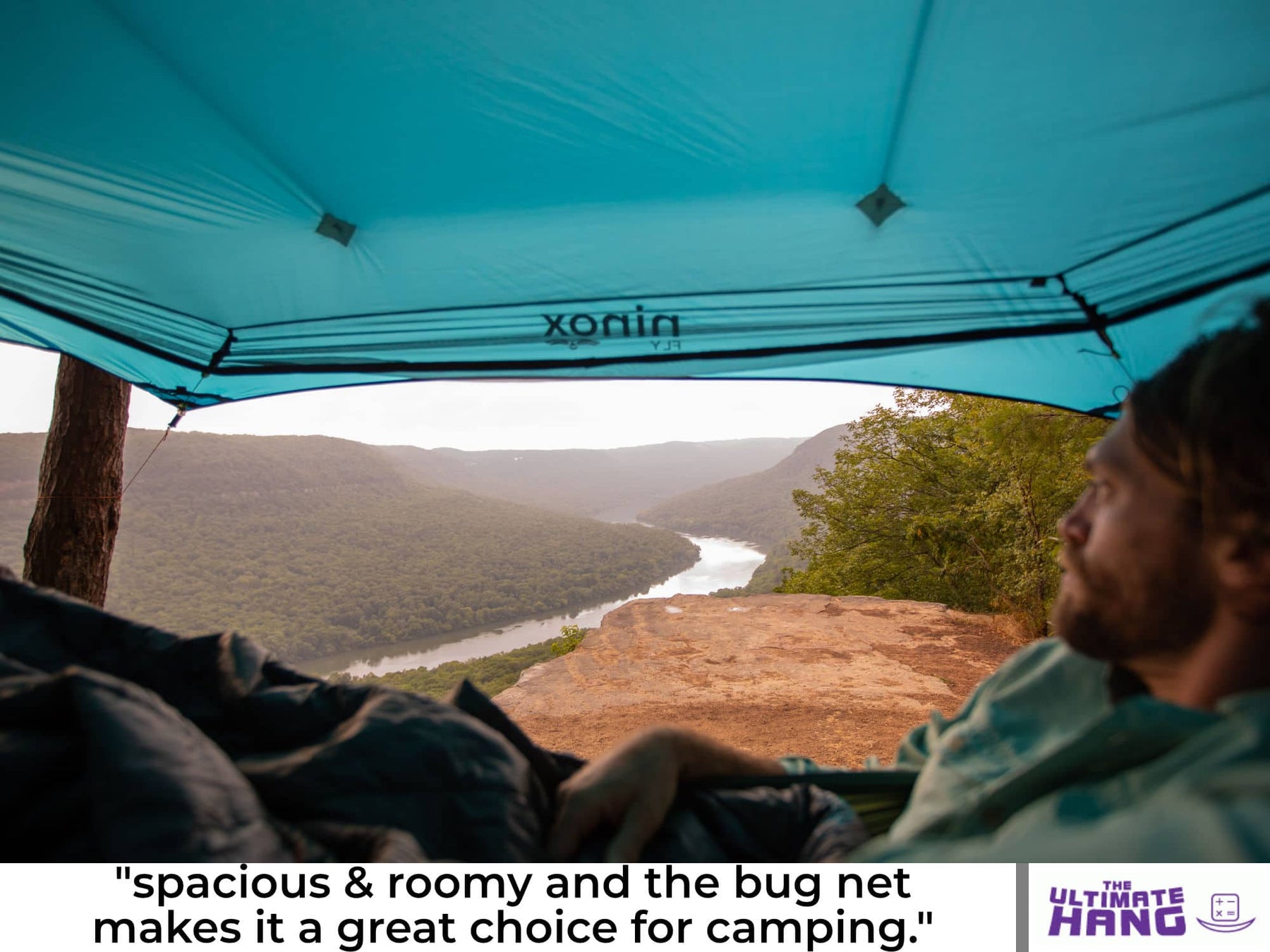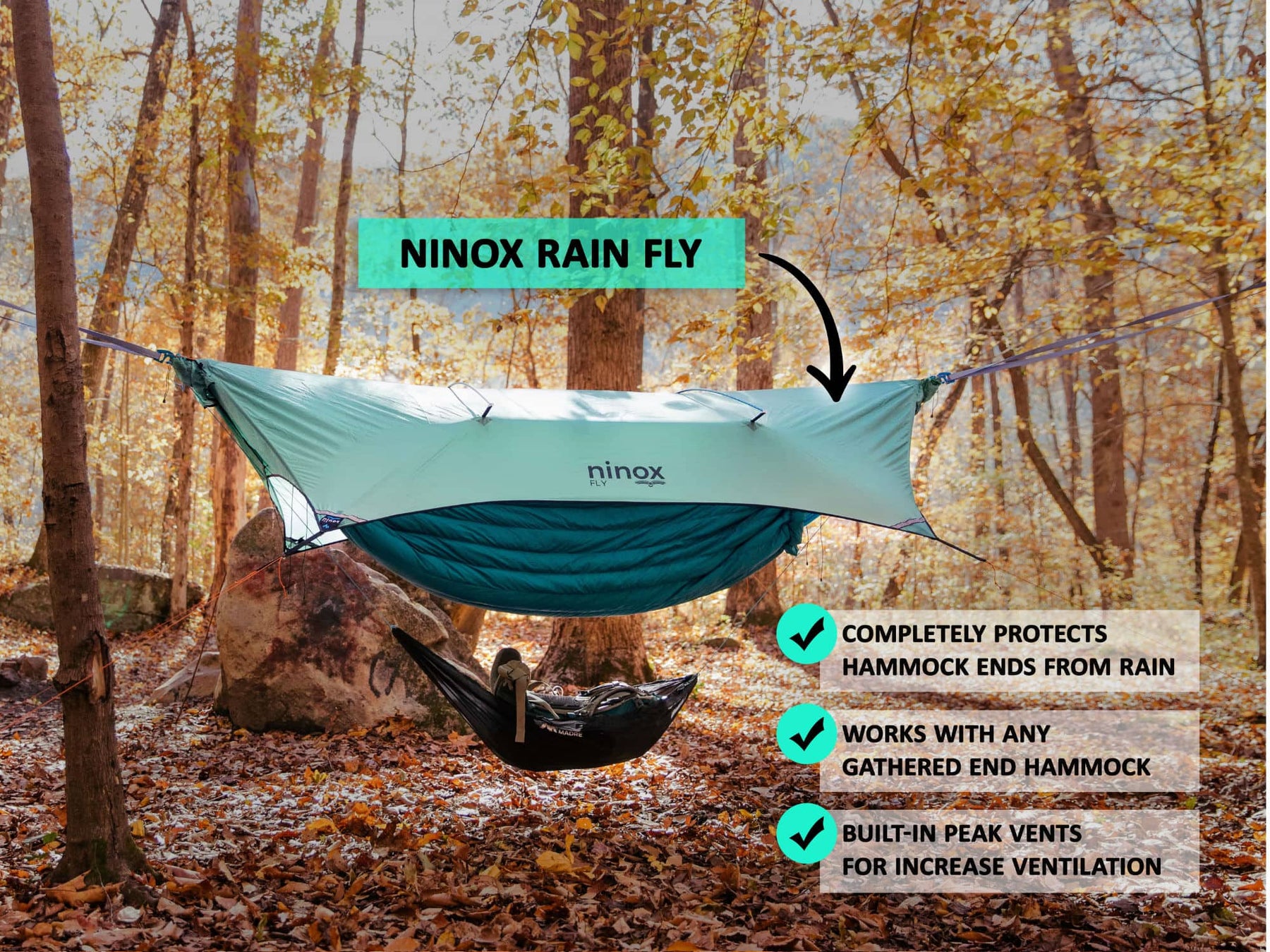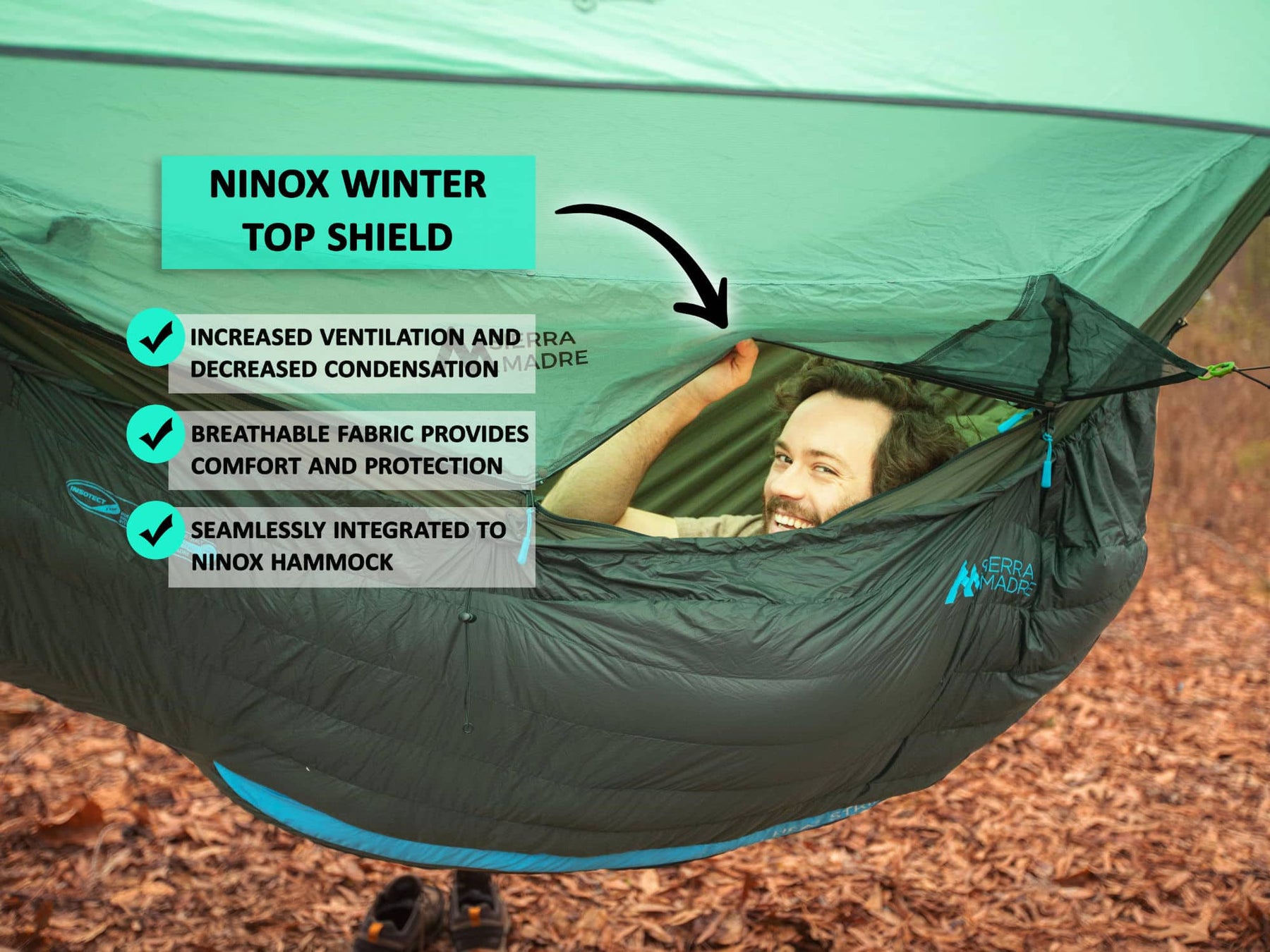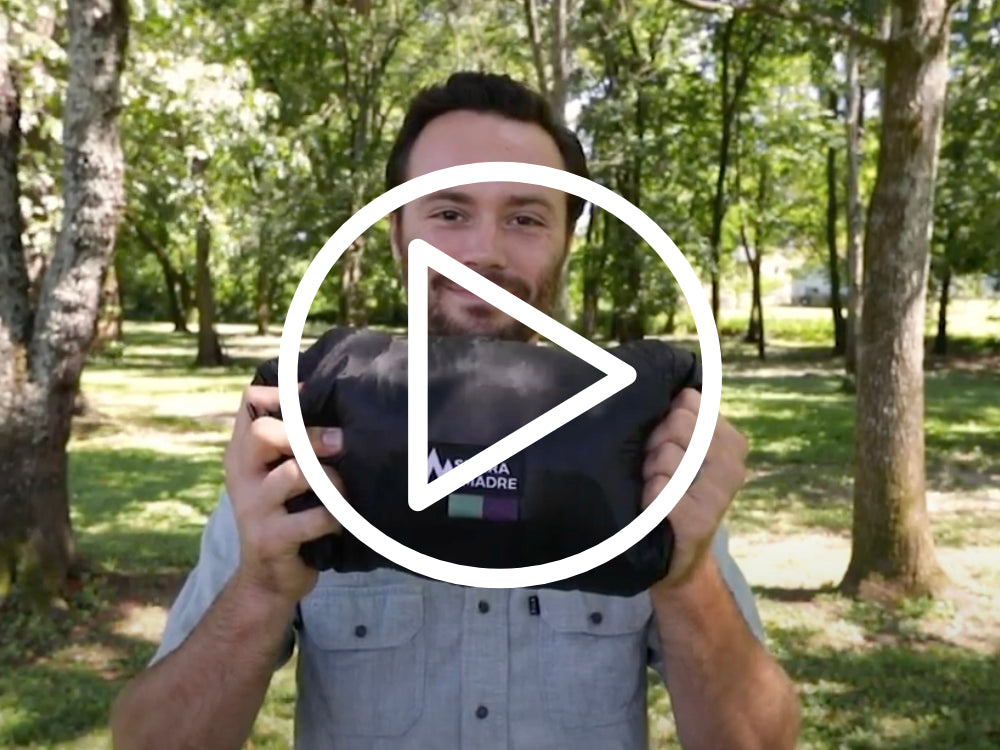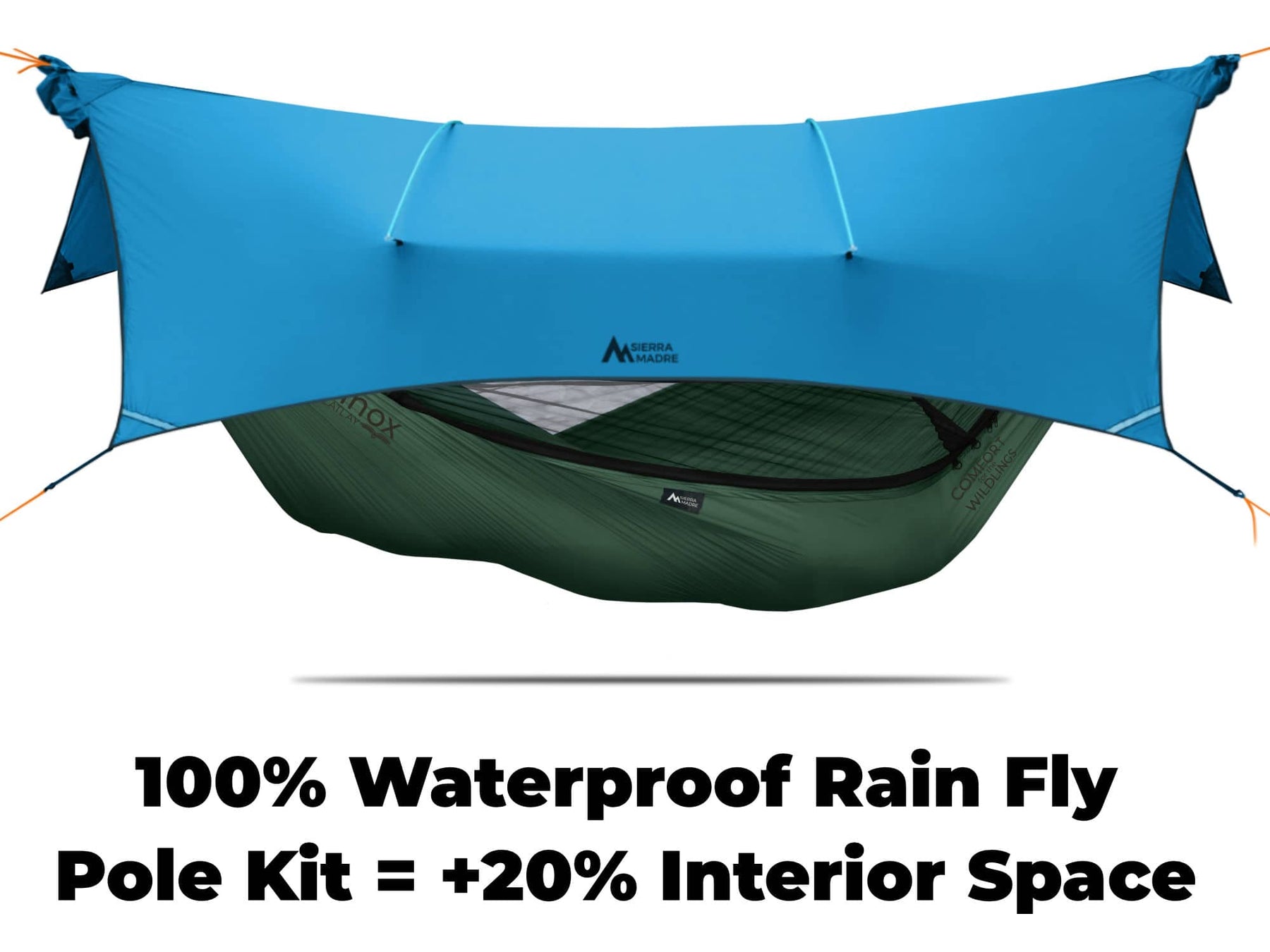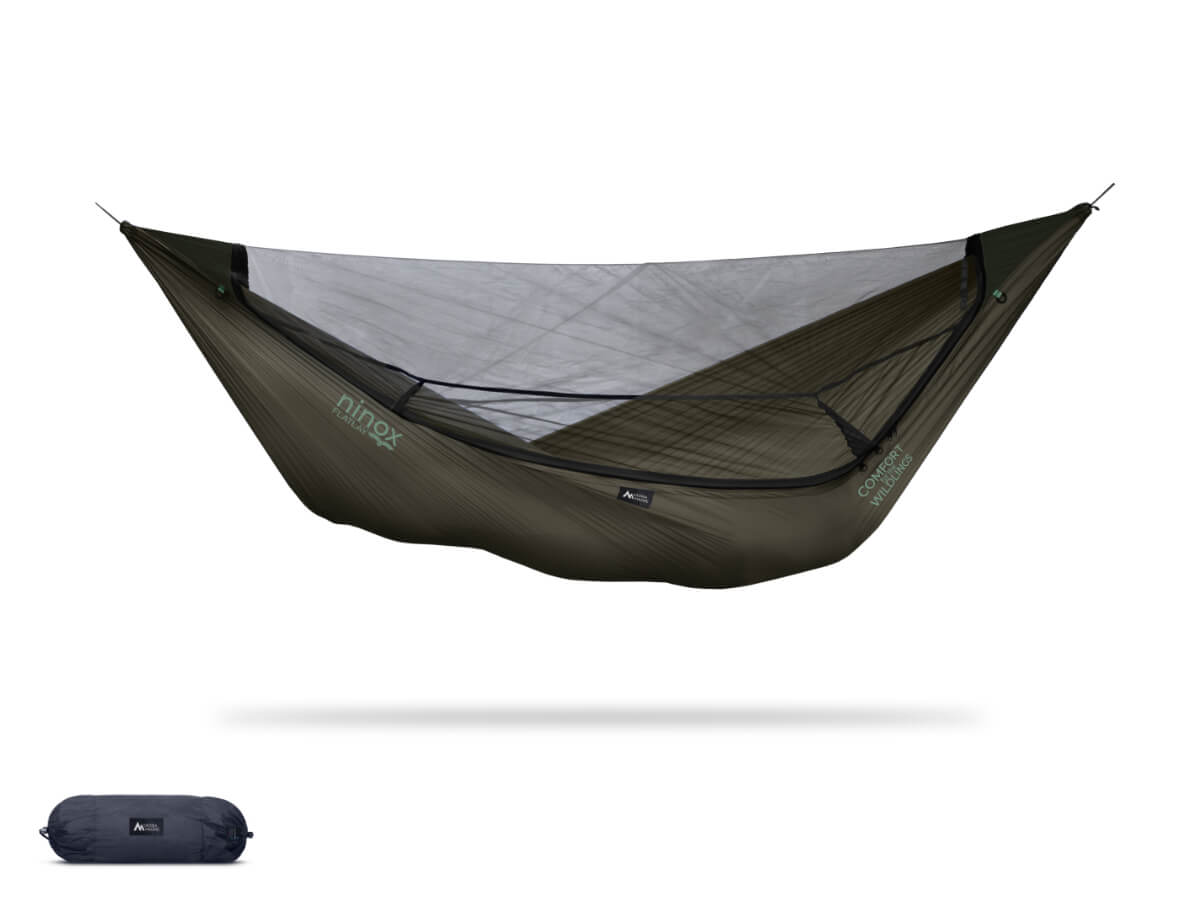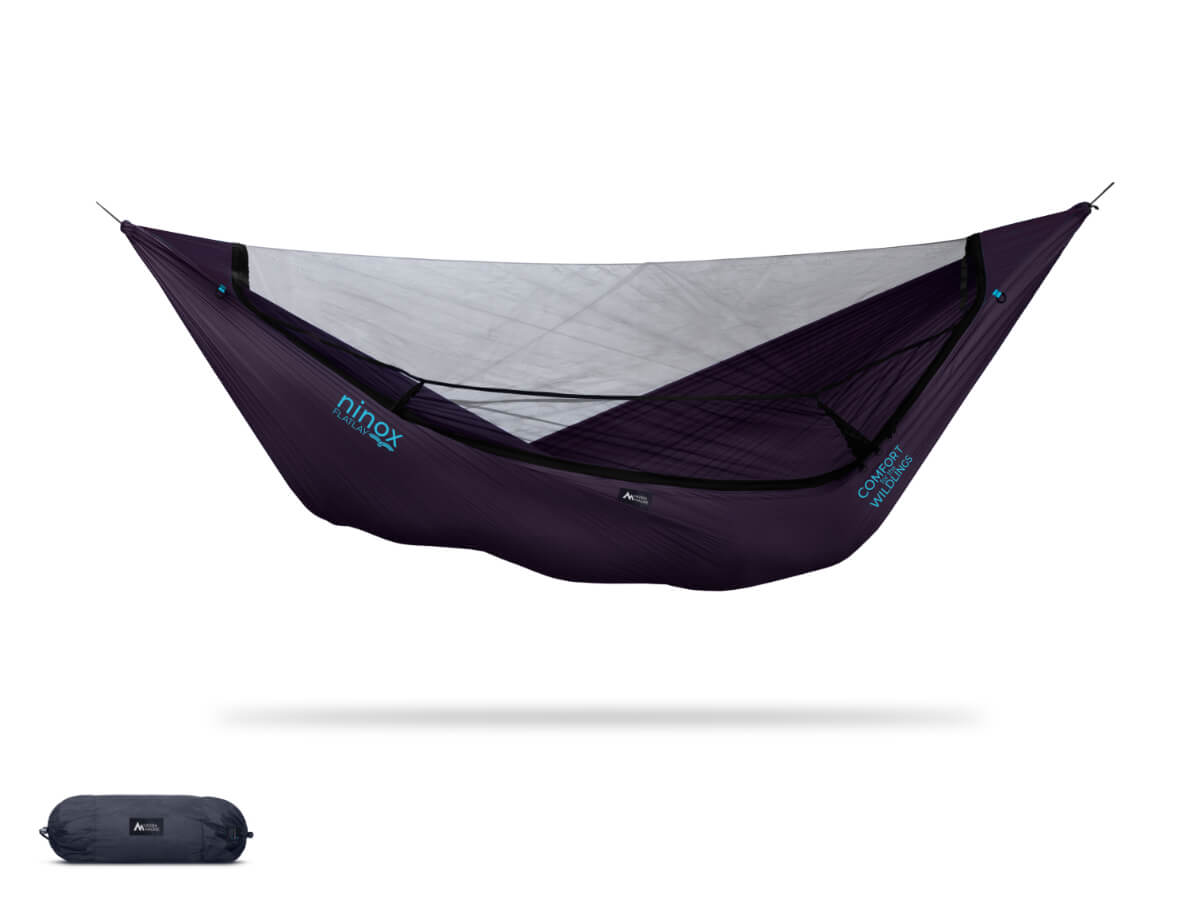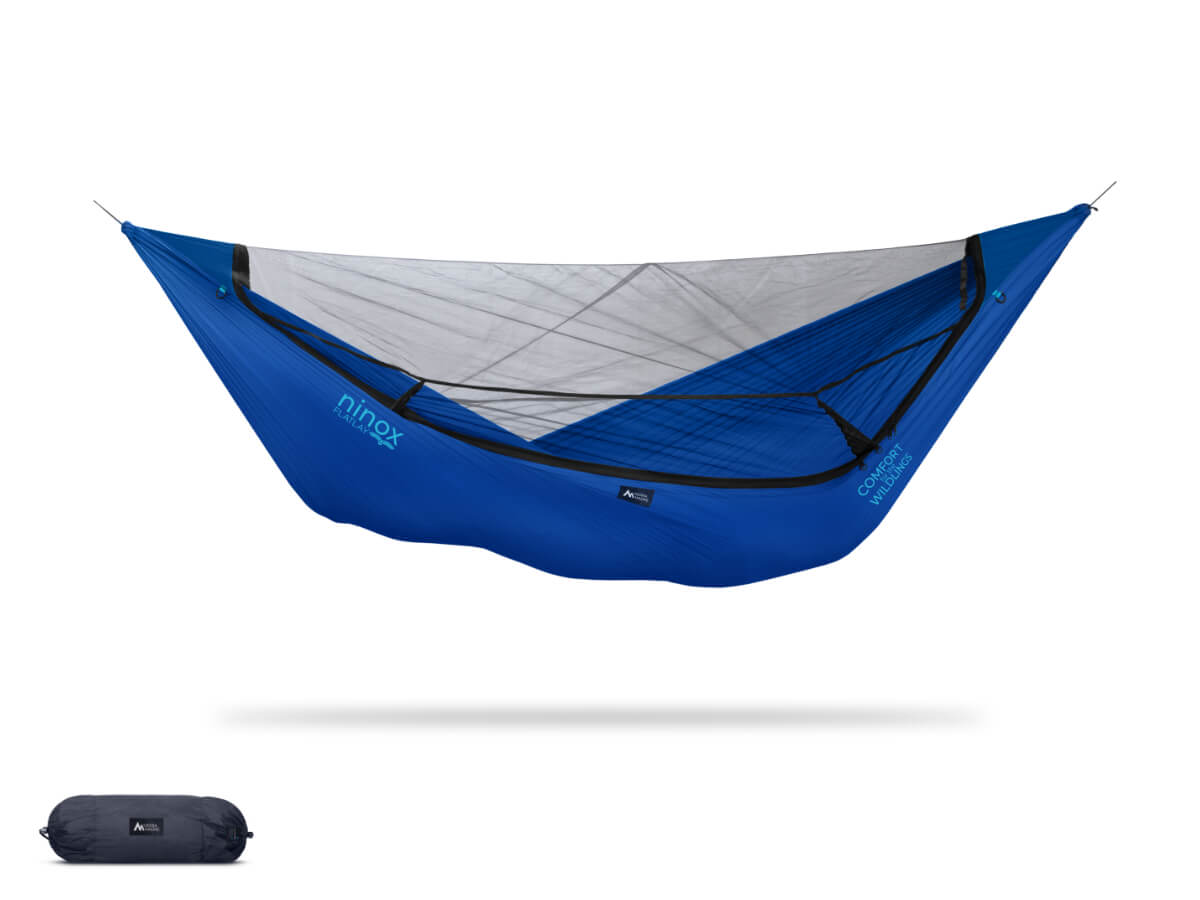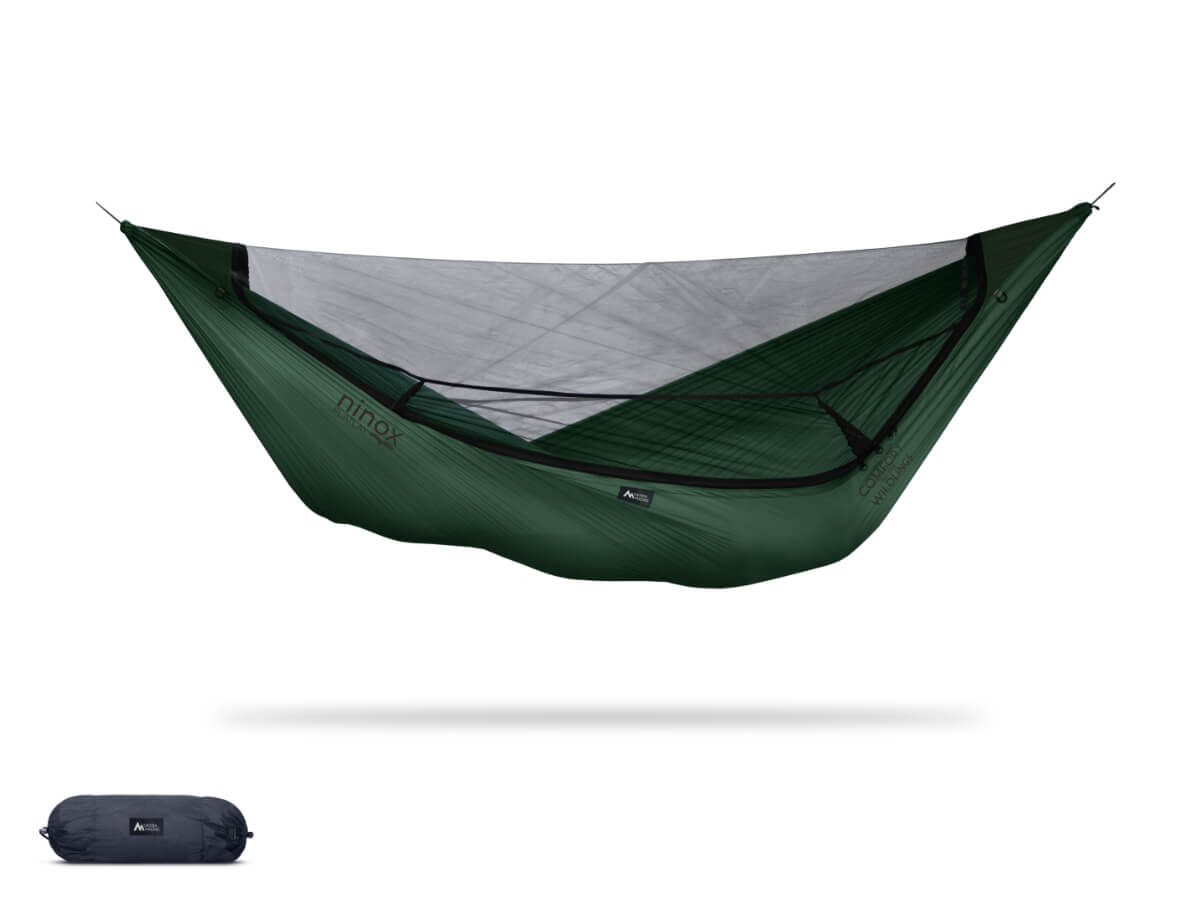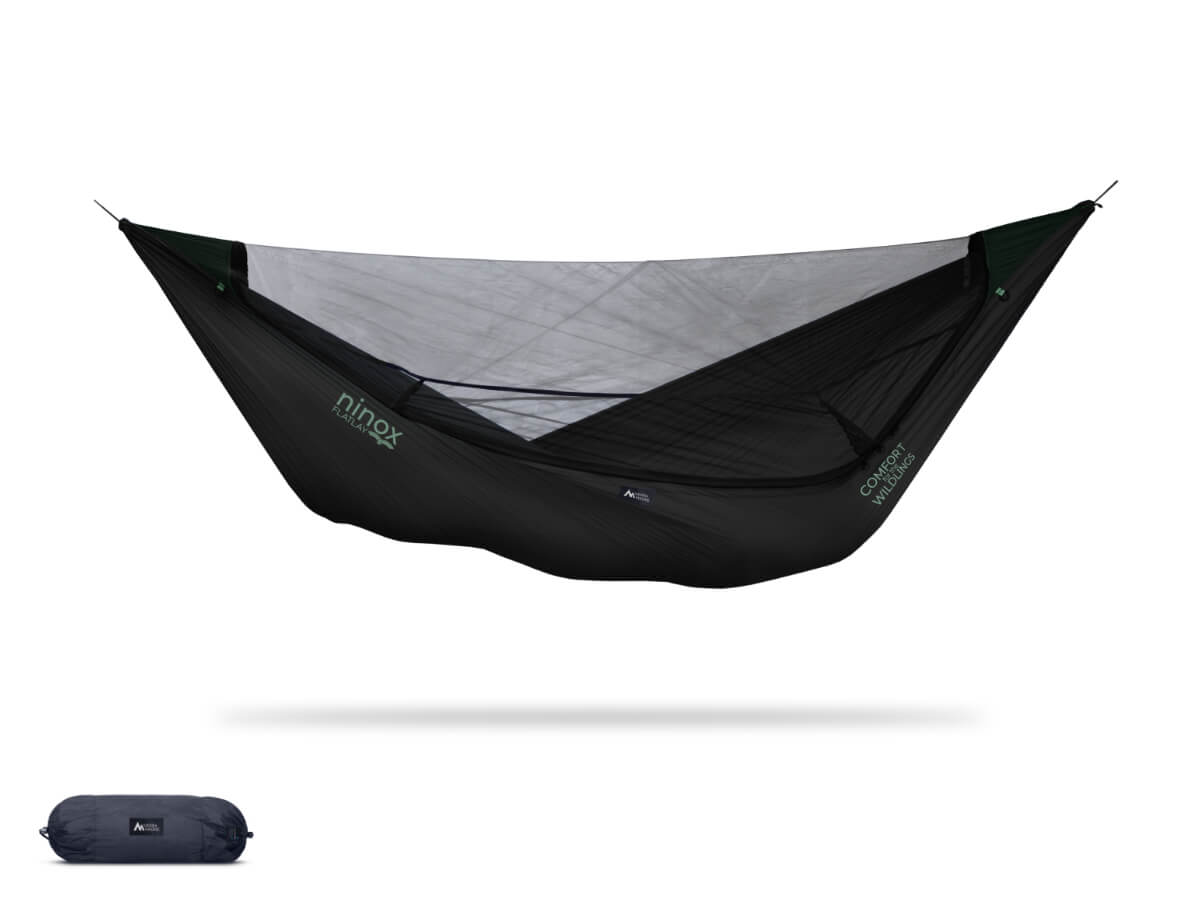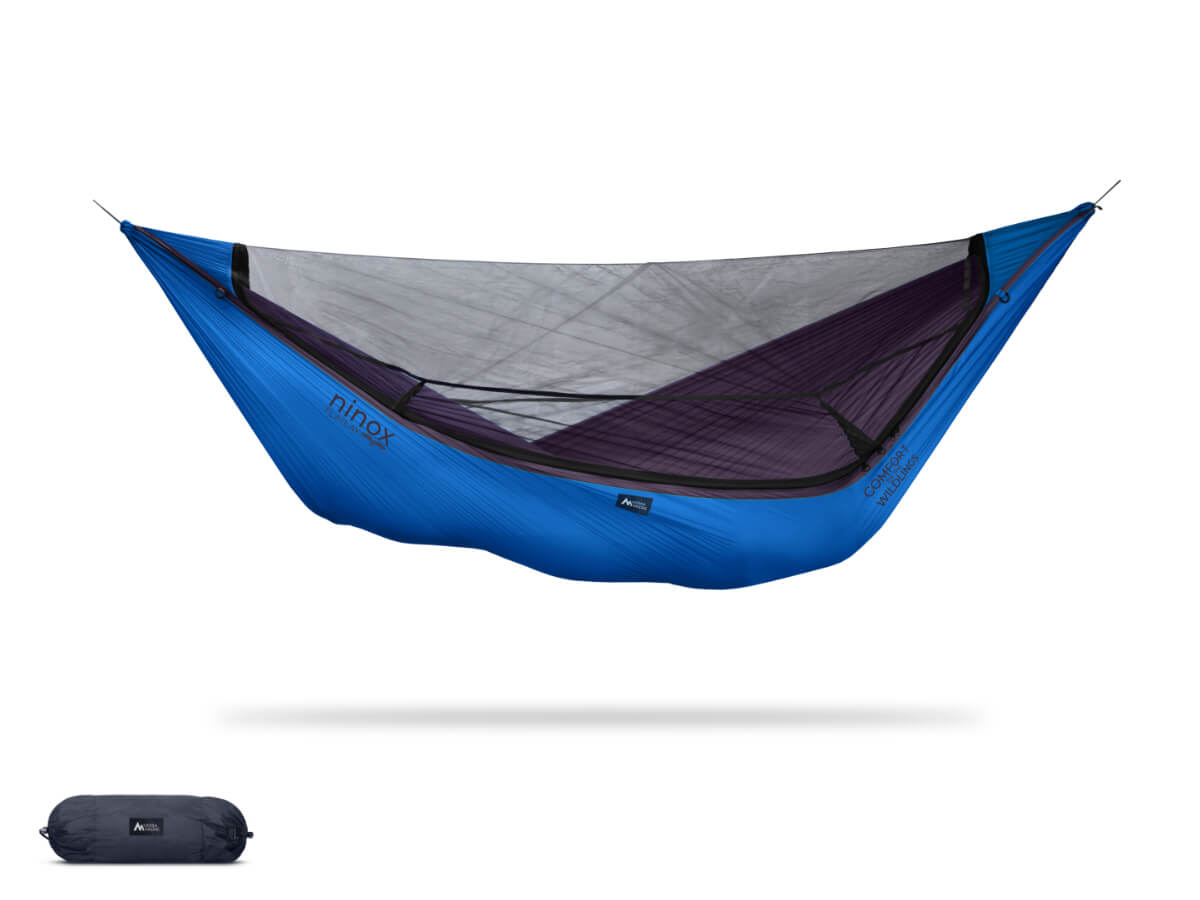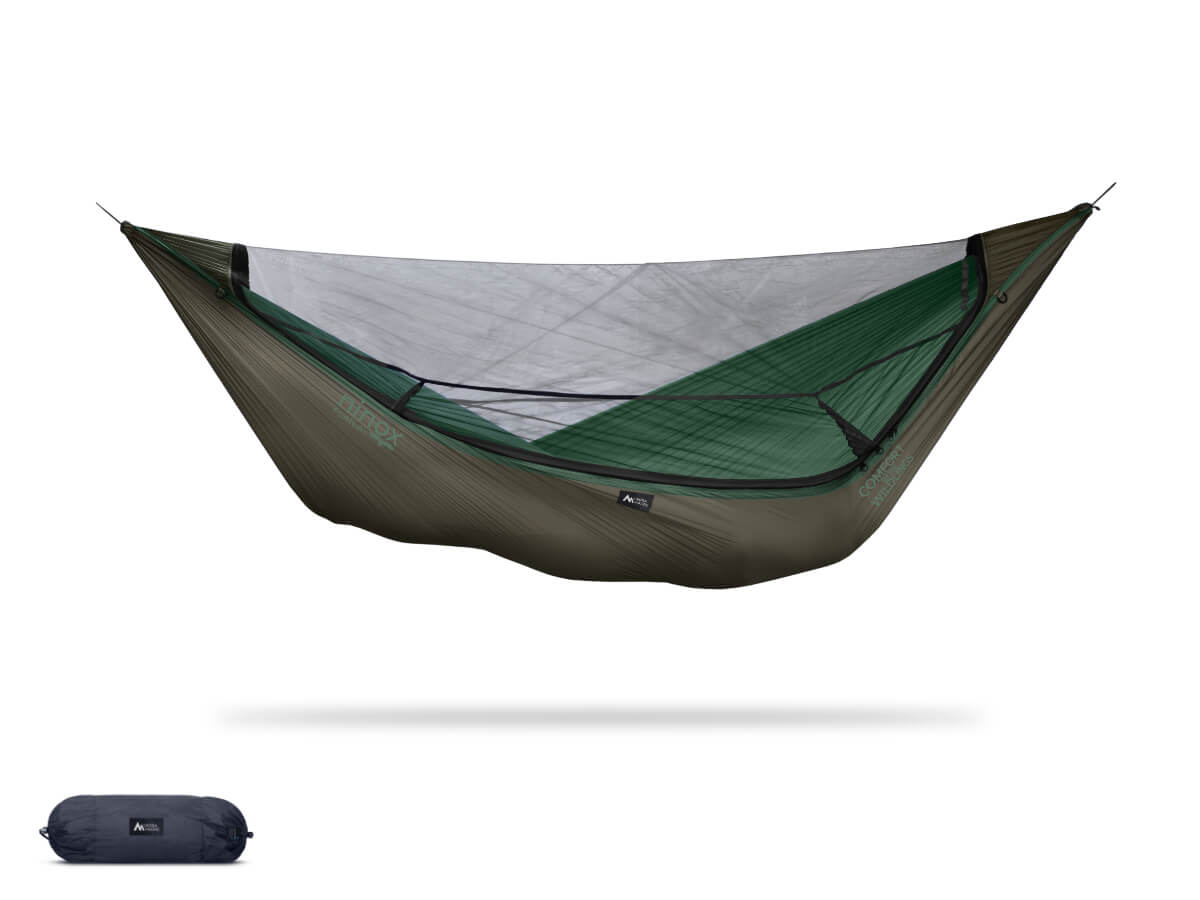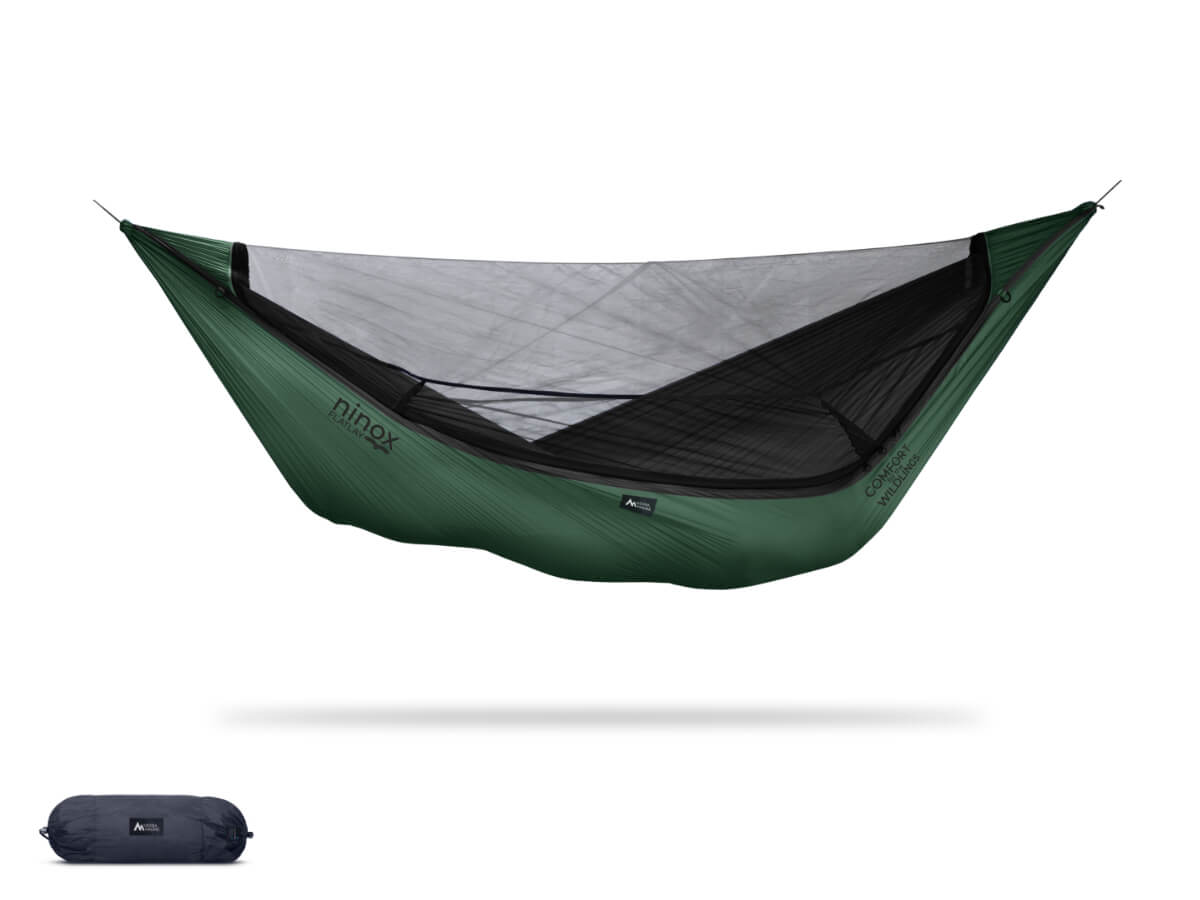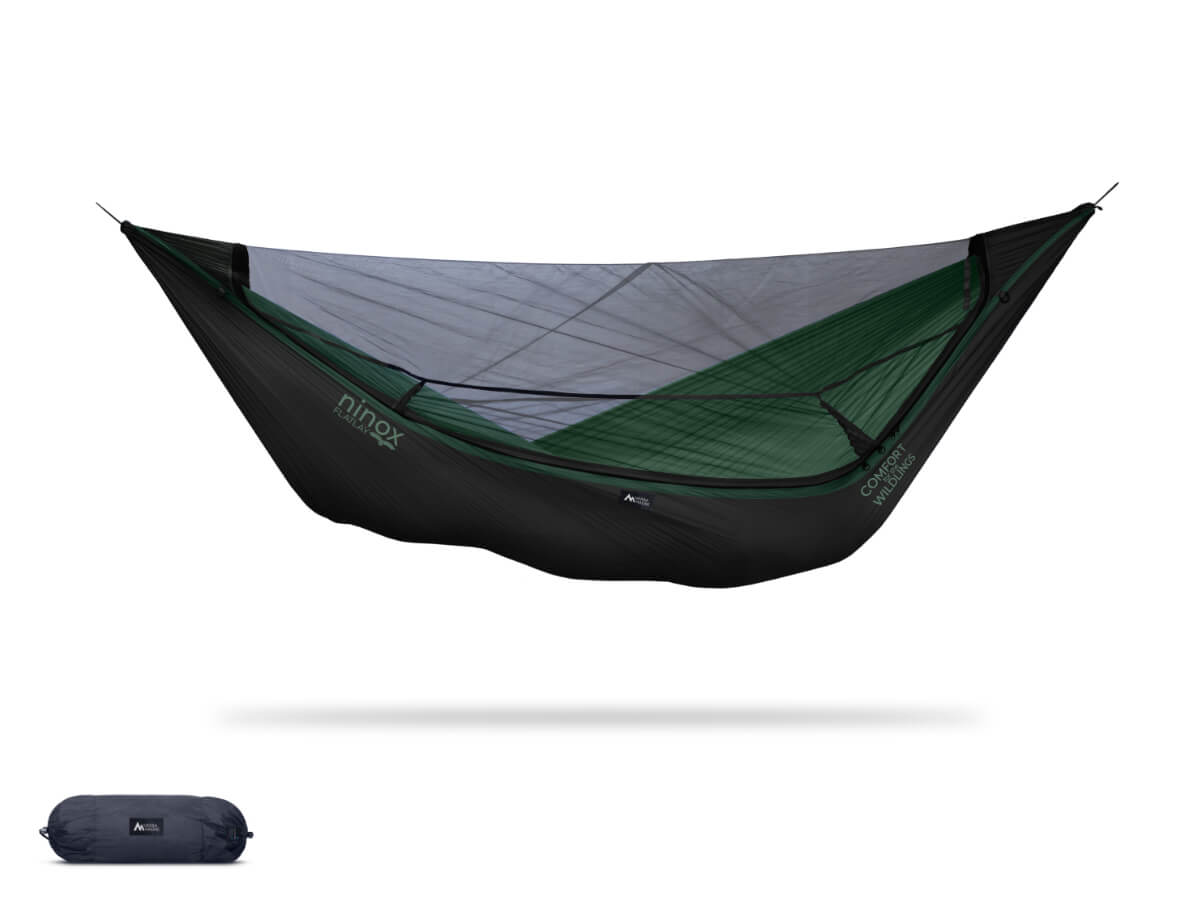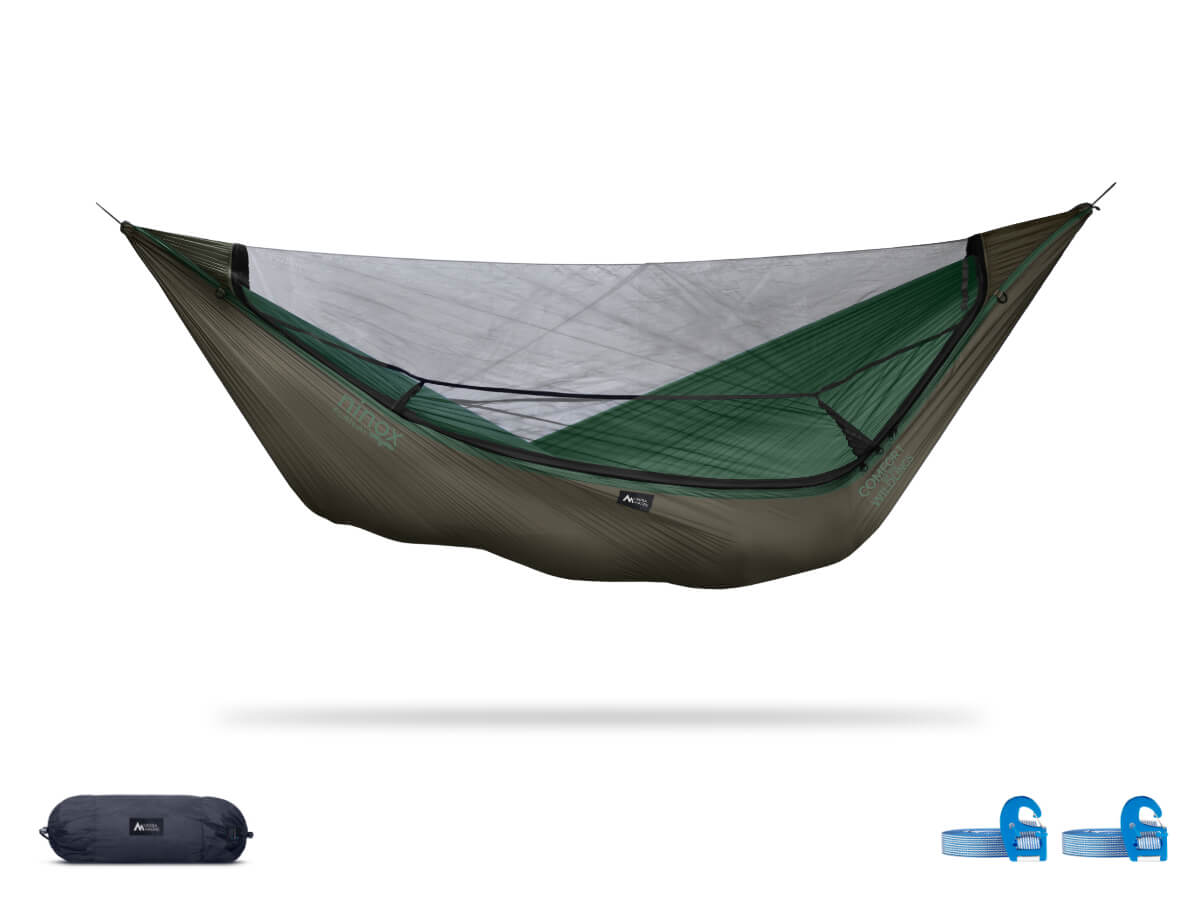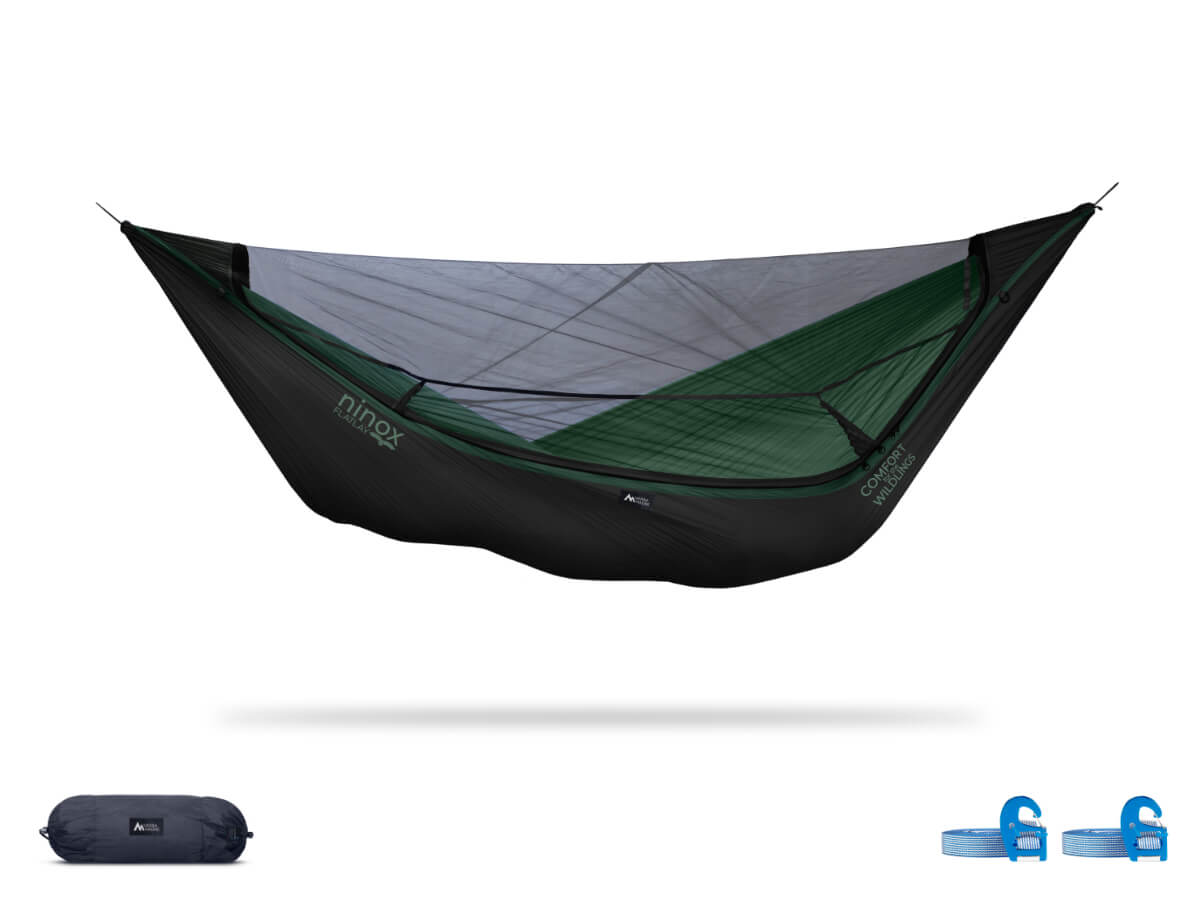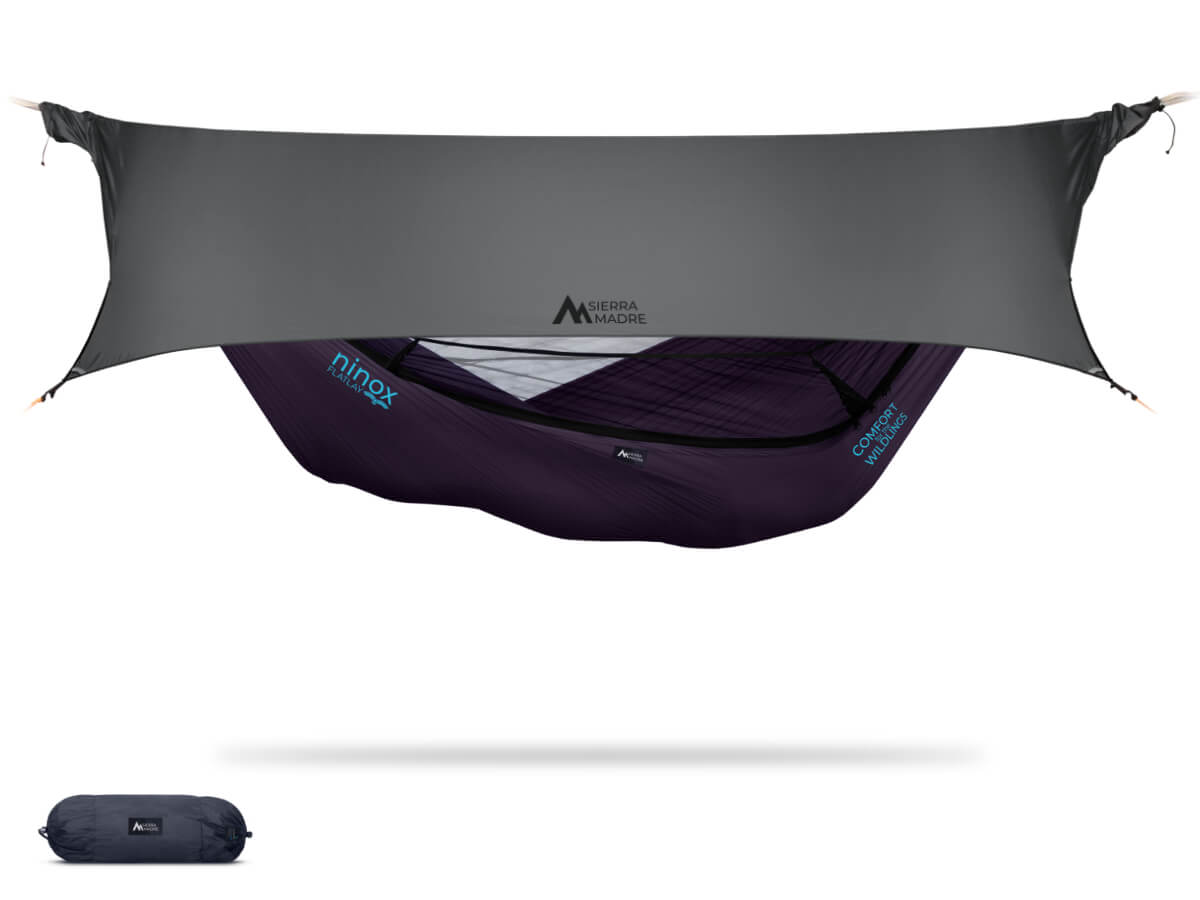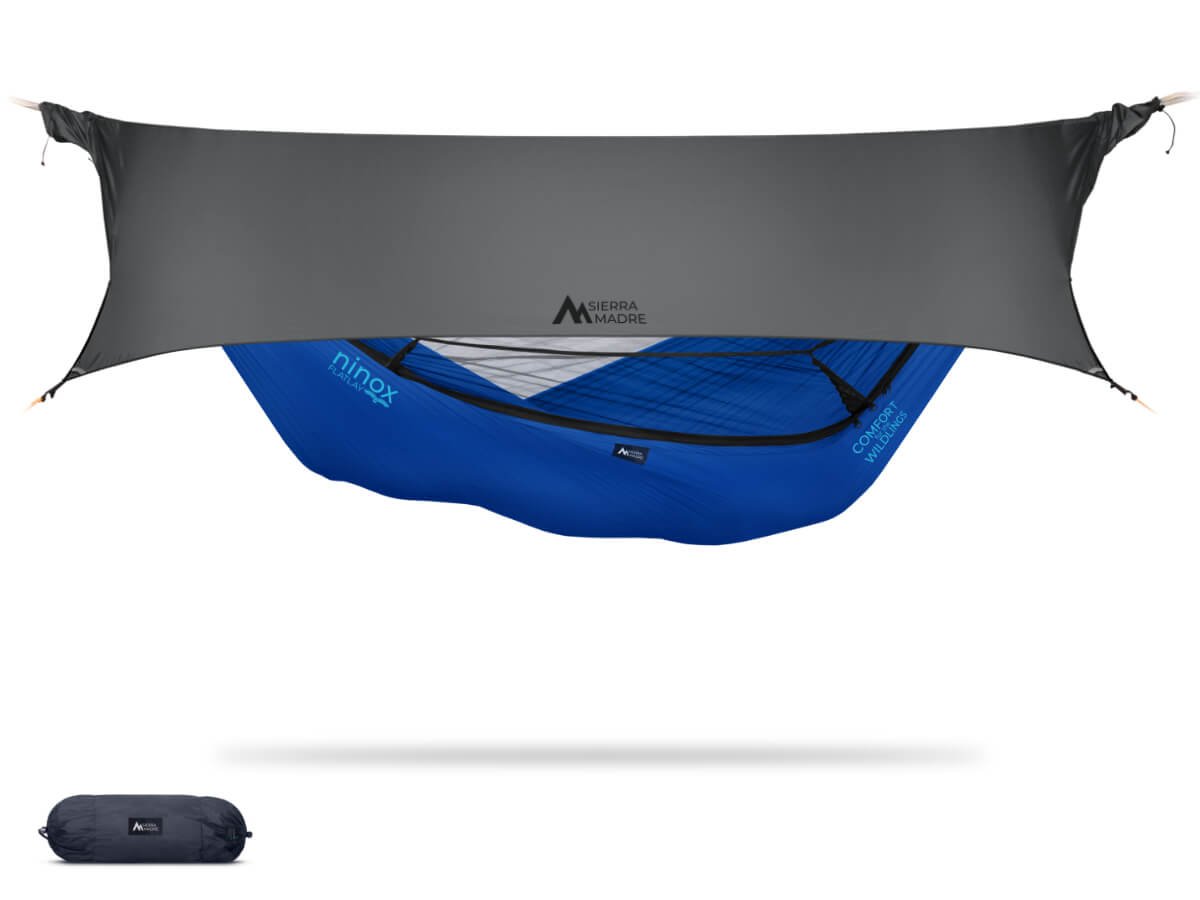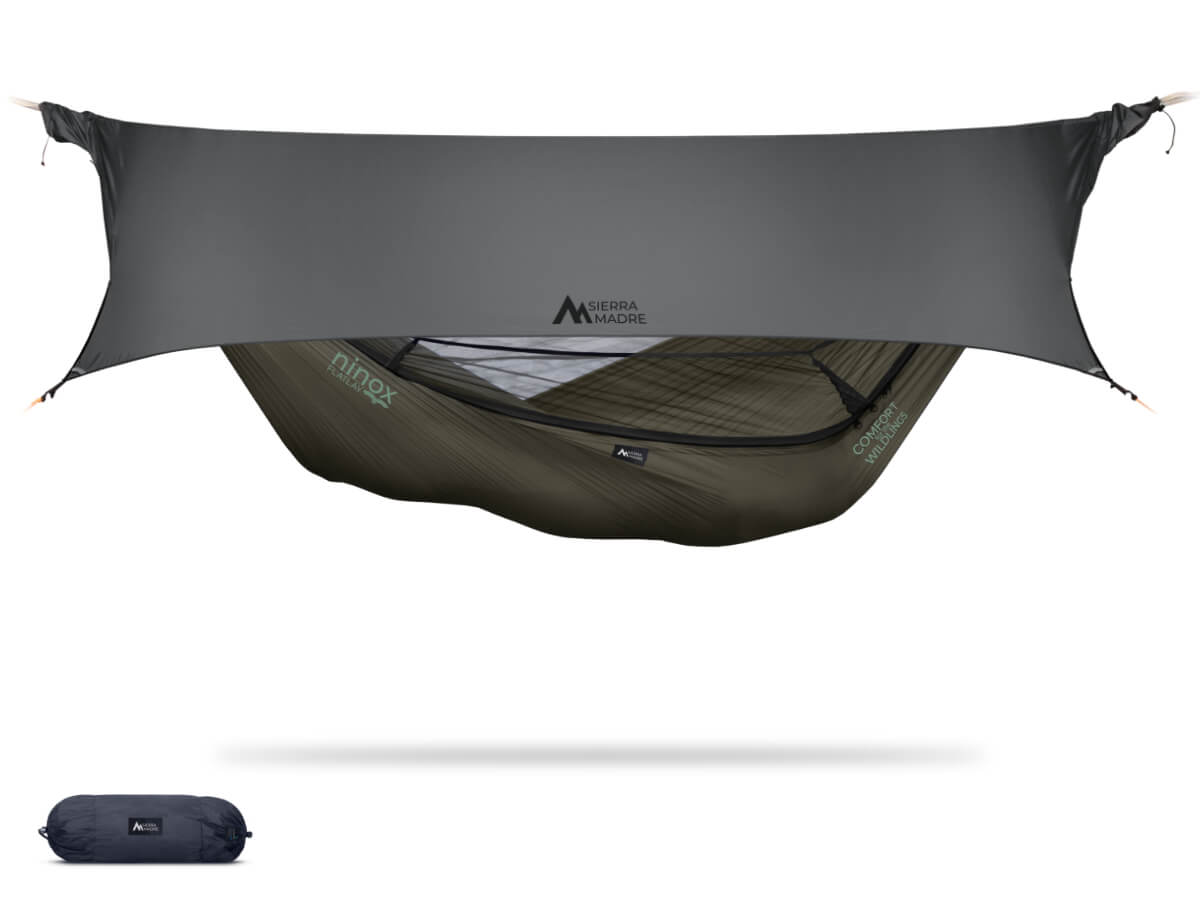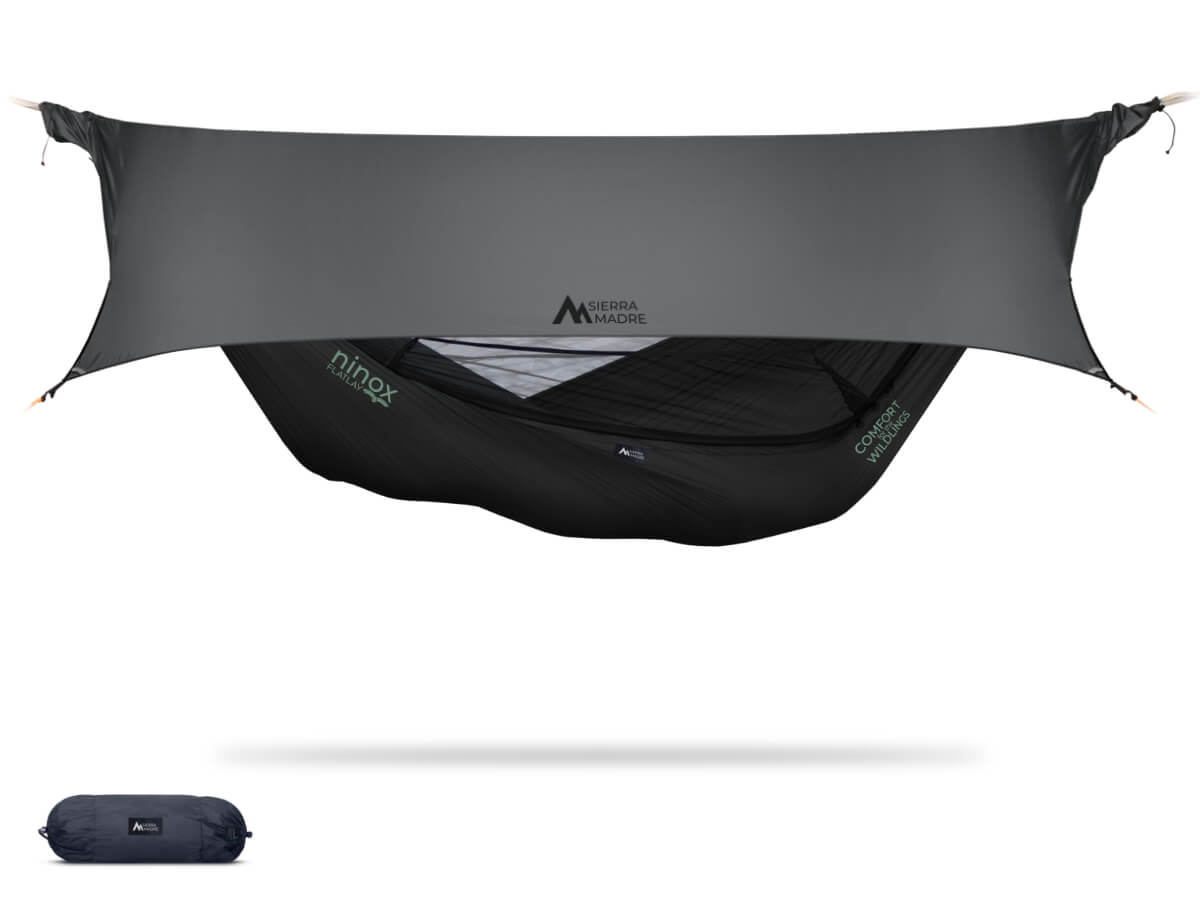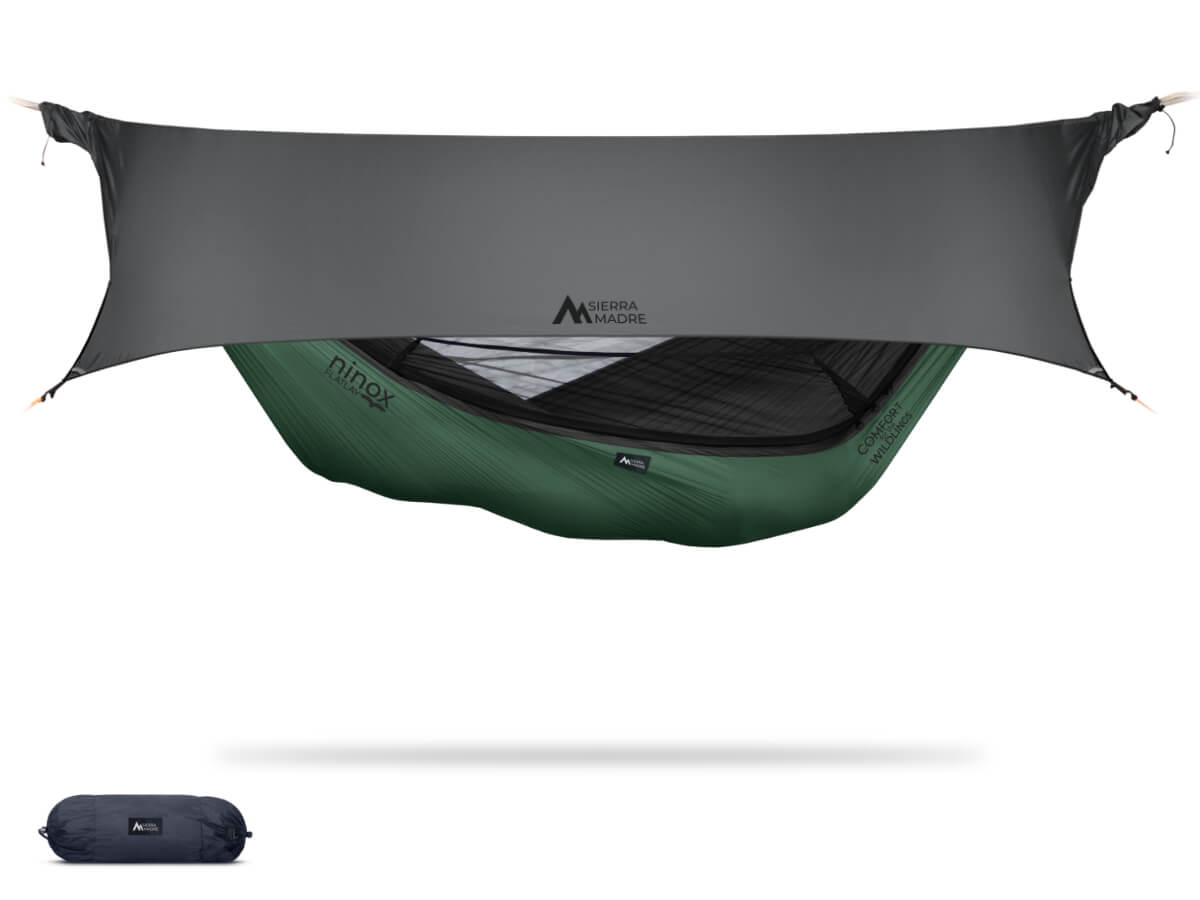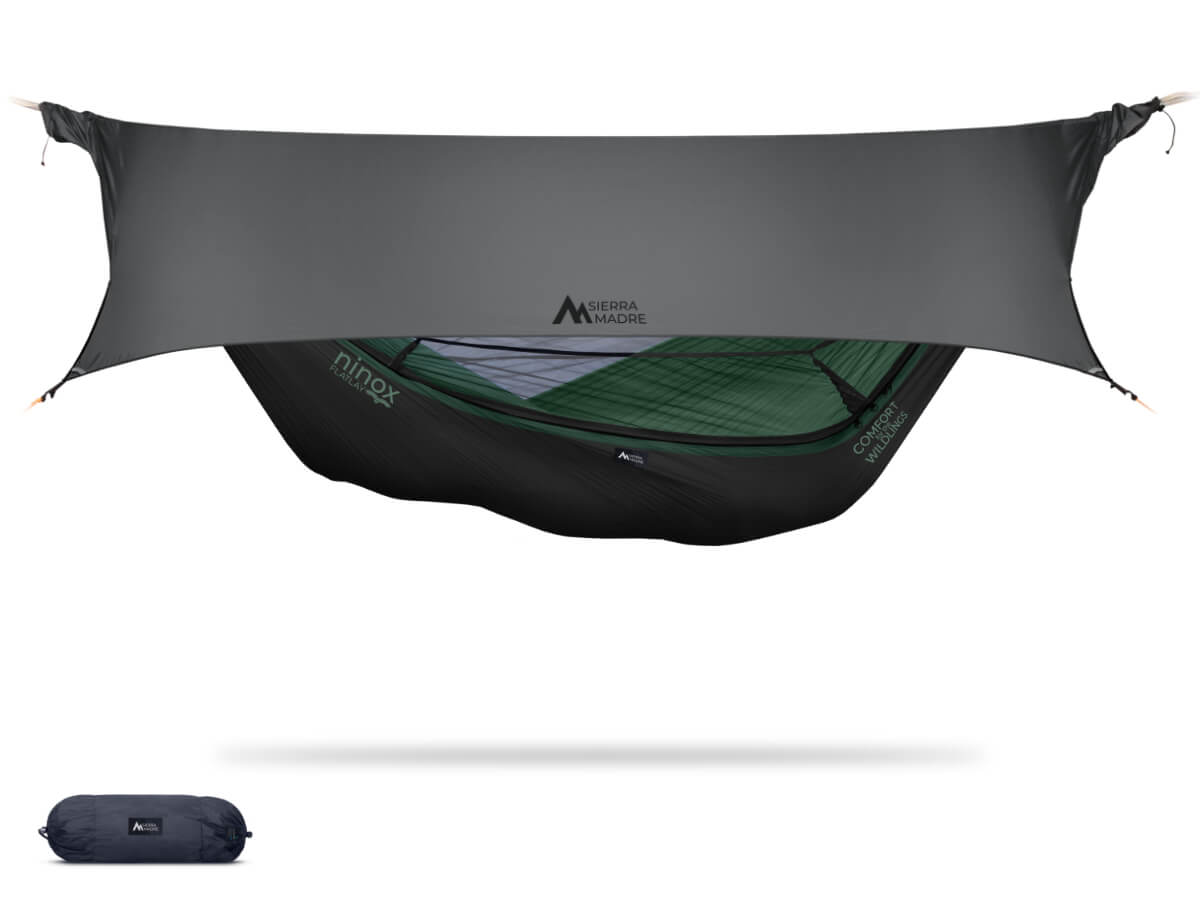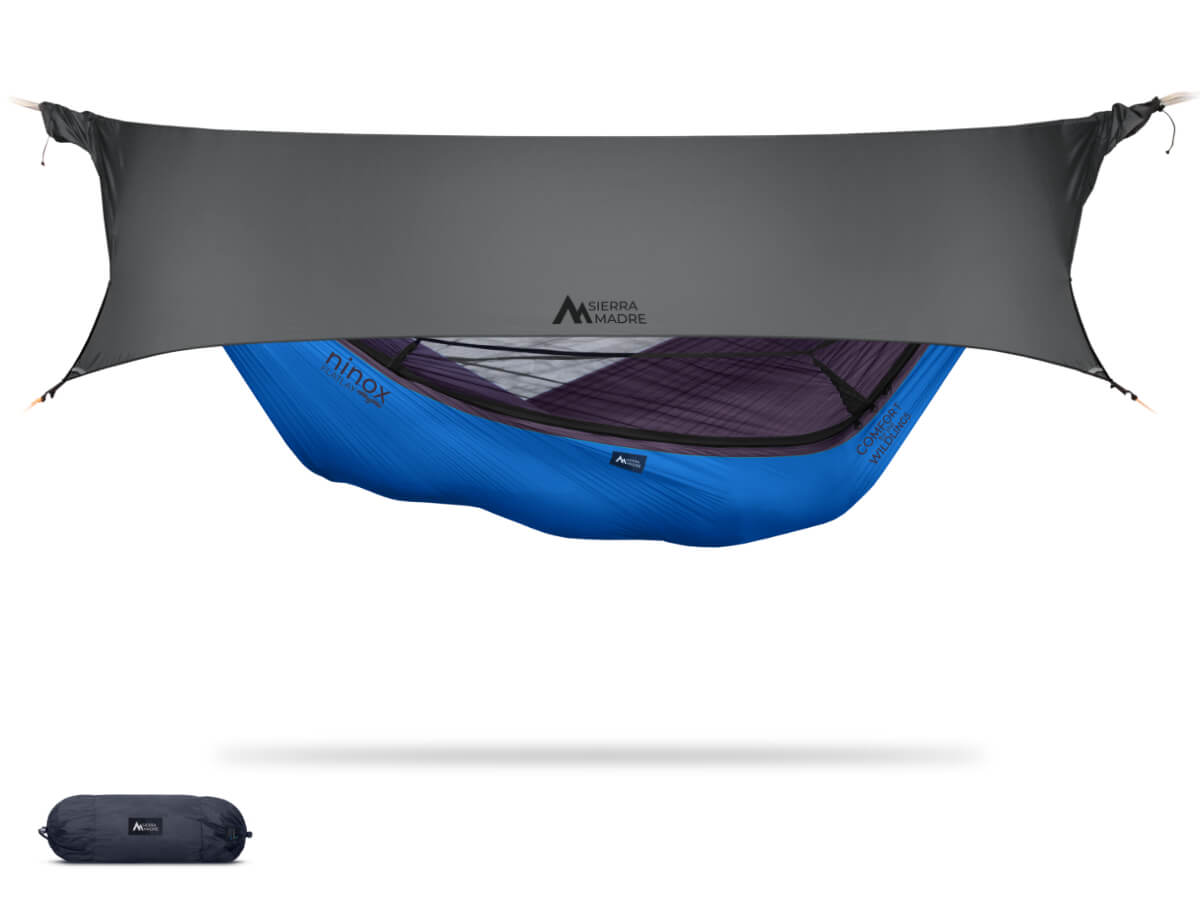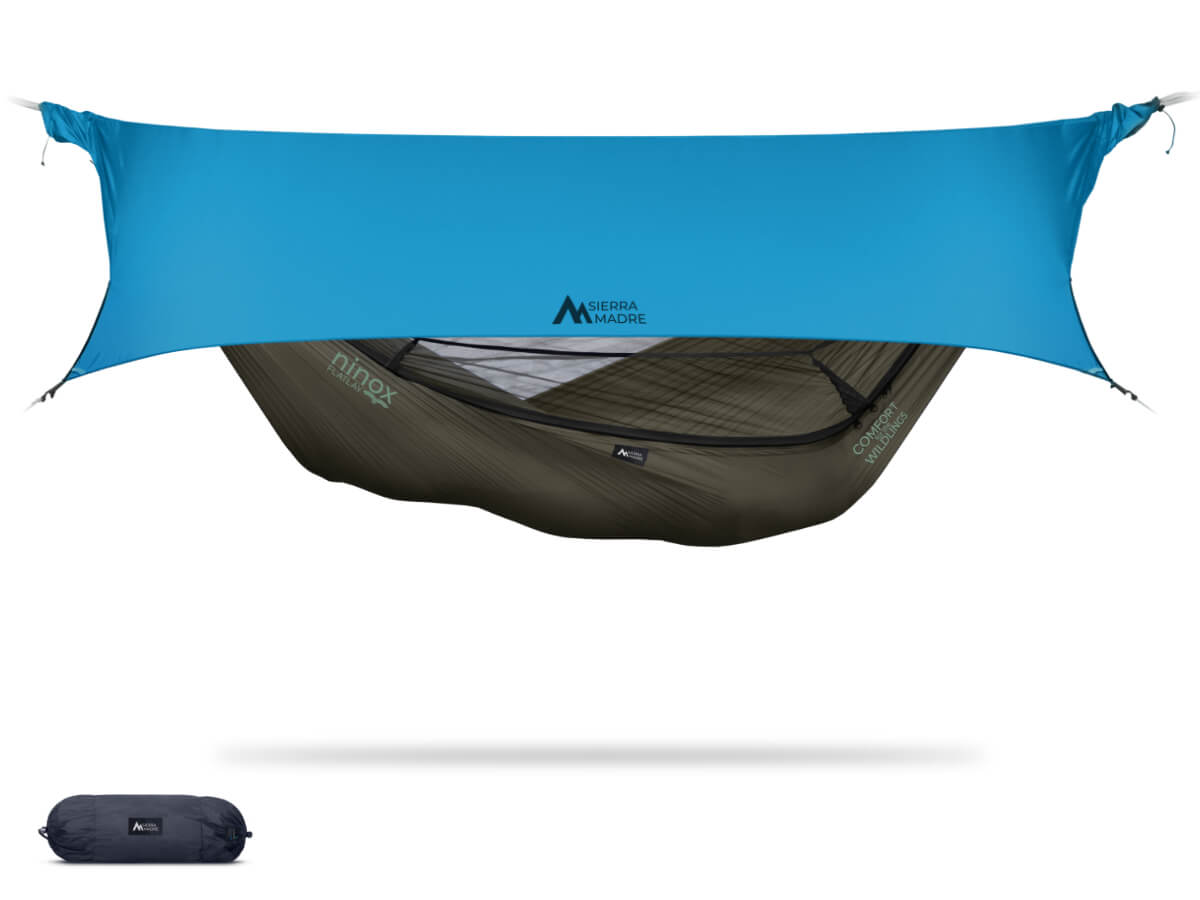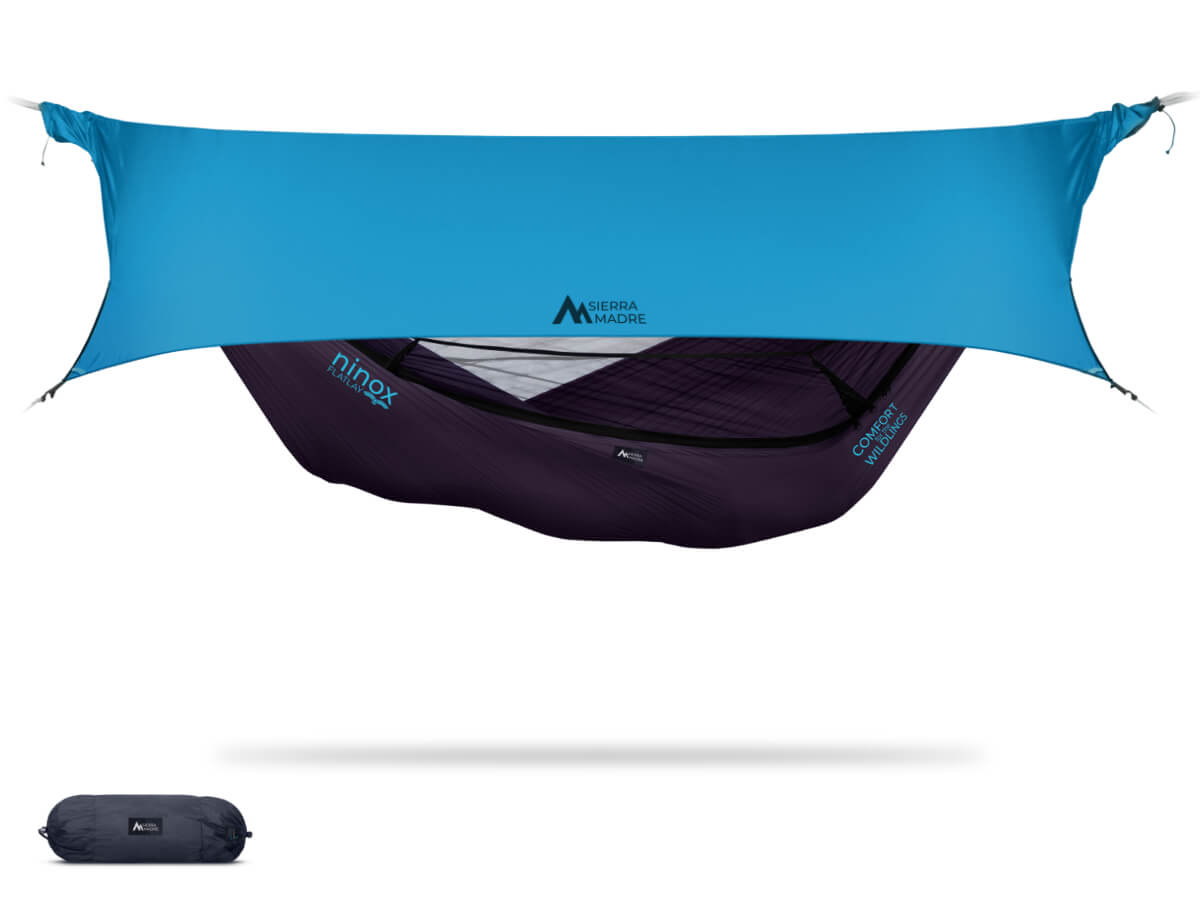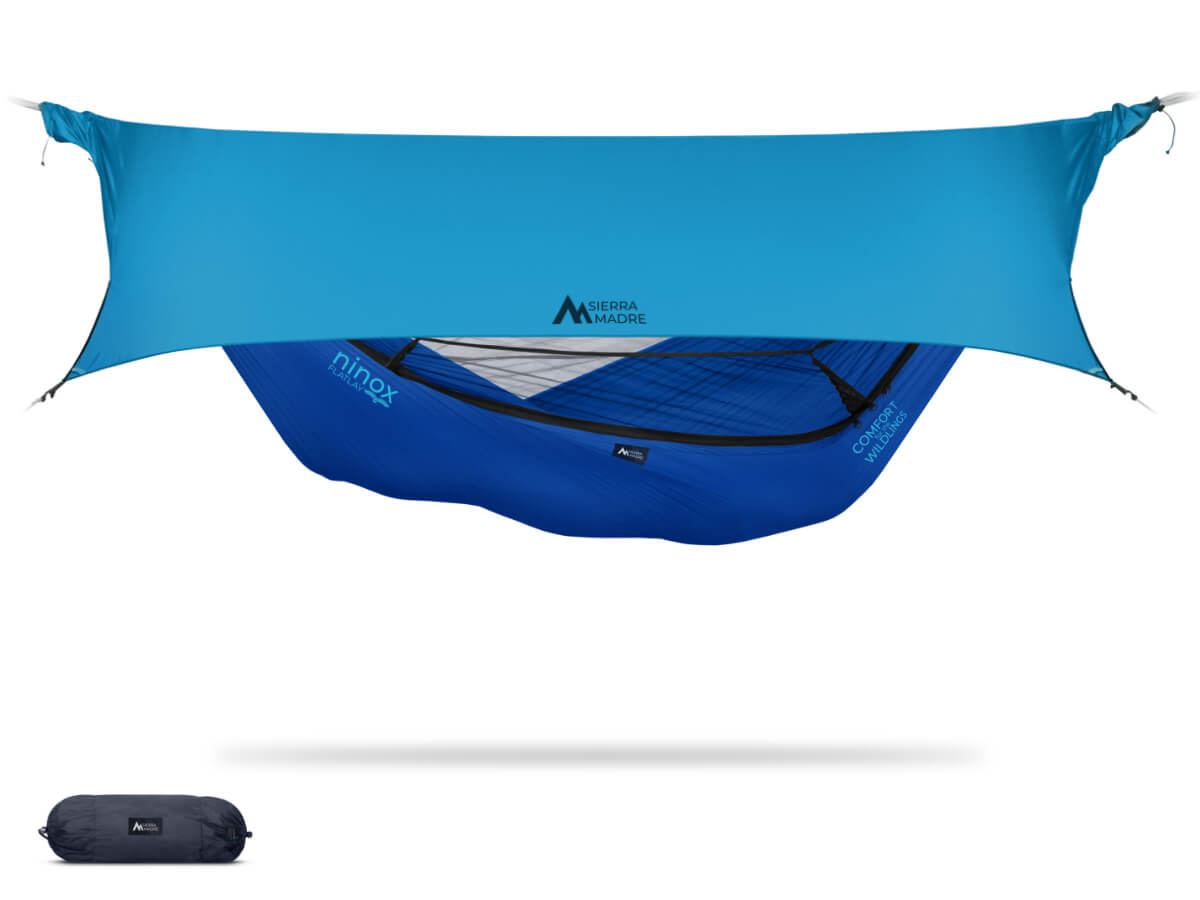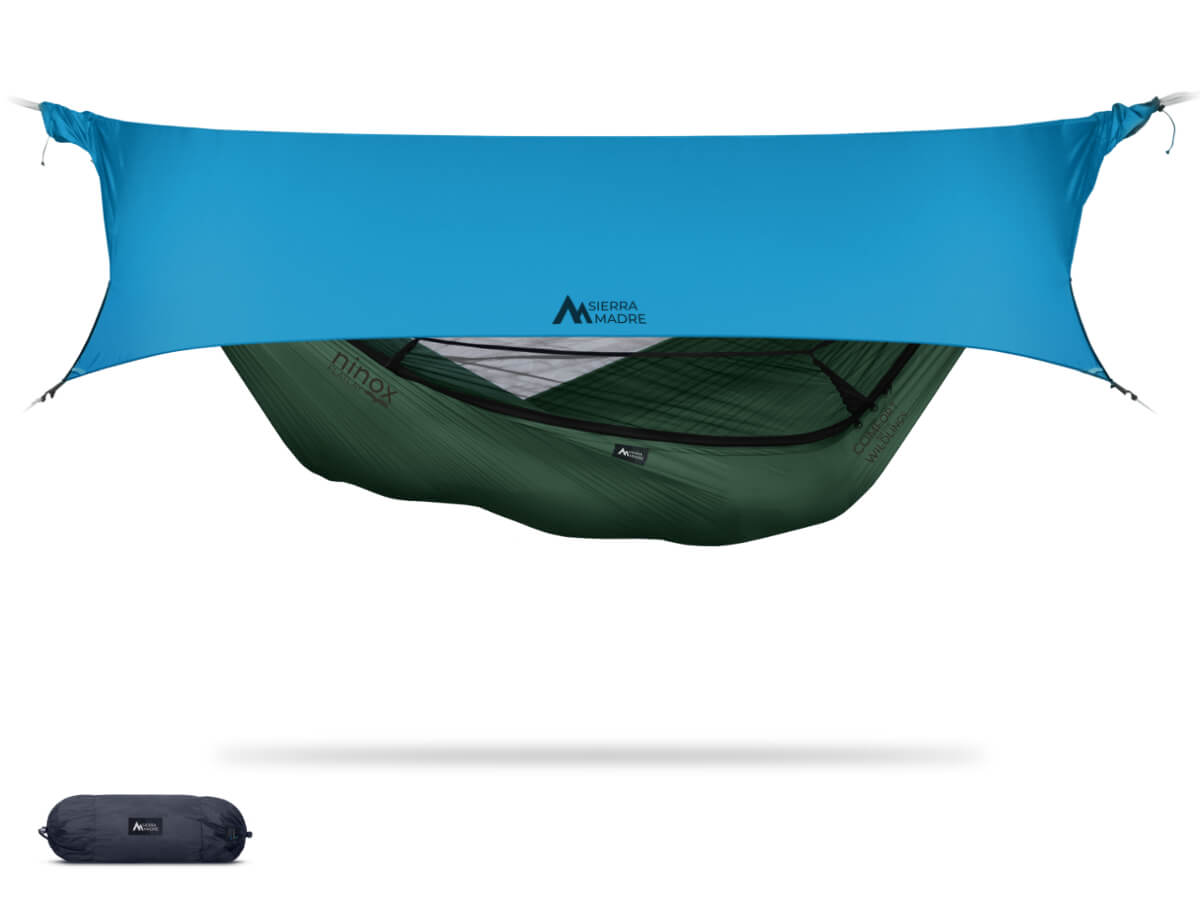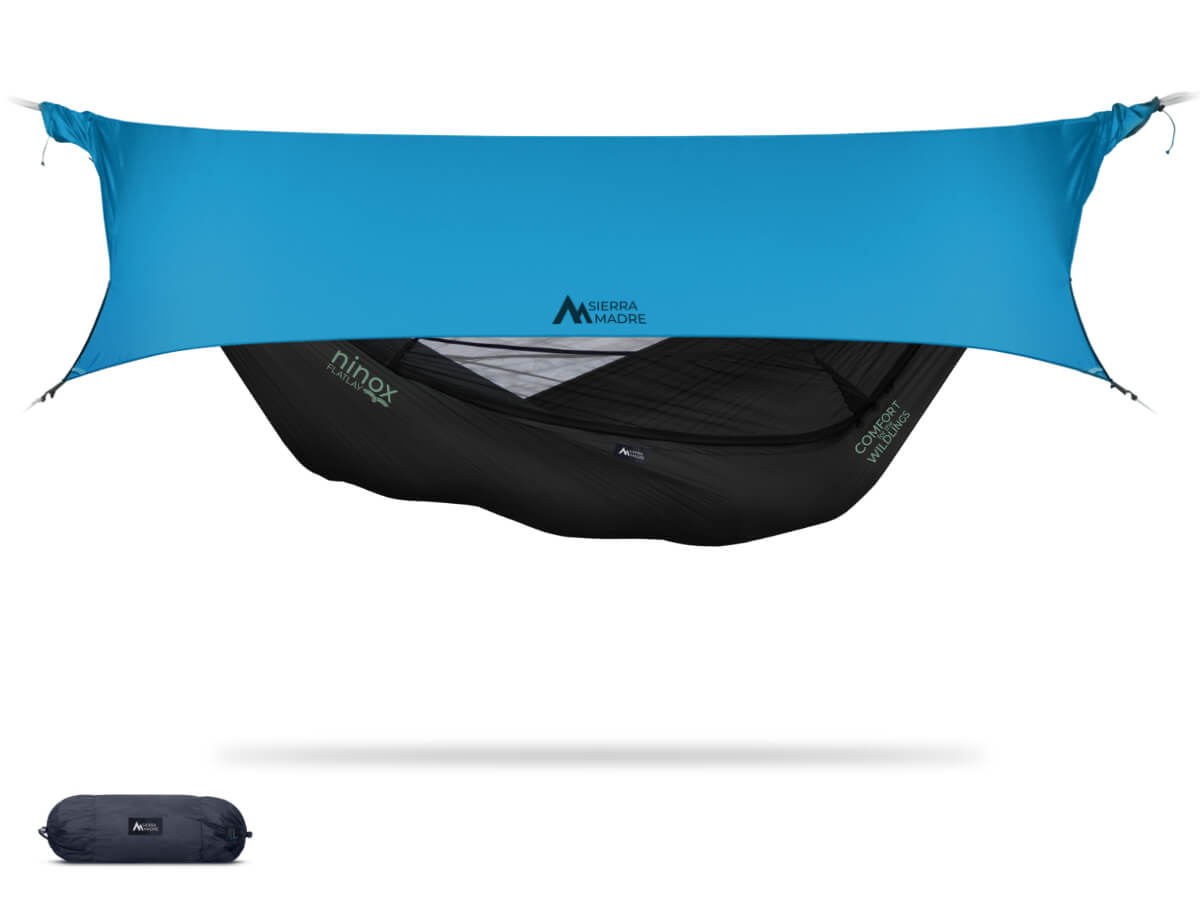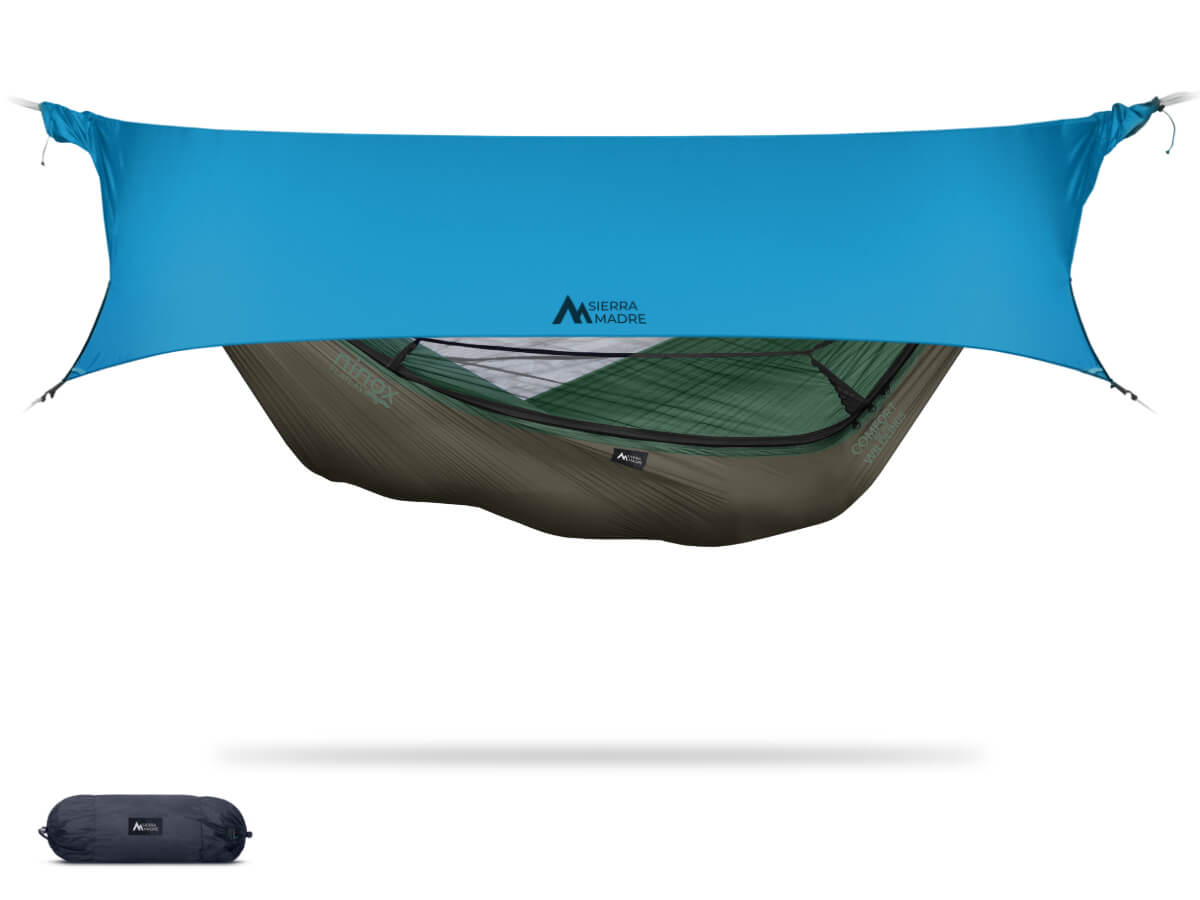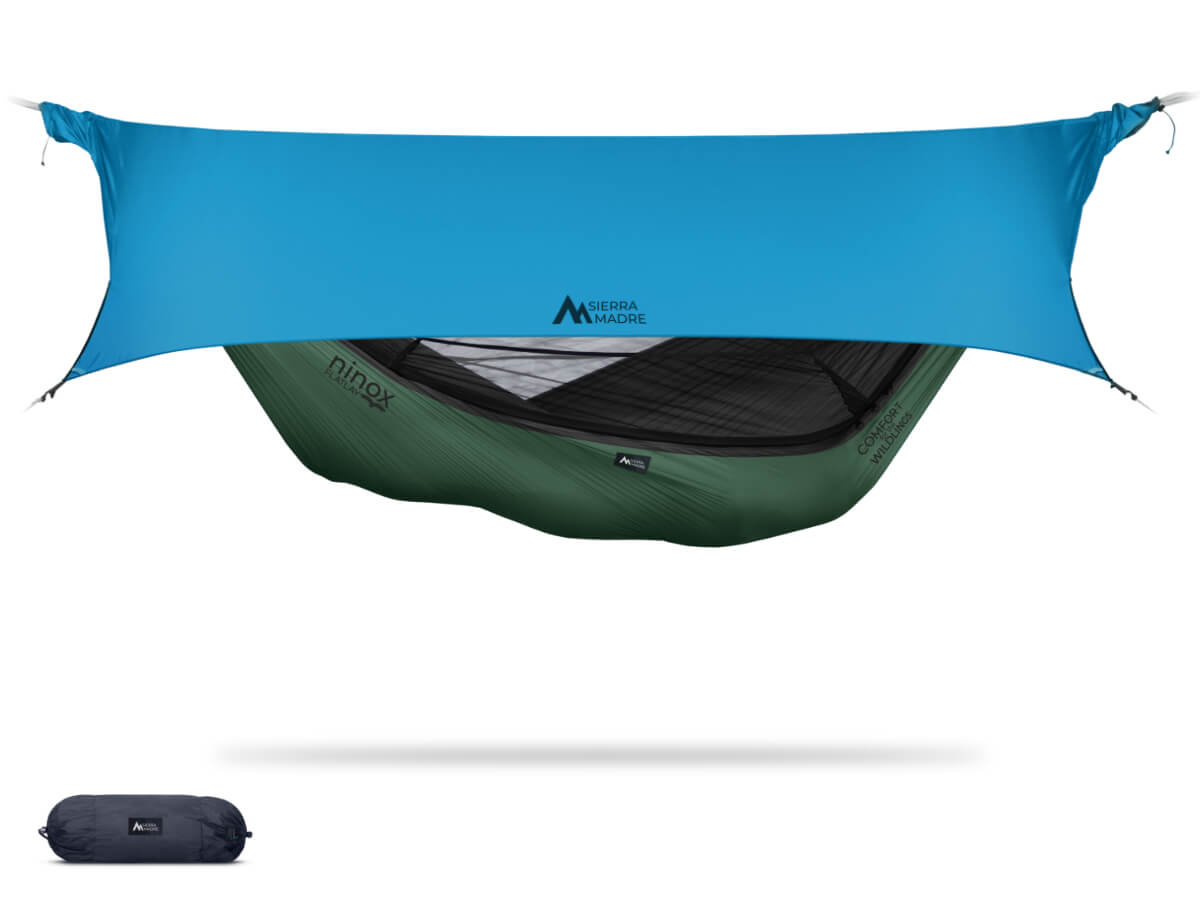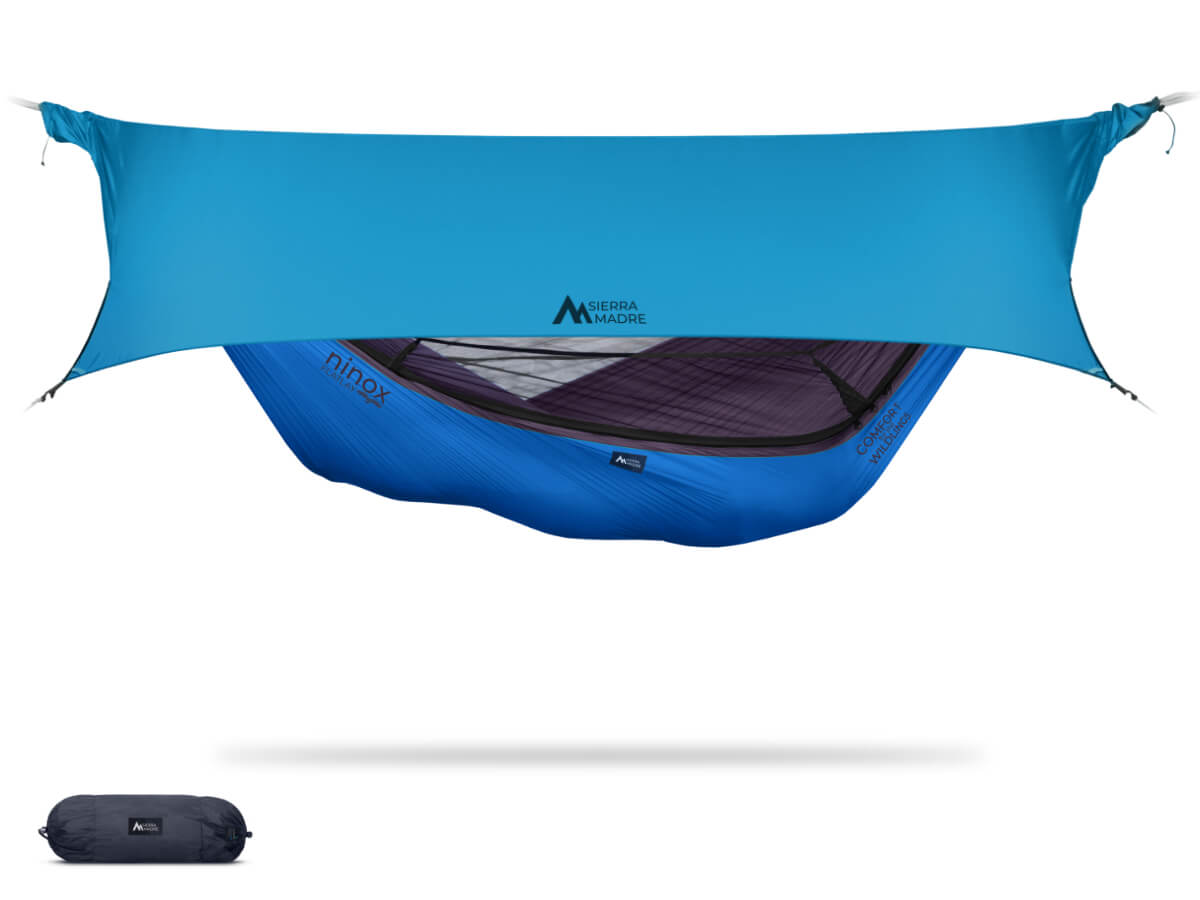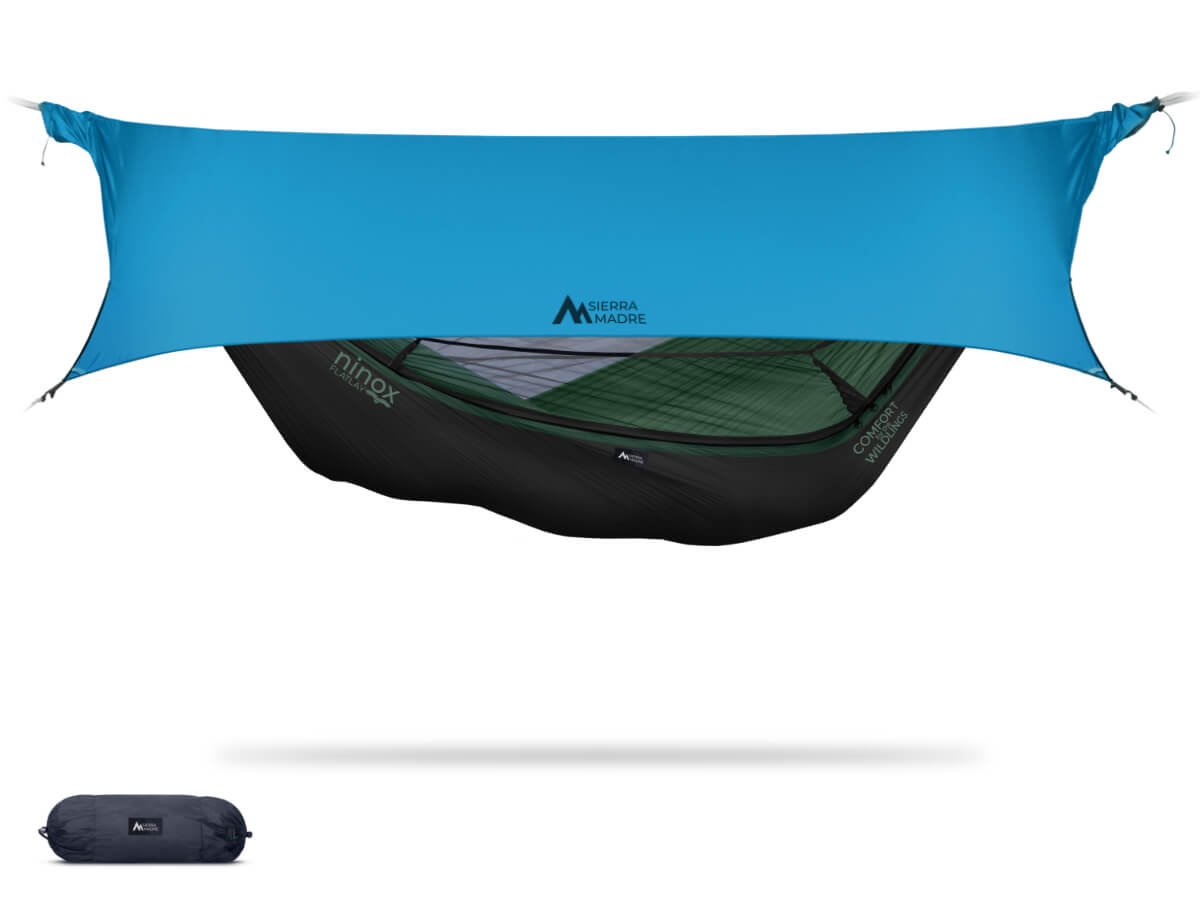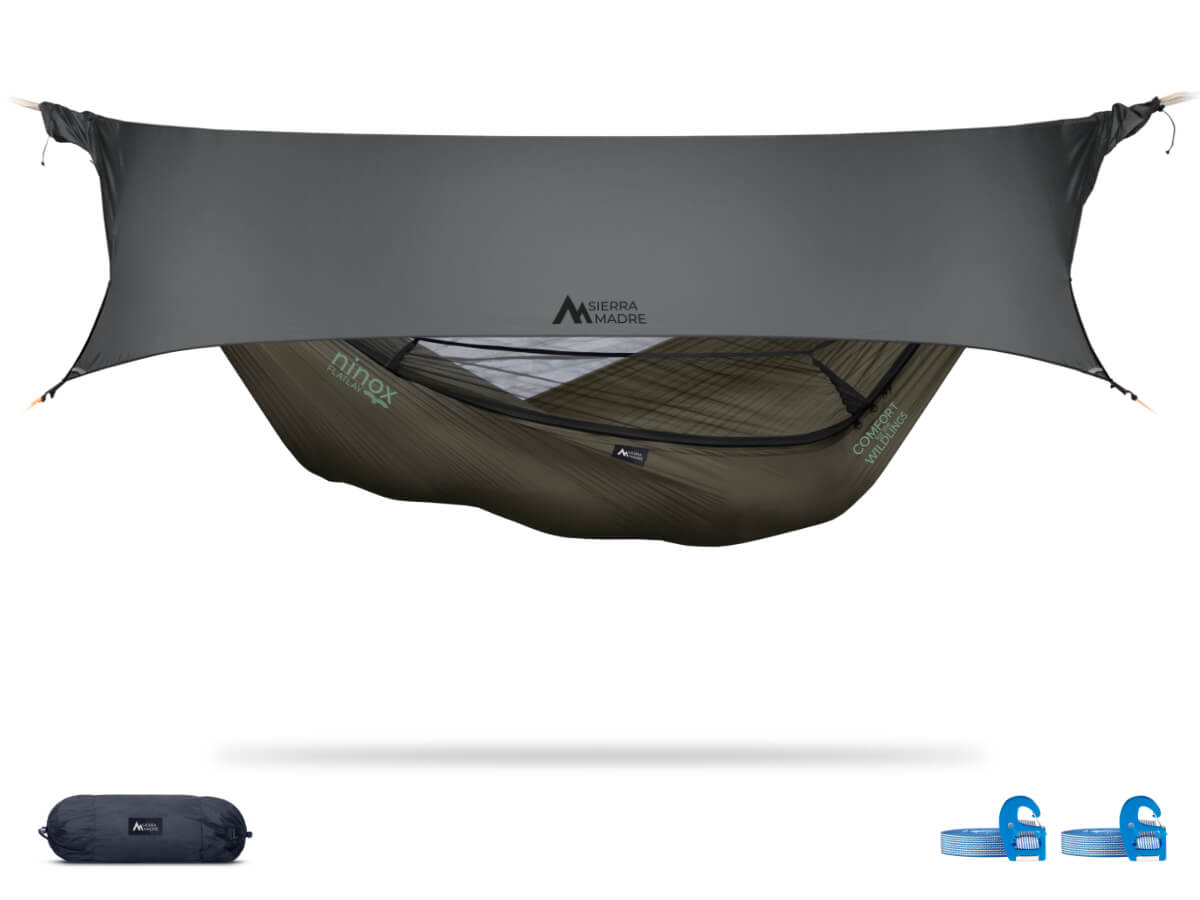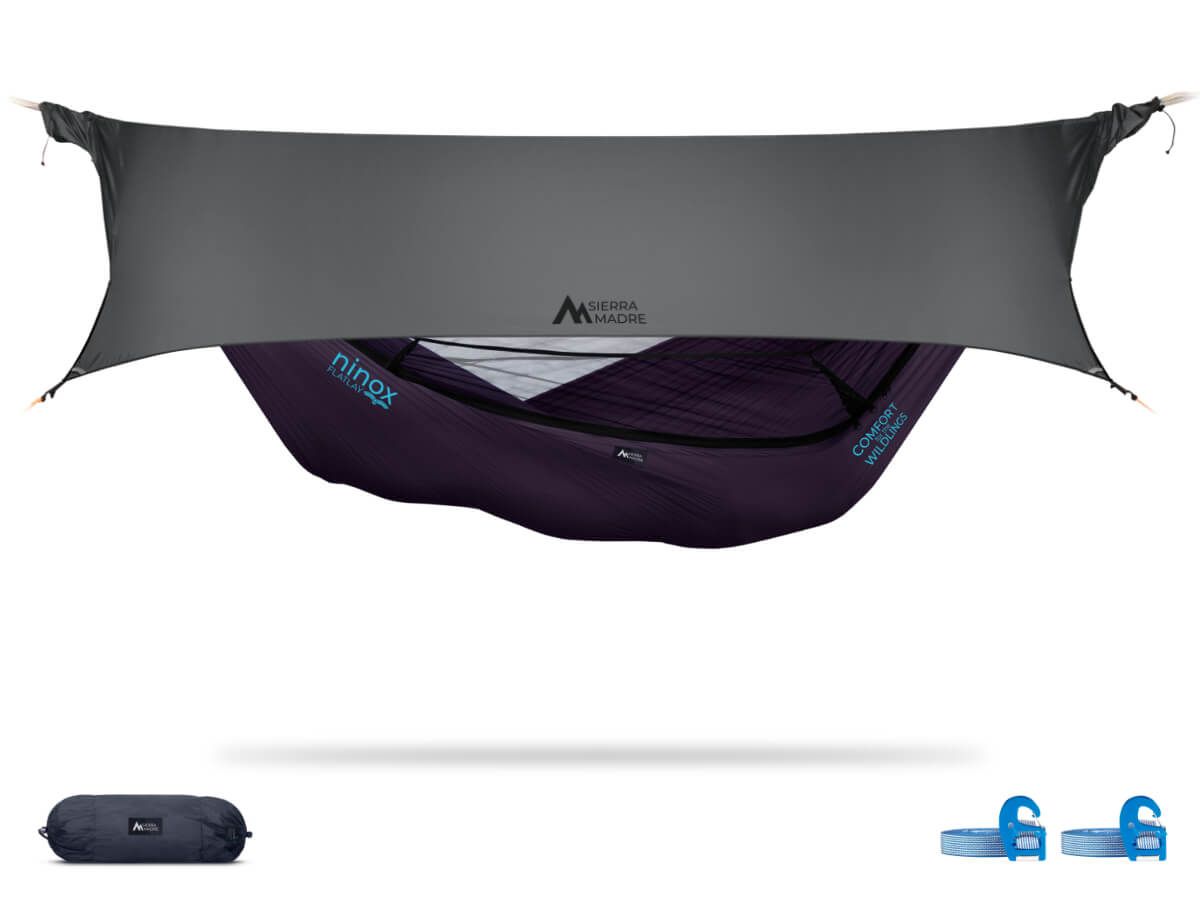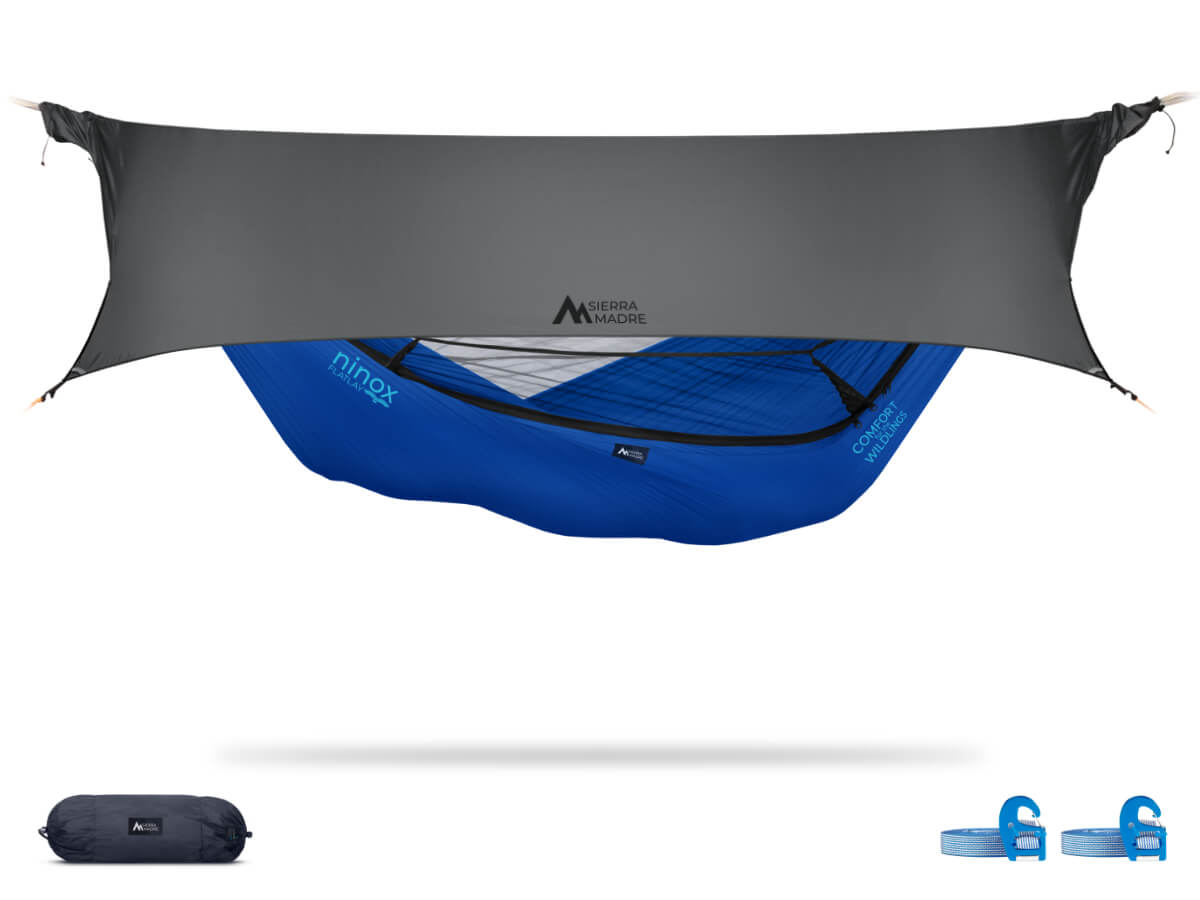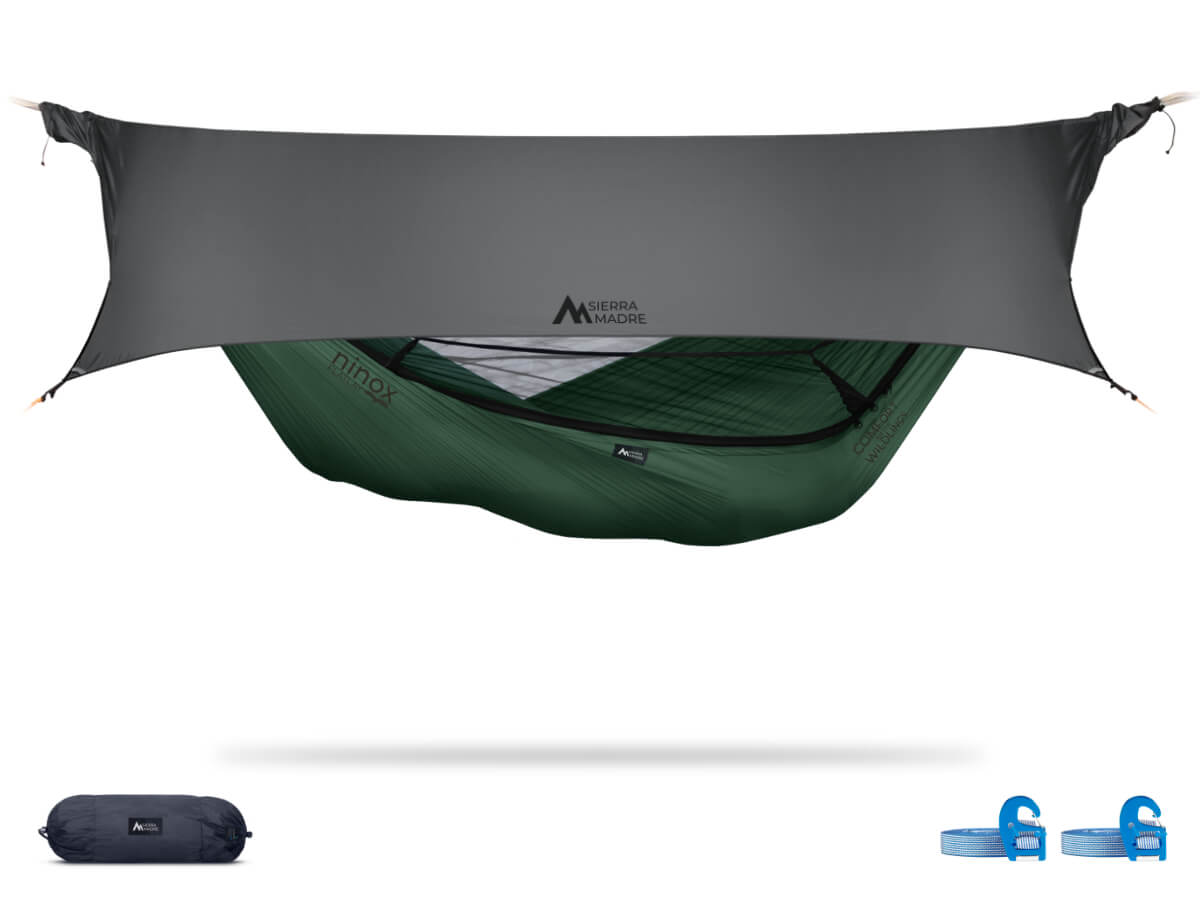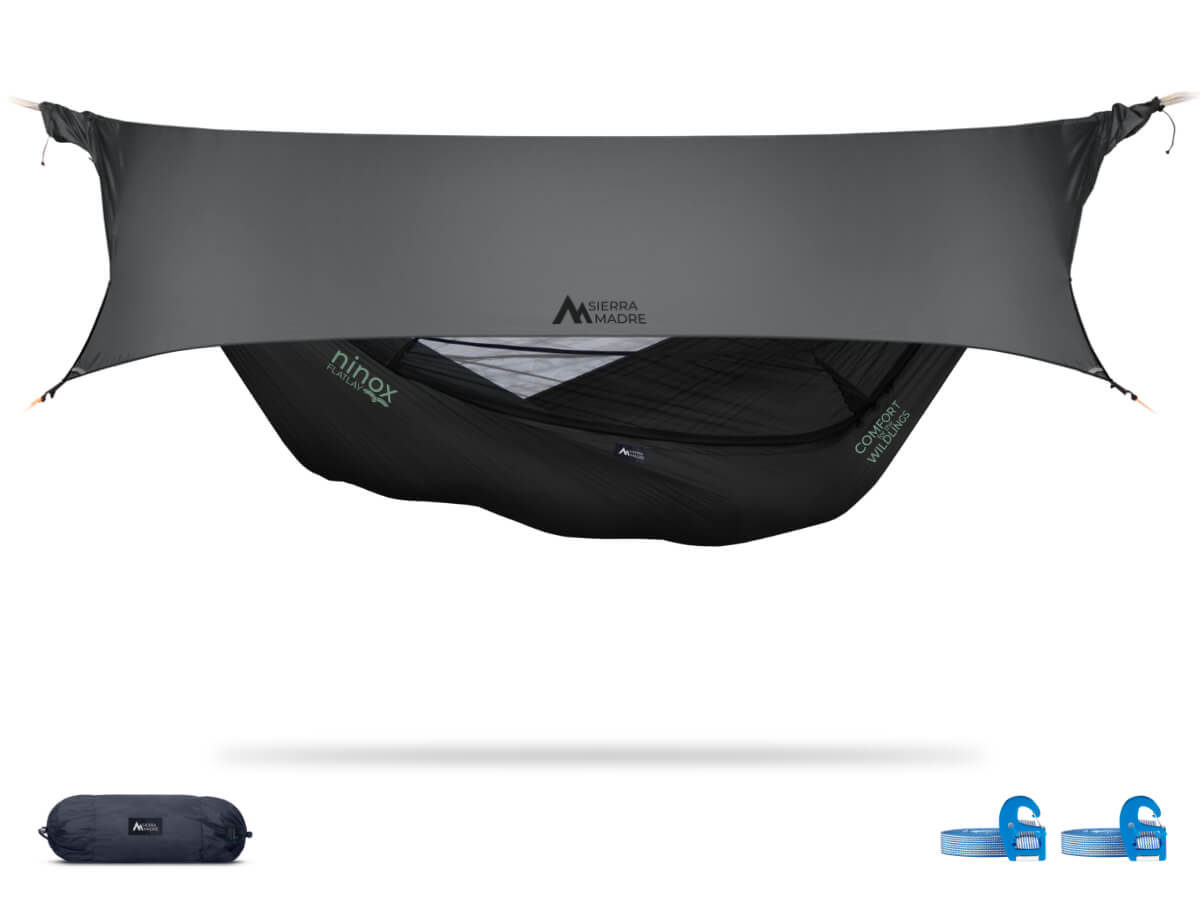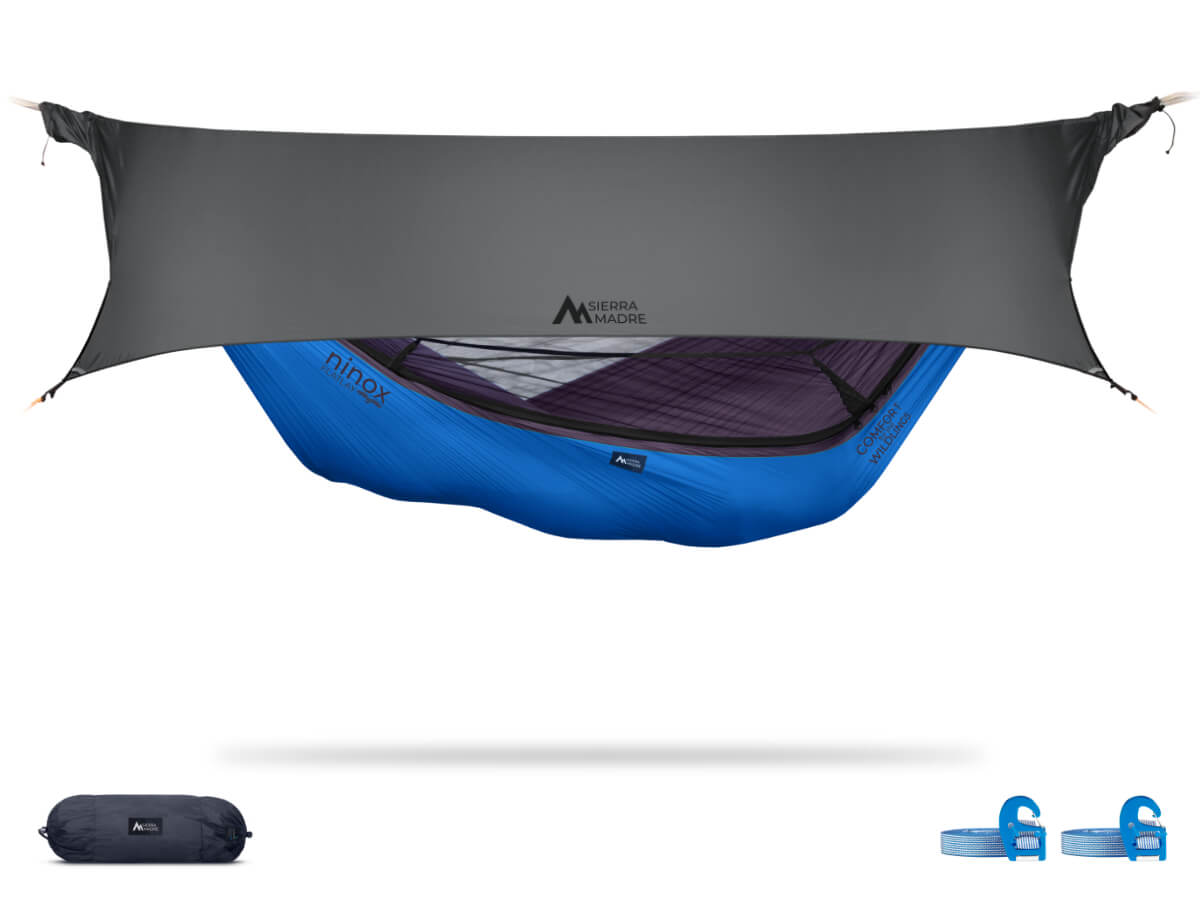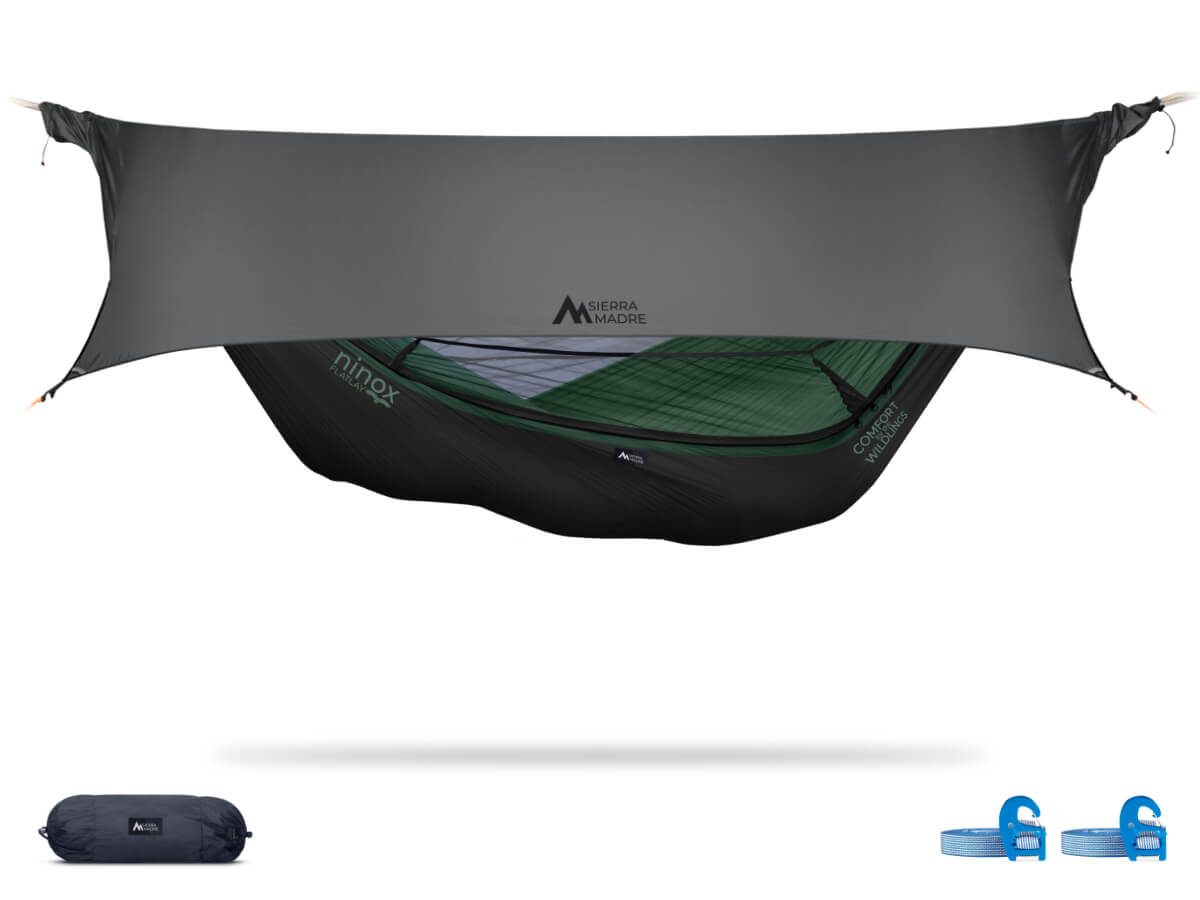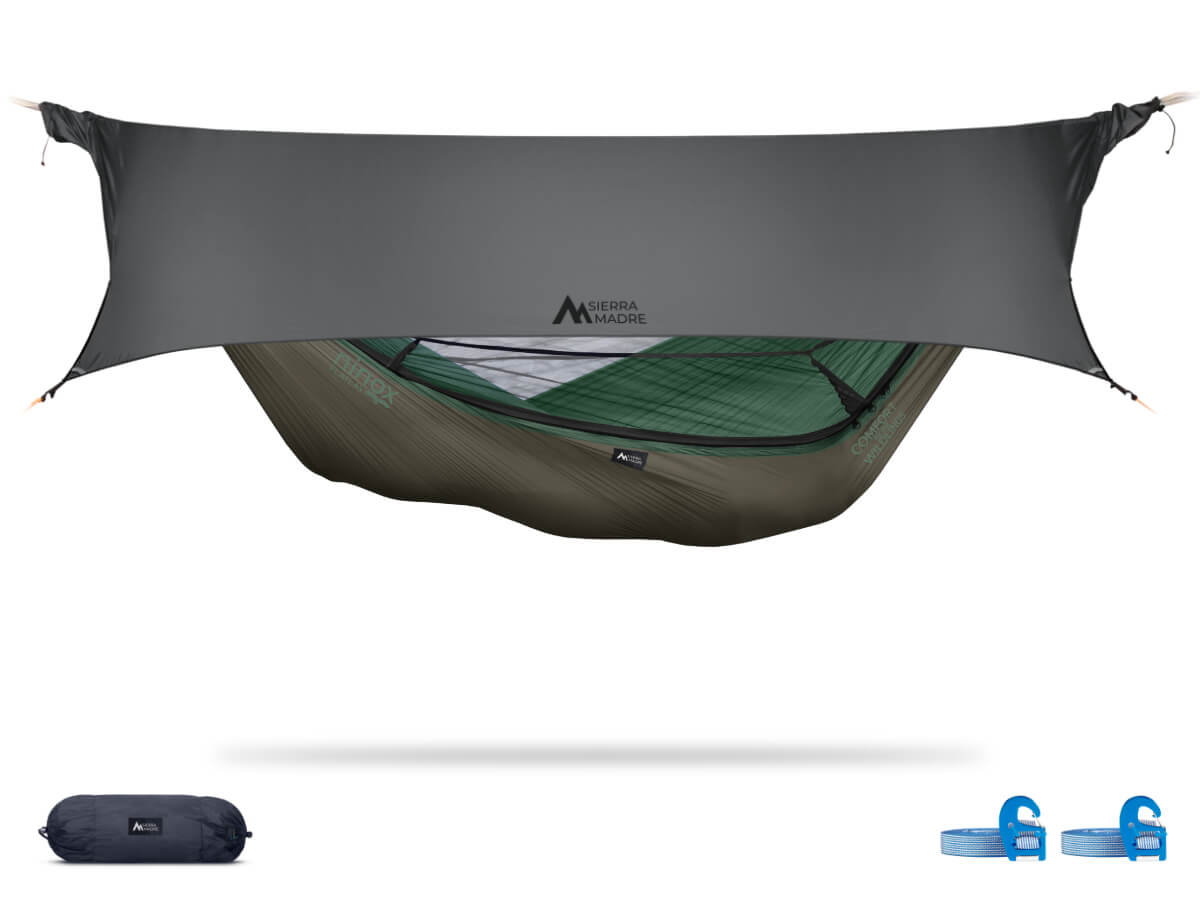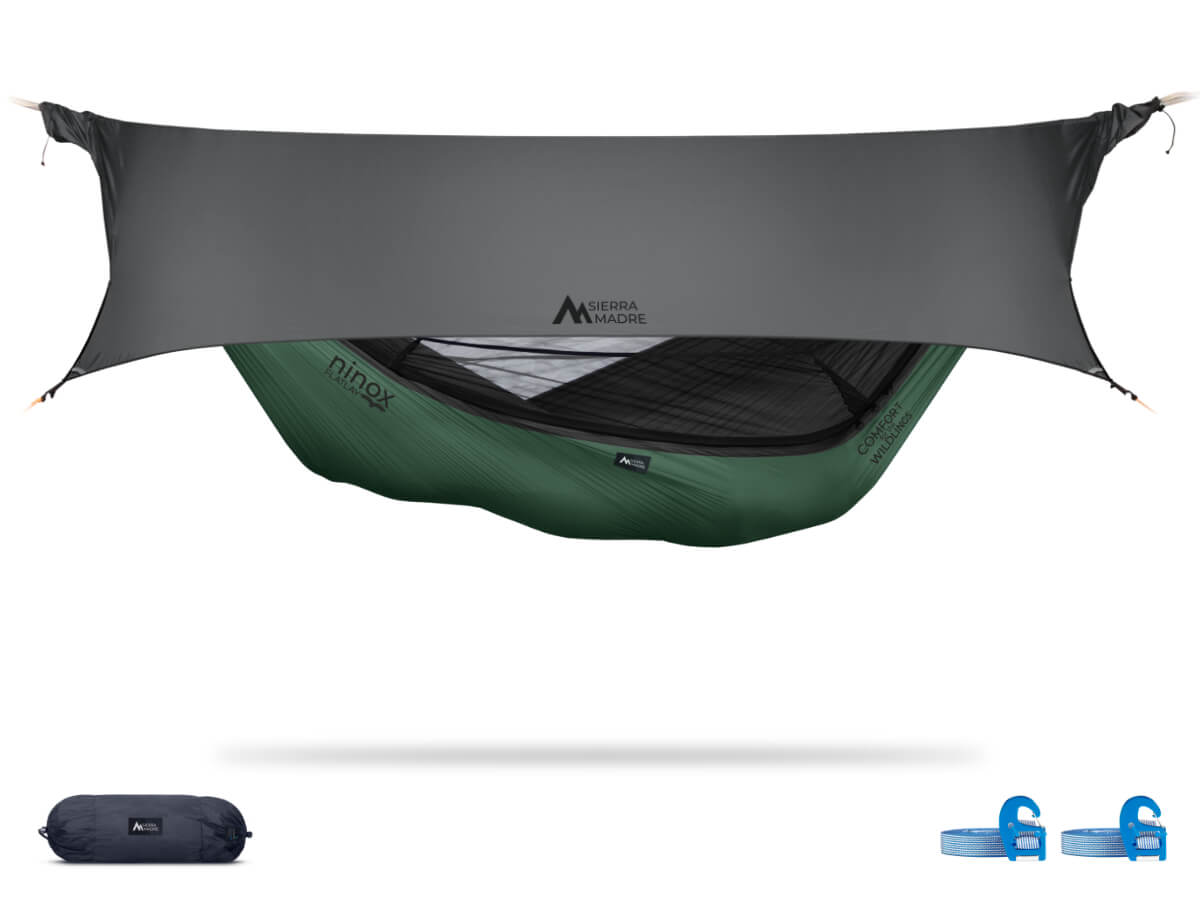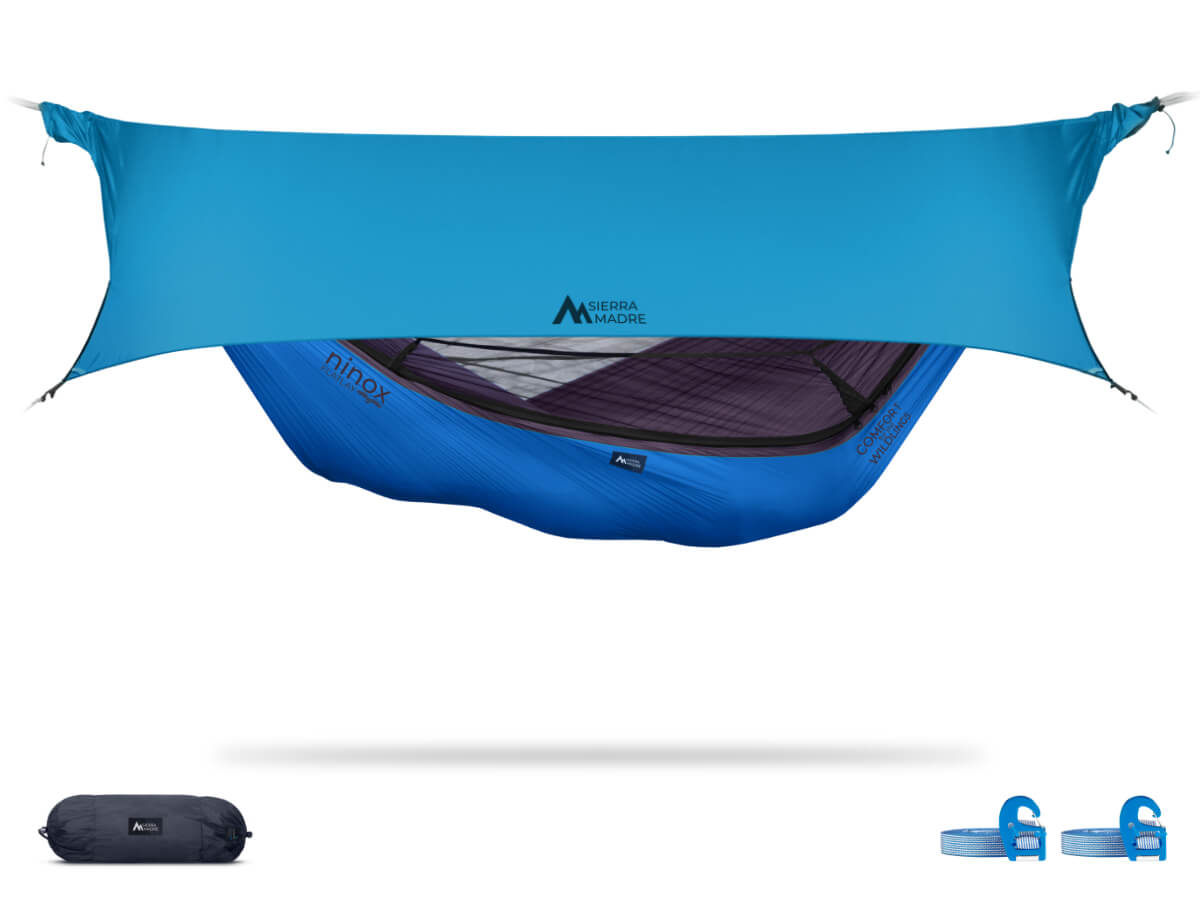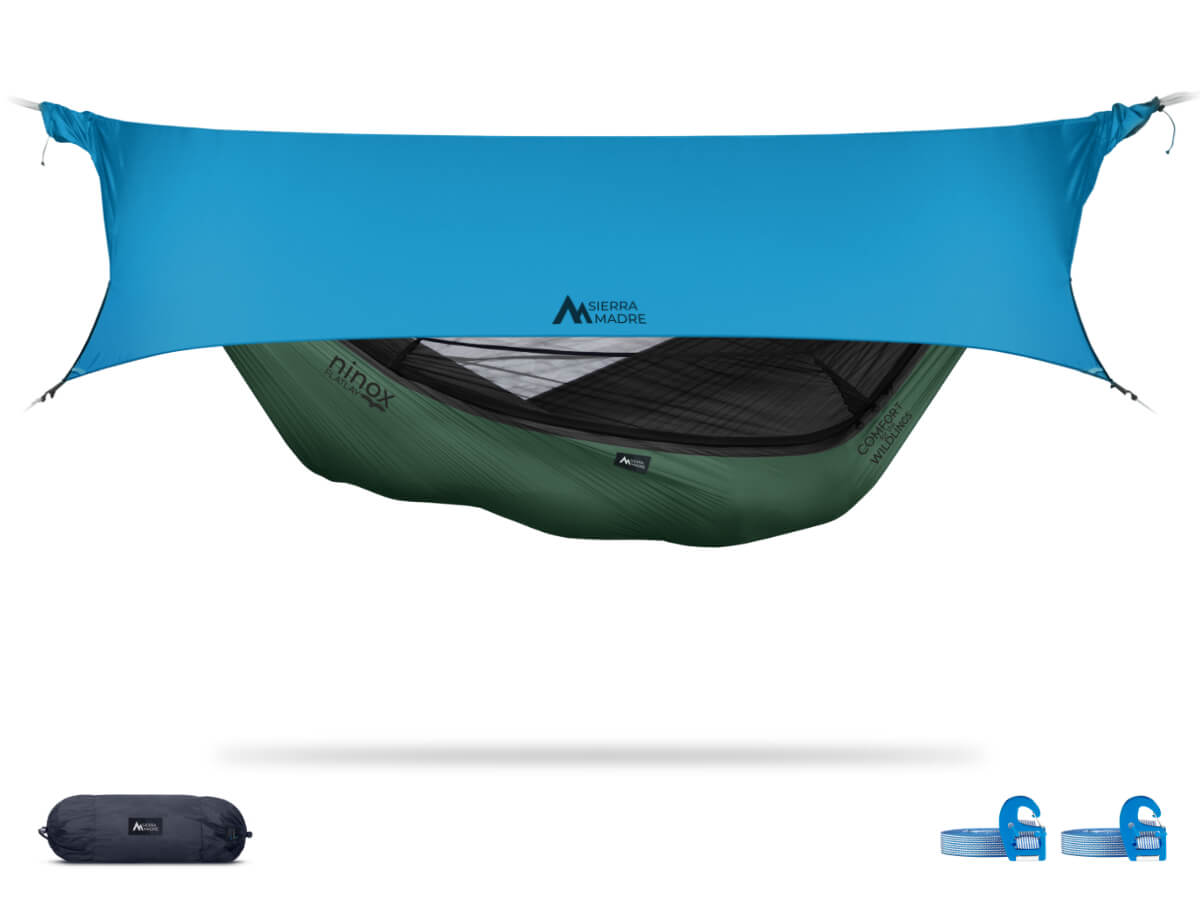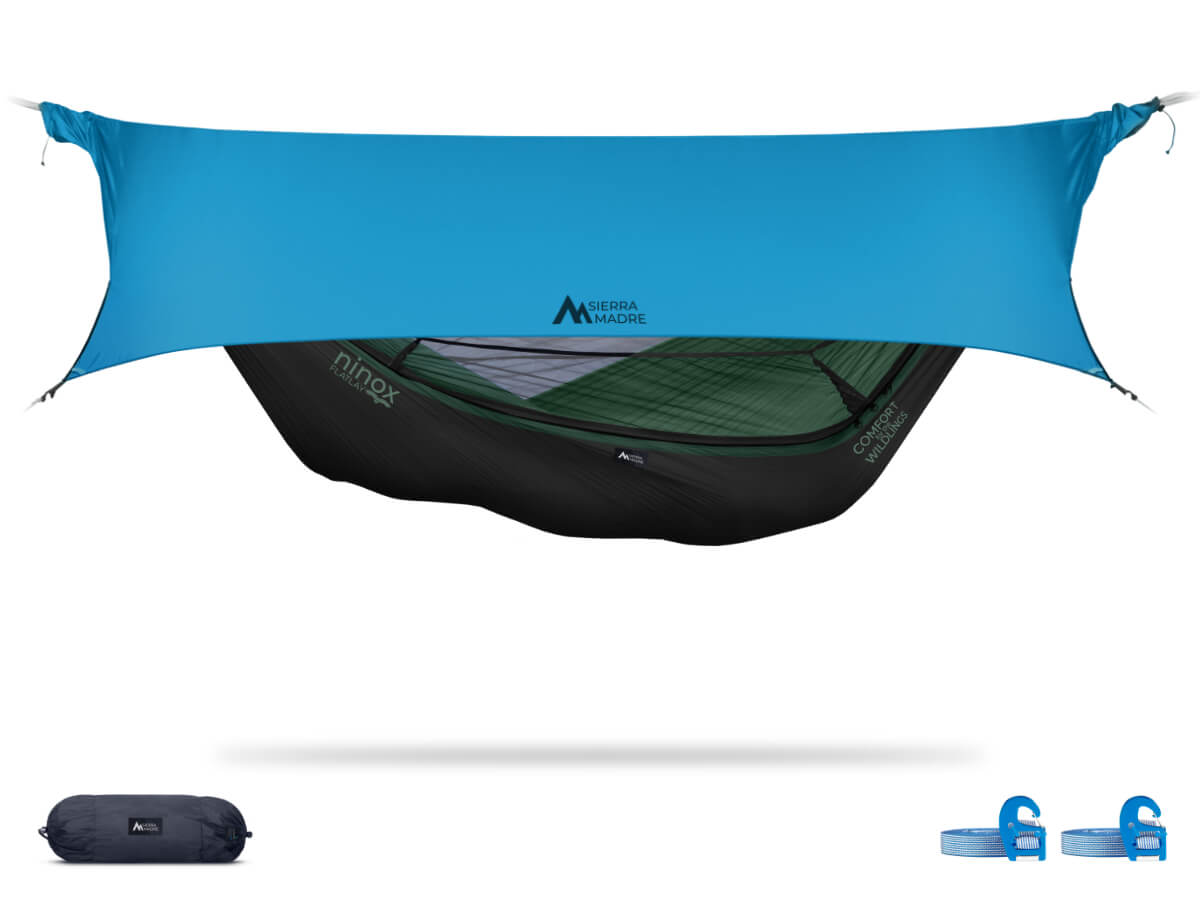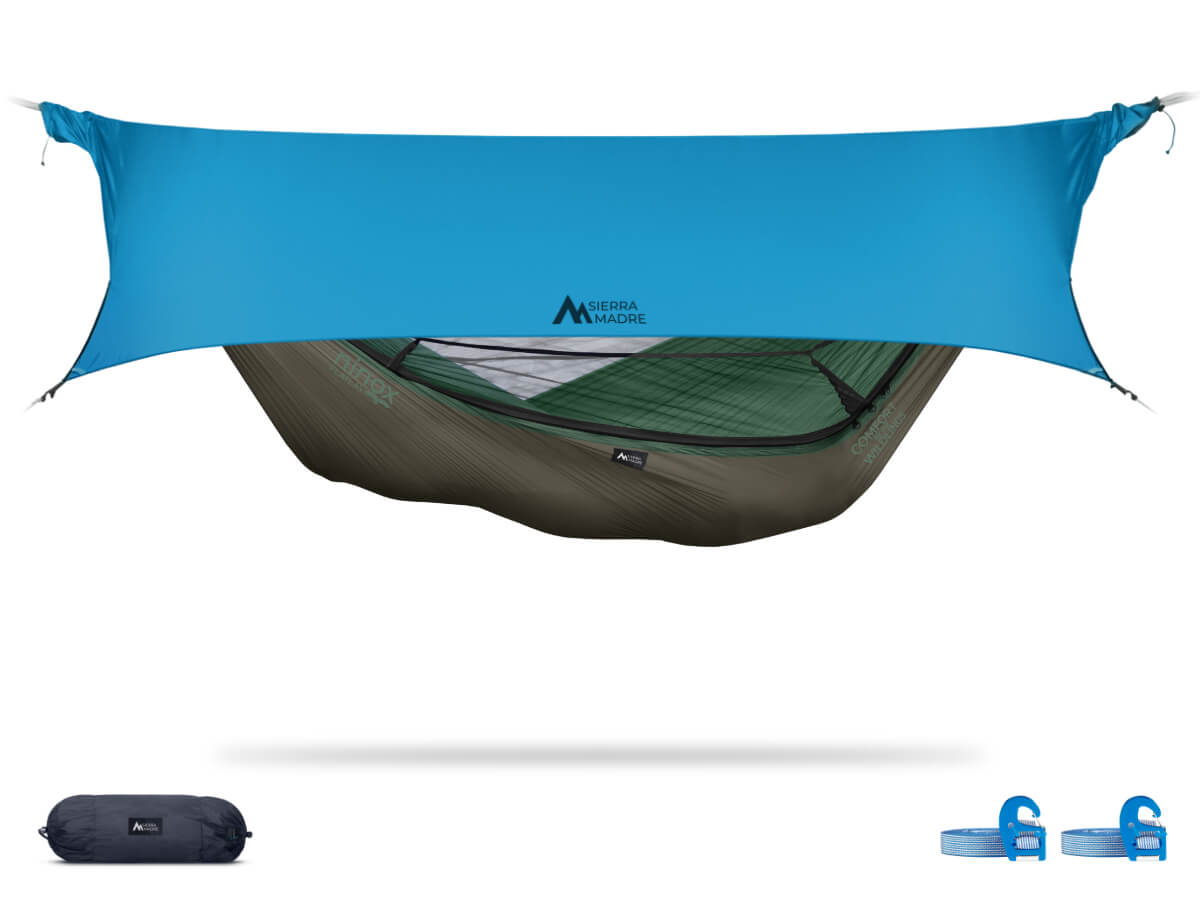 Ninox | Ultra-Comfy FlatLay Hammock
Single or Double Color Options:
Single or Double Color Options
Add the Talon suspension:
Add the Waterproof Fly Color:
Add the Waterproof Fly Color
soothing trail comfort with a removable insect shield
Lay YOUR WAY in THE FLATTEST LAYING HAMMOCK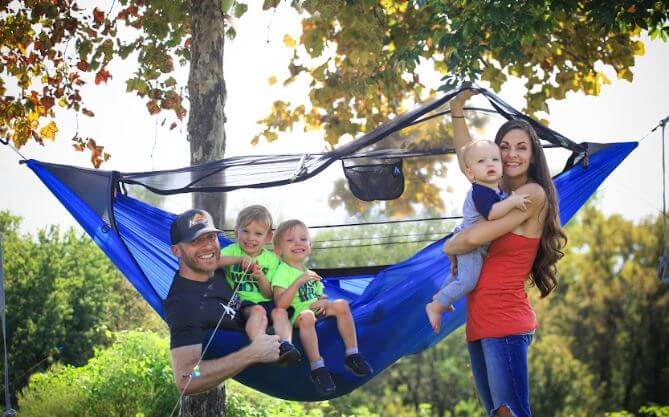 Ultra-Comfy FlatLay Hammock
Whether you sleep on your side, your back, or even your stomach, the Ninox lets you lay YOUR WAY in perfect, zero gravity comfort.
The Ninox is the only hammock that has evolved far past the 'same old' rectangular banana hammock with our top-secret Comfort Wave Pattern. This specialized Ninox design softly supports the natural curve of your spine as you stretch out anyway you like immediately achieving pain-free, consistent rest in the wild.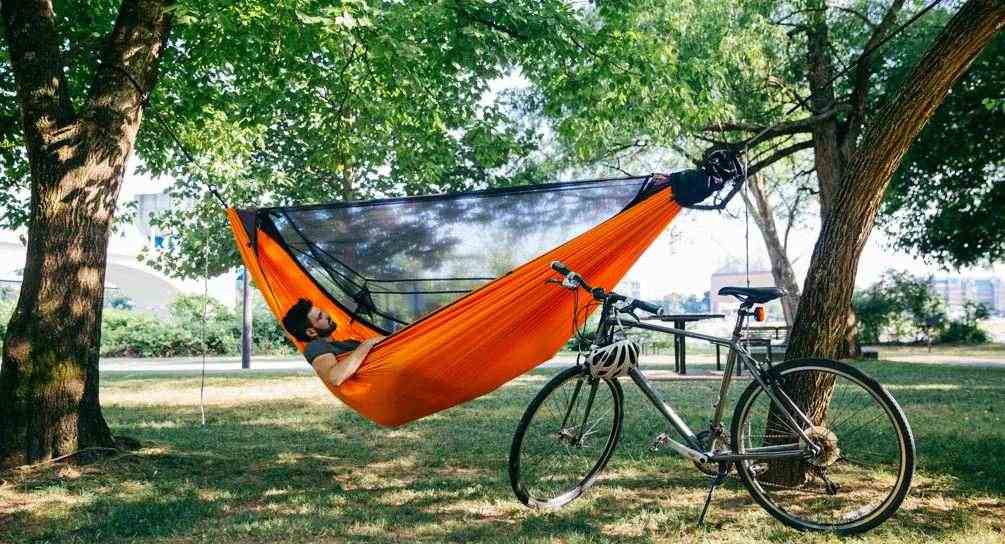 Best Sleep in the Wild
When you sleep in a Ninox FlatLay hammock you do your body a favor. Due to its patented wave design there are zero pressure points so you will wake up refreshed and ready to adventure.
This is the best sleep system on the market! There are so many options for comfort with the ninox sleep system!! It is my go to for a long trip into the wild!
The hammock itself is very comfortable. I had a nice afternoon nap while camping. I appreciate the bug screen...
 I lay perfectly flat and sometimes I even get a better sleep with my hammock than I do my own bed...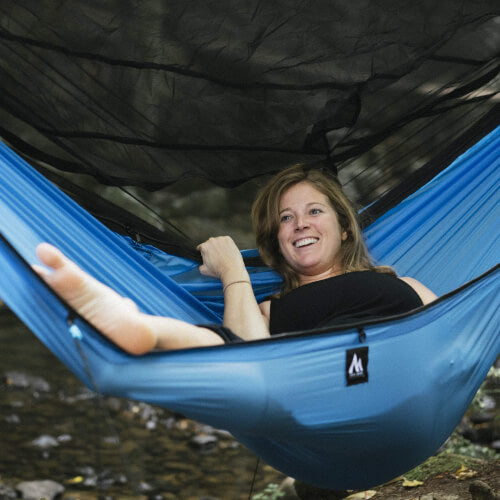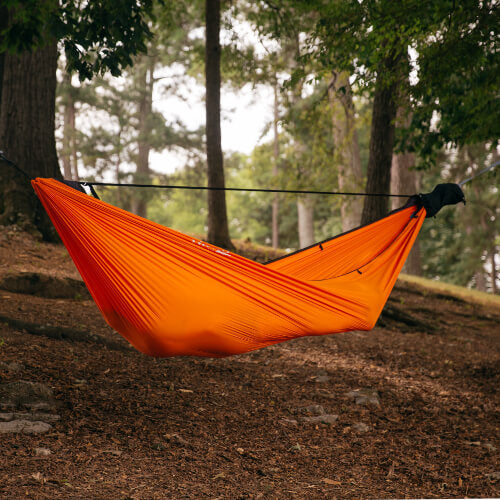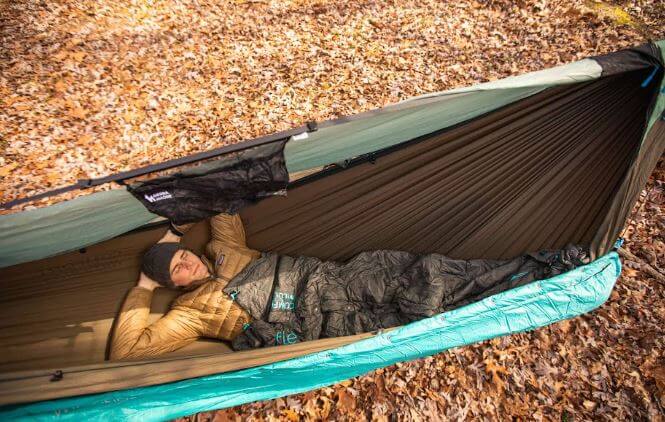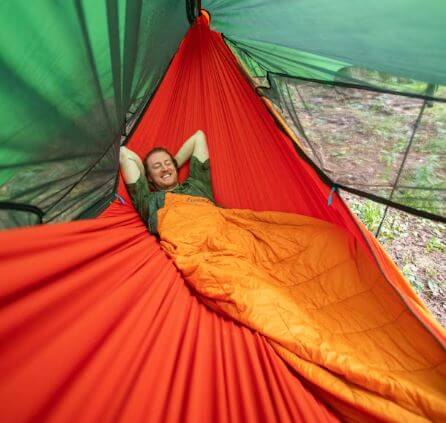 Ninox FlatLay Benefits
Best Lay Ever
The Flatlay hammock that gives you the freedom to lay ANYWAY you like. On your back, side, or stomach while being cradled in a cloud of comfort.
Ninox Flatlay Benefits
Experience a worry free nature
The Ninox hammock comes with a removable insect shield to keep the bugs out and have a worry-free and comfortable sleep in the wild.
Strength
Ninox is rated for 350lbs dynamic loading and tested to 1000lbs.
Teslon Fabric
Our proprietery Teslon fabric is silky smooth and conforms to your body. It actually builds a memory of your favorite sleeping position, so your sleeping pattern improves over time.
Under quilt attachment
Enhanced diagonal and corner attachment points designed to position your under quilt on the diagonal lay to keep it in place and prevents it from sliding off.
Shelter Compatibility
Stay completely dry in the Ninox as it works well with any of our hammock shelters. For the maximum experience, The Ninox Fly was designed to flawlessly compliment the Ninox.
Ridgeline
The integrated ridgeline ensures you'll be set up correctly every time - no fuss, no fiddle.
Removable Insect Shield
It allows you to remove the insect mesh when bugs are not a bother.
How to Setup the Ninox hammock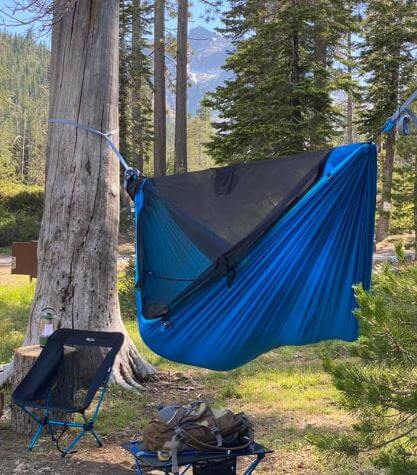 Specifications
All of the nitty gritty details that went into creating the Ninox Hammock
What's Included
Ninox Hammock (SL or DL), Talon Suspension
Ninox SL or DL Hammock, Talon Suspension, Rain Fly
Details
Hammock: 30D Teslon3 + Teflon
Mesh: 15D Noseeum
Talon Suspension: Ti-Blue (UHMWPE/Polyester Blend)
Ninox Fly: 15D Waterproof Ripstop Nylon
Hammock: SL: 1lbs 14oz (850g)| DL: 2lbs 11oz (1236g)
Talon Suspension: 10.8oz (303g
Ninox Fly: 15.8 oz (451g)
Length: 11FT 5 IN (3.51M)
Width: 6ft (1.83m)
Height: 14 inches
Width: 7 inches
Wow, best sleep ever
Between civilian camping and military bivouac I've been camping most of my life. In this time I've used a ton of different tents, sleeping mats, cots, and sleeping bags. Years ago I tried a surplus military jungle hammock but did not know how the set up or sleep in it, so it was a disaster. Over the past two years I started trying to use hammocks again after buying a cheap one of amazon. While looking at thing to improve that $40 hammock I stumbled onto the Sierra Madre site. After reading reviews and researching I settled on the Ninox. I recently took it into the Ozark mountains for a long weekend. I am impressed! I slept better than I do in my bed at home. This thing is great! The design and features are brilliant. Set-up is fast and easy, everything is where it should be and already attached. I was sad when I had to take it down and return home. I cant wait to use it more.
Thank you so much for the time and effort to send us this review with a 5-star rating, Ray. It means the world to us. Thank you for supporting Sierra Madre! :)
Wow
This company is just too amazing, not only did I receive the most amazing flat laying hammock that I'm finding a way to sleep in it every night, my back doesn't hurt! But I also won a $100 gift card!! This company is the best gear company out there. Don't think just buy it. You will not regret it. EVER.
Thank you so much for the time and effort to send us this review with a 5-star rating, Joel. It means the world to us. Thank you for supporting Sierra Madre! :)
Best Hammock Ever!!!!!
This hammock is a game changer. I had the Ninox Fly for a bit before I got the double-layer hammock. it is soft, strong, and huge. Took it to Silver Falls this last weekend and there was heavy rain. was no problem.
Thank you so much for the time and effort to send us this review with a 5-star rating, Larry. It means the world to us. Thank you for supporting Sierra Madre! :)
How Hammock Camping is Suppose to Be
My Ninox Flat Lay Hammock is the most comfortable, spacious, and well-built hammock I have ever slept in. I enjoy more time outside and sleeping better everywhere I go.
Thank you so much for the time and effort to send us this review with a 5-star rating, Gerald. It means the world to us. Thank you for supporting Sierra Madre! :)