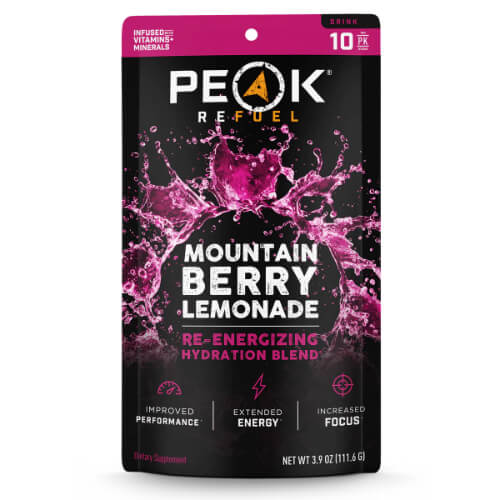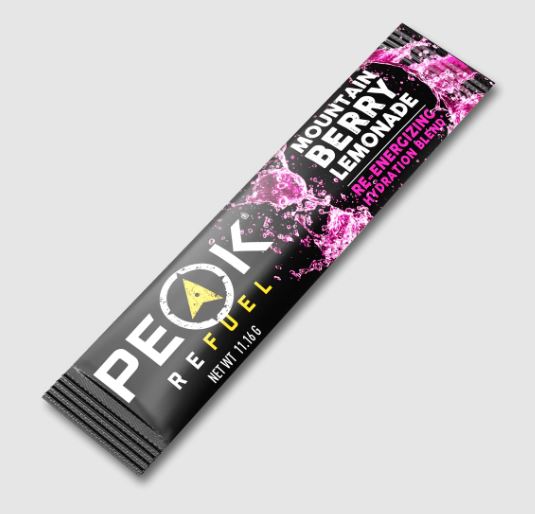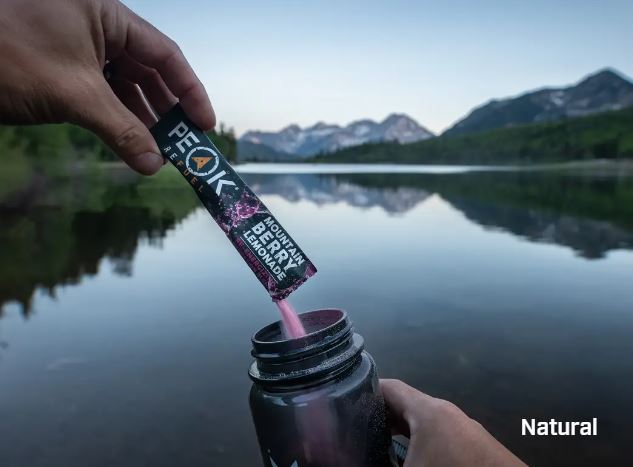 Peak Refuel | MOUNTAIN BERRY LEMONADE RE-ENERGIZING DRINK STICKS
FEATURES

We're keeping you fueled and hydrated for whatever you're chasing!

➢ Zero Sugar
➢ No Artificial Sweeteners, Colors, Flavors, or Preservatives
➢ Keto-Friendly


NUTRITION FACTS

Serving size: 1 Stick Pack (11.16g), Servings Per Container: 24

Calories 30, Total Fat 0g (0% DV), Sodium 5mg (0% DV), Total Carbohydrates 2g (1% DV), Dietary Fiber 1g (4% DV), Total Sugars 0g (0% DV), Includes 0g Added Sugar, Protein 0g (0% DV), Vitamin C (ascorbic acid) 112.5mg (125% DV), Vitamin D3 (cholecalciferol) 67mcg (335% DV), Niacin (niacinamide) 20mg (125% DV), Vitamin B6 (pyridoxine HCI) 3mg (176% DV), Folic Acid 400mcg (100% DV), Vitamin B12 (methylcobalamin) 15mcg (625% DV), Calcium (calcium citrate) 27mg (2% DV),
Magnesium (magnesium glycinate 28mg (5% DV), Chromium (chromium picolinate) 119mg (340% DV),

Refuel Performance Blend TM* 4,500mg L-Arginine, White Beet Root Extract (Nitrates), L-Citrulline. Refuel Energy Blend TM* 645mg Taurine, Yerba Mate Extract, Arabica Coffee, Bean Extract [Natural Caffeine). Refuel Focus Blend TM* 924mg L-Tyrosine, Choline Bitartrate, DMAE, Black Pepper Extract

The % Daily Value** (DV) tells you how much a nutrient in a serving of food contributes to a daily diet. 2,000 calories a day is used for general
nutrition advice.


INGREDIENTS
Mountain Berry Lemonade: SUPPLEMENT FACTS: 11.16 g, Calories 30, Total Fat 0 g (0%), Sodium 5 mg (0%), Total Carbohydrates 2 g (1%), Dietary Fiber 1 g (4%), Sugar 0%, Vitamin C (ascorbic acid) 112.5 mg (125%), Vitamin D3 (cholecalciferol) 67 mcg (335%), Niacin (niacinamide) 20 mg (125%), Vitamin B6 (pyridoxine HCl) 3 mg (176%), Folic Acid 400 mcg (100%), Vitamin B12 (methylcobalamin) 15 mcg (625%), Calcium (calcium citrate) 27 mg (2%), Magnesium (magnesium glycinate) 28 mg (5%), Chromium (chromium picolinate) 119 mcg (340%), Refuel Preformance Blend* 4500 mg (L-Arginine, White Beet Root Extract, L-Citrulline), Refuel Energy Blend* 645 mg (Taurine, Yerba Mate Extract, Arabica Coffee Bean Extract (caffeine)), Refuel Focus Blend* 924 mg (L-Tyrosine, Choline Bitartrate, DMAE, Black Pepper Extract). Other Ingredients: Citric Acid, Chicory Root Extract, Natural Mixed Berry Flavor, Malic Acid, Monk Fruit Extract, Natural Flavor, Katemfe Fruit Extract
Follow your Compass
Peak Refuel
Packed With Protein
Loaded with the protein your body needs to sustain or recover from a long day on the trail.
Rehydrates Quickly
We understand that time on the trail is valuable. That's why most Peak Refuel meals are ready to eat in 10 mins or less.
Premium Ingredients
Rest assured you're getting the highest quality, non-GMO ingredients when you choose Peak Refuel.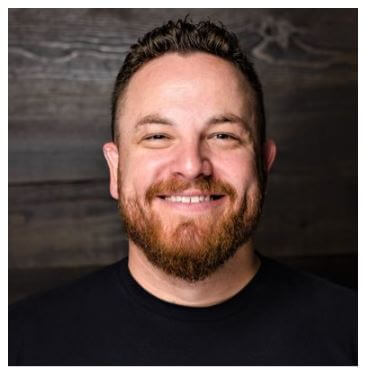 Your Premium freeze-dried outdoor meal Company
Peak Refuel
With a decade of experience in the freeze dried food industry, Adams' love for the outdoors pushed him to set out to seriously upgrade the meals on the current market.
He sought to create a product that consumers could get behind, believe in, and rely on.
Peak Refuel is a backcountry meal and snack brand delivering freeze dried meals that don't lose their nutritional value through the dehydration process and taste AMAZING.