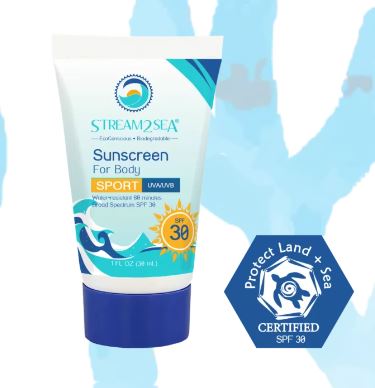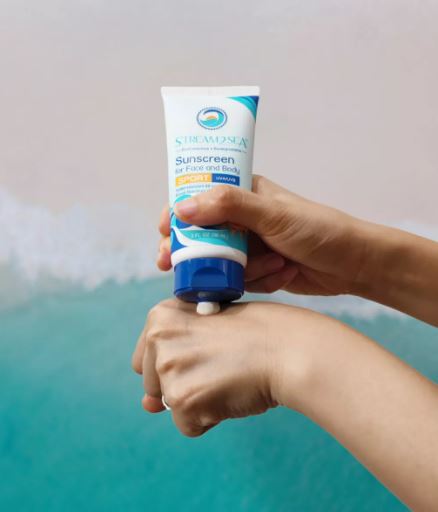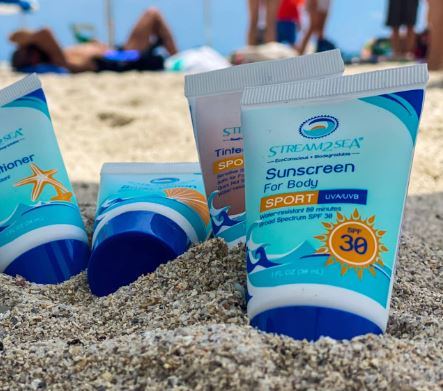 STREAM2SEA | SPORT SUNSCREEN SPF 30 3oz
Features
Sunscreen SPF 30 is plant-based, fragrance-free, non-toxic, and tested & proven safe for you and our waters. Protect your body while preserving the ecosystems you love with this high-performance mineral-based sunscreen.
- 100% Mineral Actives: 8.8% (Non-Nano) Titanium Dioxide
- Super water resistant
- Non-greasy and won't burn your eyes
- Hawaii-safe sunscreen – Contains no banned ingredients
Ingredients
Active Ingredients: 8.8% Titanium Dioxide (Non-Nano) Inactive Ingredients: Deionized Water, Aqueous Extracts of Camellia Sinensis (Green Tea) Leaf*, Ocimum Tenuiflorum (Tulsi) Leaf*, Alaria Esculenta (Wakame Seaweed)* and Olea Europaea (Olive) Leaf*, Caprylic/Capric Triglyceride, Aloe Barbadensis (Aloe) Leaf Juice*, Cocoglycerides, Glycerin, Cetearyl Alcohol, Cetyl Palmitate, Polyhydroxystearic Acid, Sorbitan Olivate, Cetearyl Olivate, Methylcellulose, Cocos Nucifera (Coconut) Oil*, Stearic Acid, Acrylates Copolymer, Magnesium Aluminum Silicate, Sorbitan Palmitate, Tocopherol, Xanthan Gum, Alumina, Benzyl Alcohol, Salicylic Acid, Sorbic Acid. * Certified Organic
Together we are doing better!
Stream2Sea
Together we are doing better!
Meet Stream2Sea
Stream2Sea was founded in 2015 in Wauchula, FL after a dive trip in Palau made Autumn Blum, our CEO and a Cosmetic Chemist, realize that the products we put on our bodies can be highly toxic to our fragile aquatic ecosystem.
Today, Stream2Sea has the only mineral-based sunscreen on the planet that's been tested and proven safe for freshwater fish, saltwater fish, and coral larvae, and has passed the stringent HEL Labs Protect Land + Sea certification.