Pares | Spaciously Comfy Camping Hammock Weighs 15oz
Let's Compare
We didn't invent camping, we just perfected it.
Pares | Spaciously Comfy Camping Hammock Weighs 15oz
Most comfortable hammock I've ever owned!
I absolutely love my Pares Hammock! I incorporates a flat-lay design to keep your back & body flat for the most comfortable lay with no back pain and is soft to the touch for that extra comfort. It is fairly lightweight and compact but is able to hold a whopping 1600 lbs! It has attachment points for other Sierra Madre products such as the Puffle, Inferno, Air Pad XL, etc. or the storage bag itself for a convenient storage pocket. The bag itself is also very well designed with it's two separate storage areas for the hammock and straps and/or ridgeline. It can be attached at one of the ends of the hammock to be out of the way with no worries of losing it or as previously mentioned you can attach it at different points along the hammock for convenient storage. I also highly recommend getting the ridgeline with it to get the optimal angle every time. Hopefully I'll get to use it on my trip to Washington in a few weeks!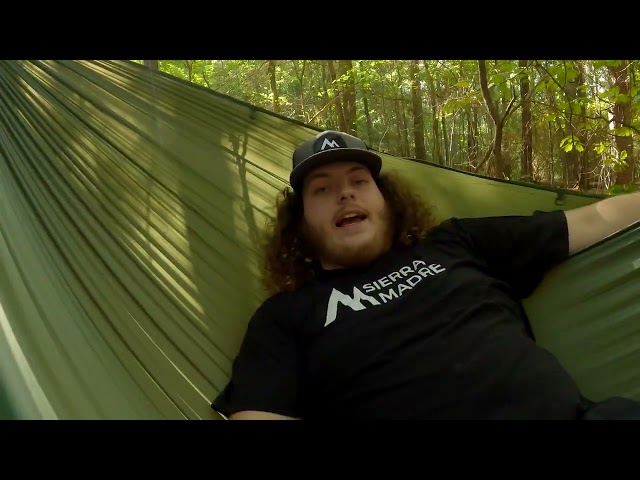 This is awesome, Braden! Thanks for the time and effort you've taken to write us this review with a 5-star rating. We appreciate your support! :)
My first Camping Hammock
I waited eagerly for this hammock. I'm used to the daytime relax and unwind with a book style hammocks. So when this one arrived, I had a few first time surprises. First of all, this thing is longer than I was imagining I needed. About 16ft between trees and and then hang about 5ft up. This allowed the stretch of the hammock material to accommodate my 205llbs. That was the second surprise. I was thinking the material seems awfully thin (actually great for packing weight) but, it holds up! Third, sitting on the side of the pares is easy enough but once laying out, you sink in deep. The sides feel like you are all wrapped up in a human burrito. I imagine it's going to really help stop evening drafts in the cool of the night. I've even combined it with my Stratos bug shield! It's a perfect set up for Florida adventures!
Thanks for the 5-star review, Daniel. Love the photos, too. We greatly appreciate your patience and support!
Amazing hammock
This is my go to hammock for day time relaxing or even some short overnight trips. Love my Pares hammock!
Thank you for this 5-star review, Aaron. We are so delighted to know that you love your Pares Hammock. We appreciate your support!
Best hammock I have ever owned
I am an avid hammock camper and have logged over 300 river miles in a canoe with more than 30 nights in the last two years. There has been a natural progression of gear along the way, sleep system included. I started like most with an ENO, then progressed to a larger Grand Trunk and then on to the Pares. The length and width make all the difference in the world. When paired with the talon suspension and an adjustable ridgeline this hammock is the optimal flat-lay setup in any conditions. The fabric is extremely light and breathable and the included double-ended stuff sack is a nice bonus as well. It holds both the hammock and the suspension. Was so impressed that I just ordered the nubé and am looking forward to trying it out on the next trip
Thank you for taking the time and effort to write us a review with a 5-star rating, Andrew. It means the world to us. We're grateful for the opportunity to serve the outdoor community. Thank you for trusting Sierra Madre.
Your Pares | Spaciously Comfy Camping Hammock Weighs 15oz question, answered.